This week's roundup of the newest releases in fantasy and adventure features elemental magi, xianxia monks, and three flavors of cop–saint, superhero, and Burrito Avenger.
---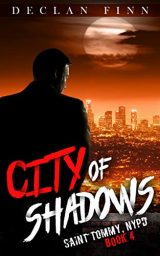 City of Shadows (Saint Tommy, NYPD #4) – Declan Finn
London is alive with the sound of shadows.
When Tommy Nolan was sent abroad to avoid being made a saint too soon, he thought he'd be a glorified tourist. But when an impossible prehistoric artifact the Vatican is looking at is stolen from the British Museum, they do the first thing that comes to mind — they call the cops.
But Tommy is soon convinced that the artifact is more than it seems. The crime scene looks like a war zone. The owners of the stolen merchandise eye him with suspicion. His new partner has a shady, mysterious past. The police are ready to arrest him. The city itself seems primed to explode.
Worst of all, the darkness itself is closing in on Tommy, the city, and everyone who lives there.
But Tommy isn't one to curse the darkness. The darkness curses him.
---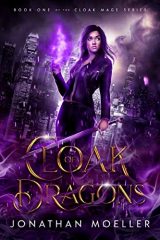 Cloak of Dragons (Cloak Mage #1) – Jonathan Moeller
My name is Nadia, and I'm an errand girl.
Except my boss is the High Queen of the Elves.
And my errands for her involve spying on people. Or stealing things. Or hunting down monsters. Or, on occasion, killing people.
But this time she wants me to solve a murder.
And unless I find the killer, I'm going to be his next target…because dragons never forgive a murder.
---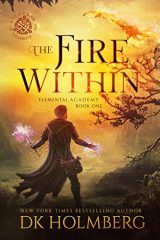 The Fire Within (Elemental Academy #1) – D.K. Holmberg
A single mistake has far-reaching consequences for a carpenter's apprentice.
With the threat of rogue elementals escaping from the element bond and fear of another attack by the Draasin Lord, life at the edge of Terndahl is difficult for Tolan. Without any magic of his own, he spends his days working a menial job as a carpenter's apprentice. When an elemental attack draws the attention of the Inquisitors from the Academy, everything changes.
A mistake brings Tolan into the Terenhall Academy, a prestigious training ground for powerful shapers, but it's a world where he doesn't belong. Unlike his classmates, he can't control the magic of the element bonds.
As elementals continue to escape the bond and attack the Academy, Tolan finds himself in the middle of danger. With no shaping ability, he fears there's something more to the attacks. Now he must save the Academy and find a way to stop these attacks—and find the one behind them.
---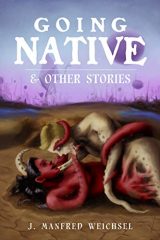 Going Native & Other Stories – J. Manfred Weichsel
It's a strange world out there…
A space traveler learns the dangers of getting too involved with another species…
Aliens want to teach humanity the secrets of the universe—If only we could stop laughing at them…
The social elites have a dark, twisted secret that makes race relations a nightmare…
It would be misleading to say J. Manfred Weichsel only writes fantasy or science fiction. Going Native features six stories to entertain and explore the darkest realities of what it means to be human (or not.) With bizarre alien landscapes, gripping plotlines, and unforgettable satire, this collection showcases a powerful voice in genre fiction.
---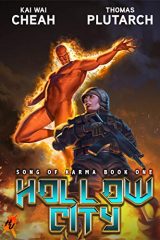 Hollow City (Song of Karma #1) – Kai Wai Cheah and Thomas Plutarch
Six kills in six years.
Super powered cop Adam Song has dedicated his life to the law. In the military and the police force, Adam ruthlessly protects the innocent.
But this time he's killed the wrong bad guy. Now the local drug lord's son is dead, and the boss is out for Adam's blood. Even his secret identity won't keep him safe. The police department hangs him out to dry, his years of exemplary service forgotten. Adam must take justice into his own hands to keep his family safe.
Because Adam is a Song. And Songs take care of their own. No matter the cost.
When does justice become murder? And just how far will he go to protect his clan?
---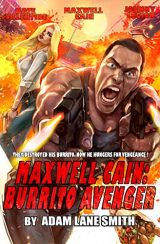 Maxwell Cain: Burrito Avenger – Adam Lane Smith
An action novel for fans of John Wick, Demolition Man, or Die Hard.
Maxwell Cain, also known as "Bloody Rain Cain," is a cop fed up with the murderous hooligans who control the streets of San Pajita, California.
After years of public service, Max is fired for executing too many dirtbags, and he seeks solace at his favorite taqueria. When his comfort burrito is sullied by the careless actions of brutal thugs, Max finally snaps. What begins as an argument over a ruined lunch quickly spirals into a hurricane of blood and revenge.
Max is joined in his fight by the gorgeous Kate Valentine, a baker with an itchy trigger finger. As the two rush into battle against an entire criminal organization, they are hunted by the relentless terror of the seedy underworld: Johnny Legion.
---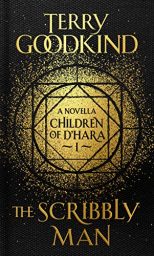 The Scribbly Man (The Children of D'Hara) – Terry Goodkind 
"They are the monsters under the bed when you are little, the shape just caught out of the corner of your eye when you thought you were alone, the shadow of something in a dark corner that surprises you and then isn't there. They stop you dead with a knot of unexpected terror in the pit of your stomach. We have all seen fleeting glimpses of them. Never long enough to see them as I saw them, but it was them. I recognized it the instant I saw it. We've all seen flashes of them, the dark shadow just out of sight. They could briefly terrify us before but never hurt us because they came from so far distant. They were never able to fully materialize in our world so we saw only transient glimpses of them, the shape of them if the light was just right, if the shadows were deep enough . . . if you were afraid enough. I think that the star shift has brought us closer to their realm so that they now have the power to step into our world and hurt us." —Kahlan Amnell
---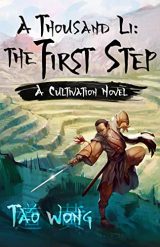 A Thousand Li: the First Step – Tao Wong 
Long Wu Ying never expected to join a Sect or become a real cultivator. His days were spent studying, planting rice on the family farm and spending time with his friends. Fate, however, has different plans for Wu Ying and when the army arrives at his village, he and many other members of the village are conscripted. Given the opportunity to join the Verdant Green Waters Sect, Wu Ying must decide between his pedestrian, common life and the exciting, blood soaked life of a cultivator.
Join Wu Ying as he takes his first step on his Thousand Li journey to become an immortal cultivator.
The First Step is the first novel in A Thousand Li series, a book on cultivation, immortals, wondrous martial art styles and spirit beasts and will be loved by wuxia and xanxia fans.
---