Xianxia cultivation fantasies, arcane gas-lamp fantasies, Western cattle drives, and archaeological thrillers liven up this week's collection of fantasy and adventure new releases.
---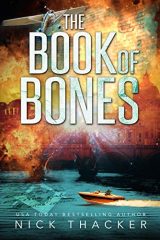 The Book of Bones (Harvey Bennett Thrillers #7) – Nick Thacker
The sons of God once walked among us
A dark thread runs through the history of humanity, and it will change everything.
"They were on the earth in those days—and also afterward—when the sons of God went to the daughters of humans and had children by them. They were the heroes of old, men of renown…"—Genesis 6:4
When Harvey Bennett's friend is taken hostage, Harvey's mission appears to be simple:
Find the Book of Bones—a lost dialog of Plato that details the rise and fall of the Atlantean civilization.
But Harvey is not the only one looking for this lost and ancient tome. Powerful forces want it for their own dark purpose, and for the terrifying secret it contains—a truth hidden for centuries, and one that will change everything we know about human history.
Harvey Bennett is about to unravel the mystery of the Book of Bones. And the truth may kill him.
---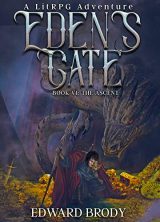 Eden's Gate: The Ascent – Edward Brody
As a newly anointed member of the Mage's Guild, Gunnar begins his training under Darion and Eanos. Resistance, staves, and ranged fighting are all staples of any mage, but the pride of being a member of the guild is access to a strange device that helps its members locate areas of powerful magic.
During a routine outing with another mage, a group of mysterious Magi attack and know more about Gunnar than any outsiders should. They know he's a Reborn, and they know he stole the Fellblade from the Sparrows. Worse, they've captured someone he loves.
The Magi want a weapon–an ancient weapon–for her return.
Gunnar must ascend to new heights and come face-to-face with some of the most powerful creatures in Eden's Gate if he's to get another chance at a weapon like the Fellblade. Can Gunnar beat the odds, or is the likelihood of death too much for even the whole of Unity to overcome?
---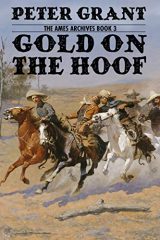 Gold on the Hoof (The Ames Archives #3) – Peter Grant
The Comanche and Kiowa are painting for war in the Texas Panhandle. The US Army is preparing to stop them – but it needs horses to do so. Lots of horses. Walt Ames knows where to find them, and breeding stock for his horse ranch, too. All he has to do is ride down to Mexico, buy them, and bring them back safely. That's easier said than done.
He and his men will have to cover more than two thousand brutally hard miles, and deal with Indian raiders, Comanchero renegades, bandidos, and would-be horse thieves… not to mention a certain Irish-Mexican redheaded beauty who can make him forget everything else in the emerald glow of her eyes. Walt's going to need every ounce of his grit and determination, plenty of firepower, and a lot of luck if he's to convert the gold in his pockets to gold on the hoof.
---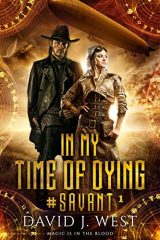 In My Time of Dying (#SAVANT #1) – David J. West.
A young woman seeking arcane knowledge. A saint of killers riding shotgun. And an immortal who wants to die… all aboard a runaway train.…
Elizabeth Dee never expected a knock at the door would have her taking sides in a power struggle between two feuding wizards, but she discovers that she is the magical key to a cursed mystery centuries old. As she evades the murderous knights and demonic minions of the sinister Count of St. Germain, she learns more of her own true power and legacy…Her father never prepared her for anything like this…
But it's dangerous to go it alone and she is going to need some protection, enter the infamous and touched, Porter Rockwell. If the legendary long-haired gunfighter can't keep her safe, no one can…
---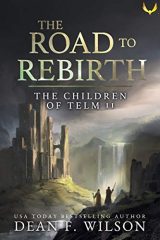 The Road to Rebirth (Children of Telm #2) – Dean F. Wilson
The dying breath. The dying will. The dying hope.
After the catastrophe of the Call of Agon, Ifferon and his companions find themselves in the unenviable situation of witnessing, and partaking in, the death of another god—this time Corrias, ruler of the Overworld.
With Corrias locked inside the corpse of a boy named Théos, he suffers a fate worse than the bonds of the Beast Agon. Yet, hope is rekindled when the company find a way to restore the boy, and possibly the god, back to life.
The road to rebirth has many pitfalls, and there are some who consider such meddling with the afterlife a grave risk. The prize might be life anew—but the price might also be a second death.
---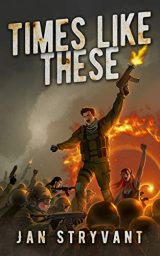 Times Like These (Valens Legacy #16) – Jan Stryvant
The war has begun in earnest. The main gateway has opened and the minions of the Onderwereld are starting to come through in greater and greater numbers. For now they can hold them off, but when your enemy just reincarnates a week after you kill them, what can you do? It's a war of attrition for Sean's side, a war that will come with a very high price.
However, Sean knows that there are weapons that can kill a demon so that it can't respawn and he's bound and determined to get them, even if it means going back through a gateway. He just has to find a way to sneak past a million demons and then run around their home without getting caught.
But he still has a few extra cards up his sleeve to play in this game.
---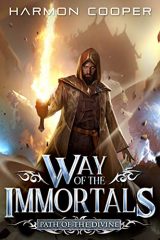 Way of the Immortals – Harmon Cooper
Thrust by a mysterious portal into an unknown world, Nick Barnette does what anyone would do in his situation: he runs.
Now separated from his friends, and being pursued by powerful forces he doesn't understand, Nick must navigate the Kingdom of Lhasa and figure out how to get home.
Through his trials and tribulations, Nick discovers that he has developed a strange power that allows him to slow down time, vastly improving his combat ability. But he doesn't have any control over the power. And as far as he knows, the only way to cultivate this new power and find his friends is by studying the Way of the Immortals, an ancient tradition practiced by monks and hermits high in the mountains of Lhasa.
It won't be an easy task, but if anyone is up to the challenge, it's Nick, who might be the most unconventional hero the Kingdom of Lhasa has ever seen.