Open the new year with dinosaur dragons, Haitian zombies, wizened protectors, and gambling merchants in this week's collection of fantasy and adventure new releases.
---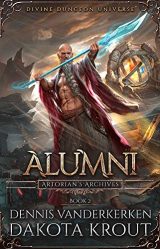 Alumni (Artorian's Archives #1) – Dennis Vanderkerken and Dakota Krout
An academy that scrapes the sky. Blight that fills the earth. Two codgers duking it out.
Artorian has decided to live, all in order to save his lost village children. His recent battle against a simple raider Captain has proven that if he tries to charge ahead… he'll die.
With the help of his captors, who quickly turn into close friends, Artorian takes the first steps onto the path of a true cultivator. Finesse, skill, fine-tuned cultivation techniques, and more is within his grasp. Artorian is more than willing to learn; after all, that's his specialty!
This knowledge has strings attached. After meeting the ancient enemy of his trainers, Artorian returns to the place he first studied his true passion of philosophy: the Skyspear. It's under new management, and the alumni have very different ideas about how the students should be trained.
---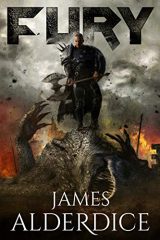 Fury (Brutal Saga #6) – James Alderdice
Face the Dragon. Wield the Sword. Unleash the Fury.
Gathelaus the Sellsword returns to his stolen kingdom on a leaky boat, only to find himself on a bleak and barren shore, far from the capitol. Rumors abound of an ancient dragon terrorizing the land and he is determined to deal with the legendary monster.
But after assassins waylay him, Gathelaus is forced off course through a haunted wood, where more monsters haunt in the dark places. He soon discovers the terrible things that have affected the land in his absence; and being a king is a lot more difficult than just slaying monsters. To save the noble few, spells, blades and dragons won't stop the Sellsword from leaving a swath of righteous carnage in his wake…
---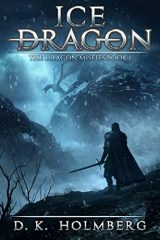 Ice Dragon (The Dragon Misfits #1) – D. K. Holmberg
When a mysterious stranger brings word of a dragon, Jason's whole world changes.
The northern mountain village offers protection from the threat of dragons, but is a difficult place, especially for a misfit like Jason Dreshen. His days are spent hunting for food for his family, praying for warmth, and trying to hide his strange silver eye that grants him dragon sight.
When a stranger visits during the local Freedom Festival searching for a different kind of dragon, everything changes.
Forced down the mountainside, Jason learns the truth of powers he'd only heard about in rumors. While running from deadly Dragon Souls, he finds he might have more of a connection to magic than only dragon sight. In order to save himself and stop the Dragon Souls, he must learn a truth about himself that leads him closer to the one thing he fears above all others: dragons.
Somehow, he might be the only one able to protect them from the Dragon Souls, but how can he protect what he hates?
---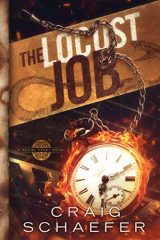 The Locust Job (Daniel Faust #9) – Craig Schaefer
The first story ever told left a scar on the skin of the universe, with its characters doomed to an endless cycle of reincarnation and death. Trapped by his enemies, Daniel Faust — magician, mobster, and newly-minted knight of hell — has been cast in the role of the eternal Thief. Now the story is dead-set on writing his final chapter, the one that ends with a knife in his back.
The curse can't be broken without tracking down the original Thief. The truth is buried beneath the legacy of a long-dead stage magician and a cache of occult relics from the 1940s, but Daniel and his crew aren't the only hunters on this trail: so is a deadly new contender who blends sorcery with science, armed with a link to Daniel's past — and a cult he thought he had destroyed long ago.
The doomsday clock is ticking, and more than Daniel's own life is at stake. To save the day he'll have to pull off the most daring heist of his criminal career, stealing a priceless treasure from a reality-bending madman, or die trying.
---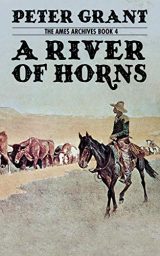 A River of Horns (The Ames Archives #4) – Peter Grant
Walt Ames and his Texas partner, Tyler Reese, know that the U.S. Army is bound and determined to push the Comanche and Kiowa tribes onto the reservation for good. Once the Texas Panhandle is pacified, millions of acres of land will become available. They aim to be among the first to set up a ranch there – but that'll take money… a whole lot of money.
How do you raise money for a cattle ranch? By selling cattle, of course! Buy them where they're cheap, sell them where they're dear, and use the profits to bankroll your project. It sounds simple – until storms, floods, fires, cow thieves and stampedes show up. They'll have to buy their cattle in blood, as well as money…
---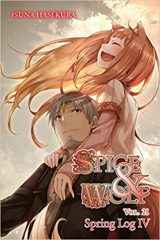 Spice & Wolf #21 – Isuna Hasekura
For Lawrence, the seed of all his worries is none other than his adorable only daughter, Myuri, who recently left home. Ever since her departure, this worrisome father has become more haggard and anxious with each passing day. Unable to ignore it any longer, his wife, Holo, entrusts the bathhouse to their friends and proposes that they embark on a journey of their own.
To visit their daughter, of course.
For the first time in over ten years, their cart returns to the road once again, rumbling along slowly, heavily laden with memories, emotions, and promises to fulfill. Though it's been a long time since they last traveled, the loving couple won't have to go far before they begin to hear rumors of Myuri-or rather, Saint Myuri?!
What has that wild girl done now???
---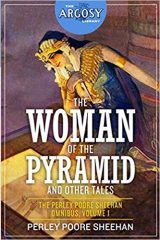 The Woman of the Pyramid and Other Tales (The Perley Poore Sheehan Omnibus #1) – Perley Poore Sheehan
A pioneer of the fantastic fiction genre that spawned a thousand imitators, Perley Poore Sheehan was one of the most popular authors of the pulps of the 1910s-30s. This oversized edition collects four of Sheehan's best stories from the pages of the All-Story and Argosy—stories which have never before been reprinted—and it's headlined by his fantasy classic "The Woman from the Pyramid".
Carlton, an Egyptologist encounters the woman who's been haunting him in his dreams, and in his quest to learn who she is, he finds himself thrown five thousand years in the past, reincarnated as an Egyptian nobleman.
Collecting the "The Woman of the Pyramid," as well as "The Lone Seminole," The One Gift," and "Egrets."
---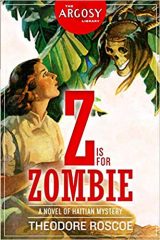 Z is for Zombie – Theodore Roscoe
In Haiti, that dark island of mystery, voodoo, and zombies, John Ranier, American medico of a cruise ship, arrives to plunge into a strange dilemma: a man with a Z scar on his arm is dead: but there's no wound on him. The second of author Theodore Roscoe's Haitian zombie novels, and one of the best stories he penned for the pages of Argosy.