Vengeful warriors, demon-slaying androids, refugee gamers, and a legendary frog hero fill this week's collection of fantasy new releases.
---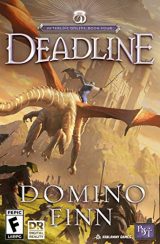 Deadline (Afterlife Online #4) – Domino Finn
Black knights. Dastardly pirates. Bloodthirsty rebels.
And those are the good guys.
War is coming to the Midlands. Like a kettle ready to bubble over, cities teeter at the brink of boiling, all while a spymaster fans the flames.
Witness the rise of the Violet Order.
It was always coming to this. Freedom isn't given, it's wrenched from the choking grips of those who would stifle, contain, and control. Legends are rife with noble heroes standing over vanquished enemies, but reality is more grisly. Peace is hard-won with blood and sacrifice, and sometimes the good guys pay the ultimate price.
Thus Talon, Izzy, Kyle, and the Black Hats are tasked with raising an army, storming a fortress, and fighting a war on multiple fronts, all on an impossible deadline. In three days, Haven's beta test ends, and in three days, so too might their entire world.
---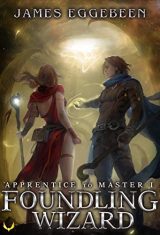 Foundling Wizard (Apprentice to Master Series #1) – James Eggebeen
Magic is just one more thing to be stolen…
For over a hundred years, the Temple of Ran has been sacrificing young wizards in order to steal their power. When Lorit discovers that he holds the rare ability to use magic, he becomes their next target.
At first, he runs, working to master his abilities on the move so that one day he might be able to resist them. But that was before the Temple targets his beloved sister, Onult. In order to save her life, he infuses her with his own power.
Now, they're both targets.
Together, they'll battle to make the world safe for magicians everywhere… if they can survive the temple's power-hungry priests. If they can't, their enemy will absorb their magic and become unstoppable.
---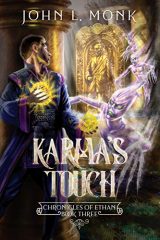 Karma's Touch (Chronicles of Ethan #3) – John L. Monk
A showdown with destiny. Paradise or deletion. The hero of the hour.
In an act of desperation, Ethan takes a quest to free himself and his wife from Mythian forever. Melody only has one life, and nowhere is safe for her, not even the cities.
To help keep Melody safe, Ethan travels alone, at least until an old ally joins him—one who could prove to be the key to his success… or the destruction of all he holds dear.
The seeds of Karma were planted long ago, and they are about to yield fruit. One choice is poison, one is salvation. It's time to decide.
---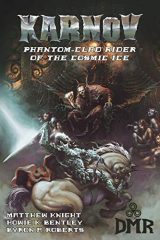 Karnov: Phantom-Clad Rider of the Cosmic Ice – Matthew Knight, Howie K. Bentley and Byron A. Roberts
Returning from battle, the warrior Karnov discovers his family murdered and his homeland ravaged by vampyres. Learning that the undead Lord Ghormanteia is responsible for unleashing nosferatu hordes upon the land, he seeks aid from the sultry witch of a nearby woodland. By blood and sorcery, he is granted the supernatural ability to traverse worlds and absorb undead souls to gain strength. Declaring Ghormanteia shall fall by his ice-encased blade, Karnov sets out on a quest of vengeance to cleanse the land of its evil scourge.
Ghormanteia's minions are not the only threat Karnov must face on his journey. A scheming blood-countess, a serpent monster with time-displacing venom, a mutant-breeding necromancer, daemonic forces, an uprising cult, and myriad creatures all stand in his way. Aided by witchcraft and sorcerous allies, will Karnov's powers and burning lust for retribution be enough to avenge his loved ones, or will undead wraiths corrupt the earth forever? Through mist-shrouded graveyards, haunted castles, cosmic gateways and strange worlds, Karnov: Phantom-Clad Rider of the Cosmic Ice will take you to the heart of the vampyre's lair and beyond!
---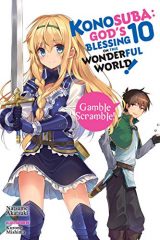 Konosuba, Vol. 10: Gamble Scramble! – Natsume Akatsuki
Luck be a lady tonight!
Seeking financial support in the fight against the Demon King's army, Princess Iris visits the neighboring nation of Elroad to meet the prince: her husband-to-be. But Kazuma won't hand over his little sister to just anyone!
Scratch that. He won't hand her over, period!
Posing as her escort, he tags along in an attempt to derail yet another wedding (and rake in the dough). But no sooner than they arrive in Elroad are they informed that the engagement is off, and there won't be any financial support at all!
And so it falls to Kazuma to use his wit and insanely good Luck to milk the Casino Kingdom for all it's worth!
---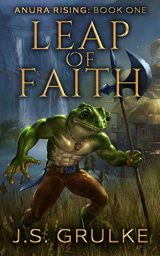 Leap of Faith (Anura Rising #1) – J. S. Grulke
Every Frog Has His Day.
Deep in the bayou of Louisiana, Henry's life has been shattered. He never expected a second chance, a way to redeem himself. He's been given an opportunity to return to his family, if he can fight off the evil threatening to take over Anura.
All Henry has to do is understand his new abilities, build a kingdom, and form an army to stand against the impending doom in this new fantasy world.
Just one problem.
He has to do it as a frog.
---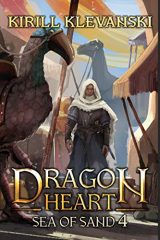 Sea of Sand (Dragon Heart #4) – Kirill Klevanski
He was born anew in a world where martial arts were indistinguishable from magic. He only received a neuronet and meaningless desires from his past life.
What lies ahead?
He dreamed of adventure and freedom, but those dreams were taken away from him. The same way his mother, father, and sister had been taken away.They took the Kingdom, they took his own destiny.
But he is willing to wage a war, against the whole world if need be, to bring everything back. Even if the army opposes him, his sword won't waver.
Even if the Emperor sends the legions, his step won't falter. Even if demons and gods, heroes and enemies alike are to unite against him, he won't bend to their will.
His own will is iron itself, unstoppable.
His name is Hadjar and he heeds the call of the dragon heart within him.
---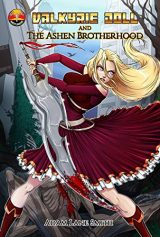 Valkyrie Doll and the Ashen Brotherhood (Deus Vult Wastelanders #3) – Adam Lane Smith
The Valkyrie revives in a coffin.
As she climbs from her tomb, she finds the end of the world has come and gone. Demons roam the blasted wasteland of what was once America. Humanity hangs by a thread and she, one of the last surviving Valkyries, is tasked with driving the rampaging legions back into Hell.
As she battles waves of demons, raiders, and mutants, the Valkyrie faces far darker questions: Does a created being have a soul? What does it mean to protect mankind as humans prey upon each other? When she confronts the cult of Moloch hidden beneath the ruins of an ancient abortion clinic, her burning need for justice may just prove more powerful than her orders to protect mankind.
The last survivors of humanity need her. Will she be our protector, or our destroyer?