This week's fantasy new releases feature sword princesses, armored Christian Templars, elemental mages, and superhero spies.
---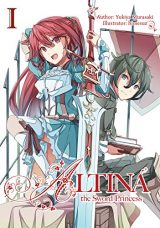 Altina: Sword Princess: Volume 1 – Yukiya Murasaki
Inept with a sword, unable to ride a horse, and apathetic toward the empire he serves, Regis Aurick is a hopeless soldier who spends his days buried in books. Banished to the borderlands, he encounters a stirring young woman with red hair and ruby eyes. She is Fourth Princess Marie Quatre Argentina de Belgaria, known simply to Regis as Altina.
"…Do you want to become my tactician or not?"
Having sought him for his rumored strategic prowess, she aspires to reform an empire led by self-seeking nobles and driven to pointless wars, the legendary blade of an emperor, the Grand Tonnerre Quatre, at her hip. Continuously underestimated by her regiment, including her would-be tactician, the princess resolves to prove her worth beyond a shadow of a doubt—no matter the risk. Here is a tale of war, love, and politics, woven by the bookworm and the sword princess.
---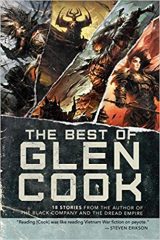 The Best of Glen Cook – Glen Cook
The best short fiction of legendary author Glen Cook (The Black Company, the Dread Empire) is collected into a new hardcover volume.
For over forty years, Glen Cook has been among the most well-known, influential, and widely respected authors in science fiction and fantasy. Through classic series such as The Black Company, Garrett P.I., the Dread Empire, Starfishers, Darkwar, and more, his gritty, down-to-earth style left an indelible impression on his readers around the world, forever shifting the genre landscape and carving out his place as a pioneering icon.
The Best of Glen Cook collects eighteen of his greatest stories—as chosen and introduced by the author himself—including a new, never-before-published Black Company novelette. With works set in all of his most famous series, these tales of science fiction and fantasy offer both the perfect way for longtime fans to trace Cook's history and for new readers to become familiar with one of the finest genre authors of the twentieth century.
---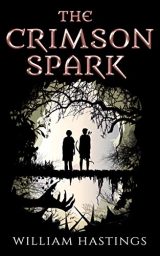 The Crimson Spark (Vagabond Legacy #1) – William Hastings
Break the shackles of the mind.
Leo is a boy grieving his twin. Nea is a girl living as a boy to escape her past. Two slaves, carrying the scars of abuse. They form a connection, only to be split apart when their ship arrives in a mysterious and fragmented land, cut off from the rest of the world.
Leo becomes apprentice to a vagabond swordsman and together the two set out to find a stolen weapon locked away in a catacomb city. But what is his new teacher hiding? Tormented by a crippling injury and an anxious heart, Leo must find the strength within himself to keep going despite all that he has lost.
Meanwhile, Nea is conscripted by the Captain of the Royal Guard, who ropes her into the search for a group of men hunting a boy matching Leo's description. But to Nea's dismay, the Captain is a woman and Nea must fight past her hateful and damaged mind if she ever hopes to earn her freedom.
When a former child soldier threatens to spark a revolution, Leo and Nea will choose sides. Will they fight to save this cruel land, or punish it? To find the answer, they must confront the horror of the past and fight for the greatest freedom of all, freedom from the fear that rules their hearts.
---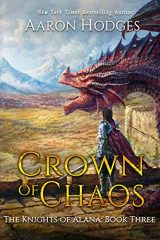 Crown of Chaos (The Knights of Alana #3) – Aaron Hodges
High in the mountains, Pela and Ruebyn have finally escaped the deadly Knights of Alana. But the future remains uncertain, their only way forward the forbidden lands of Trola. Buoyed by their recent victory, Pela is confident they can overcome whatever lies ahead. When they find the Trolan countryside empty, its villages abandoned, they realise nothing is as it seems in the western nation. There is an evil on the air, an ancient darkness that neither sword nor magic can fight.
Meanwhile, King Braidon has earned a victory against his treacherous wife and her zealous Knights. If only the war could be so easily won. Marianne still holds the capital, and has magic enough to conquer the Three Nations. Braidon must gather the forces of good beneath his banner, and fast, before the queen can march on his stronghold.
The breathtaking finale to the Knights of Alana trilogy by NYTimes Bestselling Author Aaron Hodges
---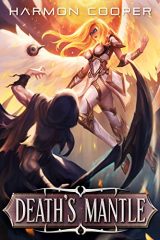 Death's Mantle – Harmon Cooper
Lucian North is supposed to be dead.
Suffering from a rare heart condition that doctors say should have killed him over a year ago, Lucian is playing a video game when Death finally comes.
Rather than give in, Lucian pulls a gun on the Grim Reaper.
As the two stare each other down, terrible demons known as injuresouls swarm into the room in pursuit of Death.
Summoning courage he never knew he had, Lucian comes to Death's aid. And for his troubles, he is awarded Death's Mantle.
It isn't easy being Death, and Lucian will need just about everything he can get as he faces off against fallen angels, appalling parasites, demon-born injuresouls, and savage Death Hunters.
Regardless of his sudden strength, his newfound enemies, and his gamer ingenuity, Lucian can't communicate with the living, which wouldn't be a problem if he hadn't discovered something terrible about his family…
Lucian's brother is scheduled to die, and only Lucian has the power to do anything about it.
---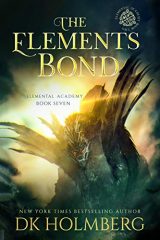 The Elements Bond (The Elemental Academy #7) – D. K. Holmberg
The key to finding the one responsible for the attack on Terndahl involves crossing the waste, but is Tolan willing to risk the tenuous peace they've achieved for revenge?
Now a master shaper, Tolan must serve the Academy but he understands the risk his mother poses. While others want to study the power out on the waste, Tolan sees the need to look beyond Terndahl. His mother remains at large, and they still don't know her ultimate goal.
When a chance encounter while traveling with the Draasin Lord reveals something unexpected, Tolan realizes he must expedite the plan to explore beyond the waste. What he finds there changes everything he knows about the elements—and the elementals.
The final book in the Elemental Academy series.
---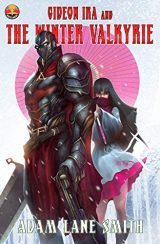 Gideon Ira and the Winter Valkyrie (Deus Vult Wastelanders #2) – Adam Lane Smith
The children are dying.
The holy city of Belltower stands besieged by the Blighted Circle's horde of animated corpses. As the war drags on, the necromancer Plague Princess infects hundreds of Christian children with an incurable disease, and the defenders can do nothing but watch their most precious loved ones die in agony.
In the depths of a snowy winter, surrounded by a horde of death, Gideon Ira leaves on a desperate quest with only the barest glimmer of hope. Vicious corpses hound his every step until he finds himself before the dripping blade of an ancient and unnatural entity feared by both man and demon:
The Valkyrie.
---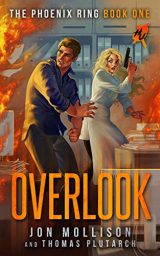 Overlook (Heroes Unleashed: The Phoenix Ring #1) – Jon Mollison and Thomas Plutarch
Nothing is more dangerous than an invisible man.
Joe's spent his life being forgotten. Not even the IRS comes for his back taxes. He's a ghost, a perfectly average, perfectly forgettable man. It suits his purposes, though it's a lonely existence. He can live as he wants, plying his almost-invisibility for freelance jobs.
Then a pretty blonde finds him when no one else can, asking for his help solving a murder. He almost says no, despite his instincts to help a damsel in distress. But how did she find him? And who is she?
He takes the job to find out. But he bites off more than he can chew as he realizes a brutal secretive organization called The Phoenix Ring is behind the murder, and somehow they can predict his every move.
Can Joe defeat the shadowy Phoenix Ring? Or will his powers fail him when he needs them the most?