In this week's fantasy new releases, two litRPG heavy hitters team up, Orson Scott Card plays with micropowers, and a classic of wuxia makes its English language premiere.
---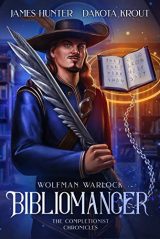 Bibliomancer (Completionist Chronicles: Wolfman Warlock #1) – James Hunter and Dakota Krout
The vaunted power of the Mage's College. Unbounded freedom among the Wolfmen. The best of both worlds.
Recent college grad Sam King was hoping for a backpacking trip across Europe as a graduation present. Instead he's going to get a different kind of trip: a three-month stint in the ultimate immersive gaming experience. As a lifelong geek, gamer, and outsider, it's a better gift then he'd ever dreamed.
But when he jumps feetfirst into the world of Eternium, run by CAL, the Certified Altruistic Lexicon, it's not exactly what he expected. All he wants is to quest, game, grind some levels, and get his hands on awesome loot. You know, have fun! But the Mage's College seems to have a very different definition of fun, one involving study, blisteringly strict regulations, aristocratic hierarchy, and tons of pay to play.
Sam crosses the College and finds himself running for his life with a back-talking book that is far more than it seems and a class that no one has even heard of. If he can navigate the deadly College politics and the looming war with the barbaric Wolfmen, he might just find the fun and adventure he was looking for.
---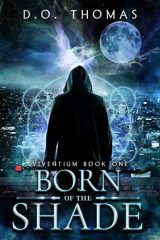 Born of the Shade (Viventium #1) – D. O. Thomas
West London has always been known as the quieter part of the city. That's true… for a human. But in reality, the streets are home to those that rule over the supernatural world.
Werewolves have their gated communities. Vampires reside within a subterranean utopia. And the magic-wielding wizards, witches, and warlocks study their arts right under the noses of general public. It has always been that way, and because of this, there has always been peace.
But when a rare blue moon settles in the sky, everything changes.
Noir, a West London information broker with his fingers in every supernatural pie, sets out to discover what the blue moon means and finds something beyond belief. With his discovery, comes the realization of a prophecy that spells disaster for the supernatural world.
He must do everything in his power to stop the actualization of this dark future that might mean the end for the peace between species that keeps his world intact.
---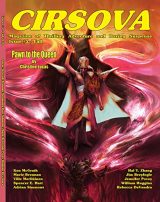 Cirsova Magazine (Volume 2, Issue 2) -presented by Cirsova Publishing
The newest issue features eleven new tales of thrilling adventure and daring suspense.
Seeking out the Burning Fish for a client, Mangos and Kat instead find a strange cult of folk devoted to a simple life—who would kill before giving up their secrets!
An anthropologist seeks to solve the mystery of Chalchihuitlan's "grinding woman." What's her significance? What is it that she grinds? For what does she wait?!
Slayer-Of-Wolf's hunting party is alarmed when a mysterious fire falls from the sky—stranger still is the mysterious blue woman he finds where the fire has landed!
The colonists of Titan have been a fierce and independent lot since breaking away from Earth—some with a grudge might even resort to murder to stay independent!
…and more!
---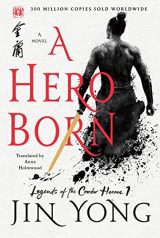 A Hero Born (Legends of the Condor Hereos #1) – Jin Yong
A fantastical generational saga and kung fu epic, Jin Yong's A Hero Born is the classic novel of its time, stretching from the Song Empire (China 1200 AD) to the appearance of a warlord whose name will endure for eternity: Genghis Khan. Filled with an extraordinary cast of characters, A Hero Born is a tale of fantasy and wonder, love and passion, treachery and war, betrayal and brotherhood.
And then a hero is born…
After his father, a Song patriot, was murdered, Guo Jing and his mother fled to the plains and joined Genghis Khan and his people. Loyal, humble and driven, he learned all he could from the warlord and his army in hopes of one day joining them in their cause. But what Guo Jing doesn't know is that he's destined to battle an opponent that will challenge him in every way imaginable and with a connection to his past that no one envisioned.
With the help and guidance of his shifus, The Seven Heroes of the South, Guo Jing returns to China to face his foe and carry out his destiny. But in a land divided by treachery and war, betrayal and ambition, he'll have to put his courage and knowledge to the test to survive.
---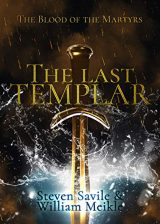 The Last Templar: The Blood of the Martyrs – Steven Savile and William Meikle
The Brotherhood is endangered, the Templars betrayed.
Their only hope lies with two twins, separated at birth and raised worlds apart, each with an unbreakable will to discover the secrets that have been kept from them. One is destined to wield the dagger of the martyrs, the blade of an ancient order of assassins, the other the last templar.
An epic tale of betrayal and loss, of sacrifice and commitment.
And of ties that, once forged, can never be broken.
The Last Templar is an epic historical fantasy novel in the grand tradition of David Gemmell's Rigante and Troy novels, steeped in war, tinged with magic and wonder.
---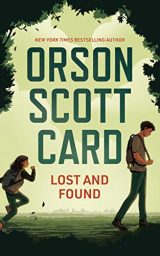 Lost and Found – Orson Scott Card
"Are you really a thief?" That's the question that has haunted fourteen-year-old Ezekiel Blast all his life. But he's not a thief, he just has a talent for finding things. Not a superpower—a micropower. Because what good is finding lost bicycles and hair scrunchies, especially when you return them to their owners and everyone thinks you must have stolen them in the first place? If only there were some way to use Ezekiel's micropower for good, to turn a curse into a blessing. His friend Beth thinks there must be, and so does a police detective investigating the disappearance of a little girl. When tragedy strikes, it's up to Ezekiel to use his talent to find what matters most.
Master storyteller Orson Scott Card delivers a touching and funny, compelling and smart novel about growing up, harnessing your potential, and finding your place in the world, no matter how old you are.
---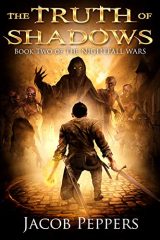 The Truth of Shadows (The Nightfall Wars #2) – Jacob Peppers
Three strangers chosen by the gods.
A castle-servant who can bend fire and light to his will. A musician whose song can soothe even the wildest of hearts. And a nobleman with the gods' own luck.
Three strangers gifted with powers beyond that of normal mortals stand against the armies of shadow. But there are other gods, other powers lurking in the darkness, and they too will find their champions.
Hunted by mortal and immortal enemies alike, Alesh and his companions flee south to the Ferinan lands. There, they will search for help they desperately need, those who might stand with them against the coming darkness.
A nobleman without hope.A musician to whom every song sounds like a funeral dirge. A castle servant at risk of being consumed by an evil greater than any he has faced.
They have set themselves against the coming Ever Dark. But shadows are not easily conquered, and no matter how many are cut down, more rise in their place.
For the truth of shadows is that they are not born.
They are made.
---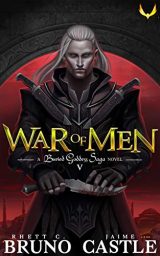 War of Men (The Buried Goddess #5) – Rhett C. Bruno and Jaime Castle
As men squabble amongst themselves, the Buried Goddess makes her move.
Torsten Unger marches east in the name of the Glass Kingdom to put an end to Drad Mak, eliminating the Drav Cra threat once and for all. But can it be that simple—or is he just another pawn in the Buried Goddess' game?
After discovering that Nesilia has possessed Sora's body, Whitney Fierstown has a plan to get her back. All he needs to do is find a way to contact his old friend Kazimir, who as an upyr, knows the secrets of existence between worlds. It won't be easy, but when has it ever been?
Having won the Tal'du Dromesh, Mahraveh is now an afhem, and with her new fleet, she has the power to save her father. Muskigo has been cut off and surrounded by the Glass Army, but the time has come to bring the fight to them and for her to win this war between men.