Steampunk knights, bloodthirsty pirates, chi-cultivating dungeons, and isekai samurai feature in this week's roundup of the newest releases in fantasy.
---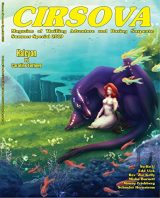 Cirsova: Summer Special 2019 – presented by Cirsova Publishing
The Ghost of Torreón By EDD VICK and MANNY FRISHBERG
A strange experiment gone wrong has granted Professor Rigoberto "Beto" Caminante an extraordinary power—the ability to "ride" radio waves!
The Bullet From Tomorrow By MISHA BURNETT
A mysterious visitor claiming to be from the future has a simple job for Private Investigator Butch Norton: sabotage an airplane to prevent World War III!
The Star-God's Grave By SCHUYLER HERNSTROM
A young sorcerer's apprentice steals a starship from his master… only to be pressed into the service of a pair of space hussars to undertake a perilous quest!
Bleed You Dry By SU-RA-U
A simple news assignment—talk to the reprobate son of an aloof dying billionaire—leads one small-town reporter down a trail of death and madness!
The Last Fortune of Ali al'Ahmar By REV. JOE KELLY
No search for treasure is ever easy, but the hoard of a legendary pirate sought by a shifty client steeped in sorcery may prove tricky for even Sudah's tough crew!
Halcyon By CAROLINE FURLONG
An interstellar war has spilled onto the planet Halcyon, where humanity finds an unexpected ally in their fight against an alien race and their sinister masters!
---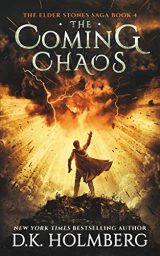 The Coming Chaos (The Elder Stones Saga #4) – D. K. Holmberg
Altered and augmented by his increased connection to the metal lorcith, Haern must use this ability to protect the women he's brought with him from the dangerous city of Dreshen. A series of attacks suggests a control over metal even Haern might not be able to withstand. Worse, the source of the attacks might be closer than he knows.
Daniel's search for the remaining stone brings him to a surprising place. Once there, it becomes increasingly clear how little they know about the stones—or how to protect them. Answers require he learn how to master aspects of his powers that have been beyond him, but are essential for what is to come.
Lucy begins to suspect another threat that rivals even Olander Fahr. Learning more about this threat requires she chase the one person she fears most. If she can't find and face the Architect, they won't know what Olander Fahr intends in time to stop his plan.
Separated from the Great One, Ryn wants to understand her blessing, but she's tasked with much more. Searching for answers reveals a deeper divide within the Ai'thol. As emissary, she shouldn't be the one to fix it, but in the Great One's absence, she might be the only one who can.
---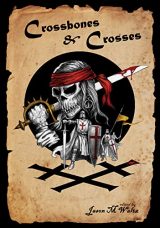 Crossbones & Crosses – edited by Jason M. Waltz
Pirates & Crusaders, ahoy!
Hoist your banners, unsheathe your blades, kiss your crosses, and search for booty across the seas and the sands! More of the age of steel than shot and no fantastical elements, this is a lineup of the strongest of swashbuckling historical adventures. Gritty, dangerous, and bloody tales of the past, realistic without being nihilistic.
The anthology kicks off with a rousing foreword by swashbuckling and sword-and-sorcery guru Howard Andrew Jones. This is followed by 3 sections of adventure: 7 tales each of pirates and crusaders, and 3 tales combining the two. Sections contain stories by current bestselling authors, up-and-coming authors, and classic tales from 1910. Epic verse and song round out each section of historical action.
There's never been anything like this. It's a massive tome of piratical and crusading adventure you'll be delighted to read!
---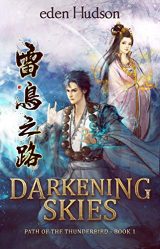 Darkening Skies (Path of the Thunderbird #1) – eden Hudson
Ji Yu Raijin is happy to live out his life serving his school, cultivating his life force, and learning the Path of Darkening Skies, an ancient and noble warrior art—until the day comes when he has to choose: remain true to the teachings of his path and allow his art to die out or commit an unforgivable sin and save the world.
Second princess Shyong San Koida was born the only cripple in a dynasty of powerful warriors. With a broken life force, the only way Koida can contribute to her family's empire is by sealing a strategic alliance to a barbarian leader with her hand in marriage. But hidden forces within the court conspire to stop the union and obliterate the Shyong San dynasty at all costs.
At the intersection of the servant boy and the princess's stories lies a secret, malignant art bent on destroying not only them, but the entire world.
---
Dungeon Eternium (Divine Dungeon #5) – Dakota Krout
The world watches the sky with trepidation. The insanity of Xenocide knew no bounds, and all will soon suffer the effects he had planned for a millennium. Though none know what is to come, they all know it isn't going to be easy to survive.
The Master has a plan, one that can give the world at large a way to escape the onrushing desolation. It may be on the bleeding edge of morality and what he needs might prove too difficult to secure, but The Master asks for trust.
Cal and Dale both have their role to play as the world hurtles toward destruction. One needs to bring the races of the world together while the other simply needs to survive. Surrounded by supposed allies, the duo will do all that they can to succeed—but with every new arrival comes rising tensions and faltering trust.
The apocalypse is coming. Will honor or greed stand the test of time?
---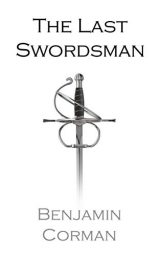 The Last Swordsman – Benjamin Corman
Nikolis' parent's are dead – murdered before his eyes. What's worse, they were traitors to the crown.
At least that's what he hears the village folk saying moments before he is whisked away to the castle of Highkeep. There he finds himself before the aged King Alginor, a man brought to a boil by his very presence.
With his fate hanging in the balance, Nikolis accepts an apprenticeship with the castle's master of arms, a decision that catapults him on a journey fraught with danger, treachery, self-discovery and burgeoning love, where his wit and the edge of a blade may be all that protects him from a world that is spiraling out of control.
---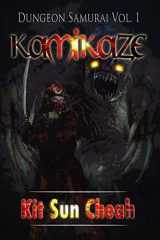 Kamikaze (Dungeon Samurai #1) – Kit Sun Cheah
Yamada Yuuki is an ordinary college student with an extraordinary hobby: the classical martial art of Kukishin-ryu. Until one fateful day when a demon rips through the fabric of space-time, abducts everyone in his dojo, and transports them to another world.
To return home, Yamada and his friends must join forces with other displaced humans to conquer the dungeon that runs through the heart of the world. Standing in their way are endless hordes of bloodthirsty monsters and countless traps. Armed only with steel, faith and guts, they must battle their way through the winding catacombs to confront the demon waiting at the bottom floor.
Yamada was once a student. Now he must become a samurai.
---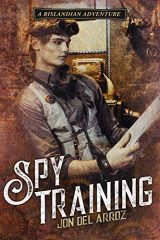 Spy Training (The Steam Knight #3) – Jon del Arroz
Deadly secrets lie behind enemy lines…
…will he make it out alive?
The Kingdom of Rislandia sends their finest Knights of the Crystal Spire on an espionage mission in hopes of uncovering plans to the one weapon that could turn the tide of the war in their favor—the airship.
James Gentry takes on this difficult assignment while juggling overwhelming personal troubles that threaten his ability to do his job. If he can't regain his focus, it could lead to his death.
To compound his problems, the Wyranth have a secret plan far more dangerous than the knights could have even imagined.
---