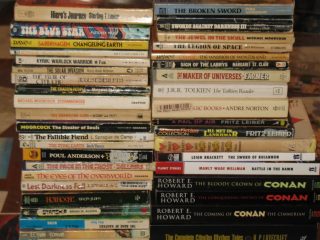 It's been a good run, y'all. And I'm very pleased with how it turned out.
I went from writing mostly about Car Wars and on to game design and role-playing games in general. After taking Lewis Pulsipher's course on game design, I realized I liked writing about games far more than I did making them. But under his direction, I also learned how to be productive– and to focus my efforts on developing completed works.
I remember when Sad Puppies first came to my attention. Upon reading the most vilified author of the whole crop– Vox Day, of course– I saw a nominated story that's worst fault could only be that it was explicitly Christian. Looking up the publishing house it was produced at, I found a manifesto stating their goal to restore fantasy and science fiction to more what it was like when it was written by Tolkien and Howard. (And yeah, I had no idea how the person that wrote that could possibly think that a pulp writer like Robert E. Howard could be anywhere on par with J. R. R. Tolkien. And even more ironically, I couldn't imagine how a "Campbellian Revolution" they claimed to want could be anything other than good.)
Nevertheless, it struck me as something I was born to do, so joined up with the intention of taking my own writing to another level. I soon went to work writing a series of posts that would ultimately become Appendix N: A Literary History of Dungeons & Dragons. These efforts would culminate into several things happening:
A modest literary movement would form, i. e. the Pulp Revolution.
The Castalia House blog would catapult up in readership to the point where it could rival the leading fantasy and science fiction group blog on the internet.
Upon release, the book Appendix N would manage to land an impressive #1 spot in the Amazon rankings in the category of Literary Genre History & Criticism.
And thanks to the efforts of an entire group of pulp historians, a more accurate picture of science fiction and fantasy's history would emerge which placed the field's politicization as occurring much earlier than most people would have thought.
Last but not least, a whole range of people would go on to get better results with their vintage fantasy role-playing games as a result of their playing them the way they were designed to be played.
For a guy whose greatest aspiration up until then had only been to share his undying love for the unsung sport of autodueling with the world, I gotta tell ya… this was all some seriously mind blowing stuff.
So much is happening in the wider scene today that I can barely keep up with even a portion of it. Along with that, I find that areas of my life outside of gaming and fiction have increasingly laid greater and greater claims to my time. And while I wish I could do all the things that I can think of that could really capitalize on everything that's developed here… I'm afraid I instead have to admit that I've run with all of this about as far as I can.
It's a tough thing to do, but I think it's the right thing for me at this time. So I'm handing over editorship of Castalia House blog to Morgan Holmes, who has been writing about classic fantasy and science fiction here almost as long as I have. (Good luck, man!)
To everyone at Castalia House and to all the readers and bloggers here… thank you. You've all inspired me greatly and have continually surprised me with your dedication and your love for the field. It really has been an exciting trip, and I'm grateful to everyone that took the time to join with me in this voyage of discovery.
So long for now.