Jon Del Arroz is a familiar face around Castalia House and the blog, both for his novel, For Steam and Country, and his upcoming work for the Alt-Hero novels and The Ember War comic book. This week, he has launched an IndieGoGo campaign for his latest independent project, Flying Sparks, a more romantic take on the superhero genre. And, as recently announced, Dark Legion Comics will be publishing the retail editions.
---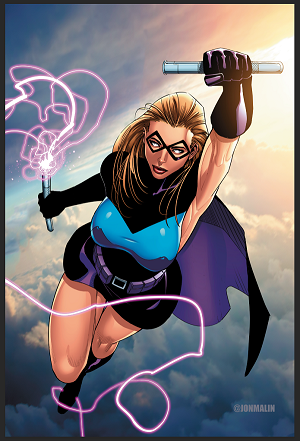 What if you met the person of your dreams, but they're not only your direct opposite, but also your enemy? 
Chloe Anderson is a physics student by day, a hard working, smart girl who's close with her mad scientist professor, working with him as a teacher's assistant. She has access to several of his inventions, and in order to help test them, she moonlights as the superhero, Meta-Girl.
Johnny Benvinutti comes from a well-established Italian crime family, and recently found he has the ability to shoot lightning from his hands. His descent into deeper crime only creates the need to cover more up as he runs his operation out of a coffee shop front business.
When the two of them meet, sparks fly on multiple levels. But will they be able to maintain their relationship while keeping secret lives from each other?
FLYING SPARKS will feature the first three chapters collected in one volume. 66-pages of action packed story of a quality only one of the top science fiction authors in the field today can bring you.
---
Jon Del Arroz is a #1 Amazon Bestselling author, "the leading Hispanic voice in science fiction," according to PJ Media.com, and winner of the 2018 CLFA Book Of The Year Award. He is best known for his steampunk novel, For Steam And Country.
Jethro Morales is a professional artist having worked for Image and Dynamite, most notably for Hack/SLASH, Green Hornet, and Dejah Thoris. 
Del Arroz and Morales have teamed up to produce a superhero comic with intense personal drama like the Batman/Catwoman relationship has promised but never delivered. FLYING SPARKS: a hero and villain in love. You can help make this book a reality, with this volume including the first three chapters of this planned ongoing series, 66-pages of storytelling by a professional science fiction writer. The best part is: the art is already complete, which means this book can get into your hands much more quickly than most crowdfunded comics! Digital books can be delivered as soon as this crowdfund ends! Great story! Great Art. No Wait! 
But it gets even better: this book features a stunning cover by the acclaimed creative team that brought you JAWBREAKERS: LOST SOULS, John Malin (Cable, Thunderbolts) and Brett R. Smith!
---
"The kind of stuff that made me fall in love with early Marvel comics," – Comic Book Resources on FLYING SPARKS