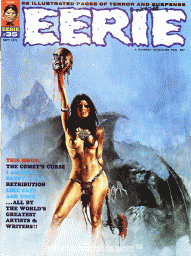 There was a time in the 1970s when Frank Frazetta retreated as the preeminent painter of fantasy paperback book covers but before the rise of Ken Kelly, Boris Vallejo, and Rowena. This was a time of Frazetta imitators. Among those were Spanish artists brought in by Warren Magazines.
One of those was Enrique Torres. He is known as Enrich Torres and sometimes as just Enric. He and Manuel Sanjulian both long careers in book illustration.
There is little information in English on Enrich Torres. Birthdates don't even agree, some say 1939, some say 1940.
One of his first book covers was for an Ace Book reprint for Leigh Brackett's "The Secret of Sinharat"/ "The People of the Talisman." Frankly these covers are horrible. They are very reminiscent of the covers that Gino D'Achille was producing for Ballantine for the Barsoom series.
Avon took on Enrich/Enric for Avram Davidson's Ursus of Ultima Thule. Davidson's book is the cobbling of two novellas originally published in science fiction digest magazines. The book was praised in The Reader's Guide to Fantasy as being "well-written." I found it dull. There is a reason there was only one edition.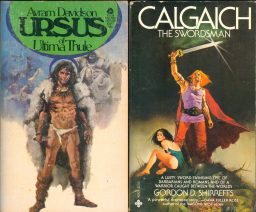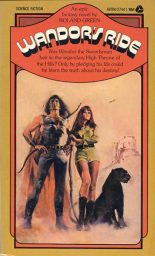 Torres painted two of the Wandor books by Roland Green. They are very much of the time with the girl in hot pants. Torres also put Wandor in the same pose for both books. Boris Vallejo must have been taking notes of the static poses.
Zebra Books used Enrich for Robert E. Howard's Three Bladed Doom. Zebra was notorious for using covers that had nothing to do with the contents. Francis X. Gordon (aka El Borak), a turn of the century adventurer is turned into a cave man!
Ace Books reprinted Samuel R. Delaney's first novel, The Jewels of Aptor,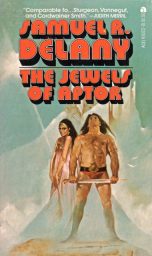 packaged as sword and sorcery with a rather generic cover. This was in the wake of the Robert E. Howard boom that started around 1976. There were a lot of barbarians on the covers of paperback books in the science fiction section in the late 1970s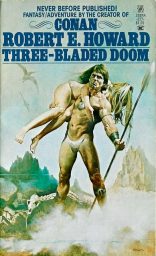 whether there was a barbarian in the book or not.
A different style was used for the sublime Calgaich the Swordsman (aka The Celtic Blade) by Gordon D. Shirreffs. There is no Frazetta fetishism here. Get this book, it is an historical set in 4th Century Britain with Celts/Britons, Romans, Picts, lots of violence and sex. You can thank me later.
Mention has to be made of Enrich's Vampirella art. If you do a google search and look under images, there will rows and rows of Vampirella. Enrich has also produced a fair amount of Red Sonja art           (subject for a future rant).
Enrich Torres appears to be more comfortable painting women than men. The men are generally in a static pose. He was not the worse artist of this period but he is forgettable. His style changed into a sort of Sanjulian pasticheur for Jerry Pournelle's Janissaries.  He painted covers for paperbacks all through the 1980s. He broke the 1980 barrier. He is probably truly forgotten.