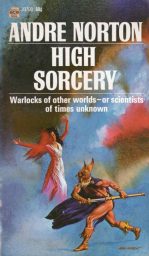 Dwight Graydon Morrow (1934-2001) better known as Gray Morrow was a major contender for a few years in the realm of sword and sorcery illustration.
Born in Indianapolis, attending the Chicago Academy of Fine Arts, he moved to New York City in 1954. He became friends with Wally Wood, Angelo Torres, and Al Williamson. He was given the job to illustrate Robert E. Howard's "The Tower of the Elephant" for a comic book for Triangle Publications. The company went under and the art lost.
After a two year stint in the Army, he resumed comic book work. He also got work with science fiction magazines. He produced a cover for Amra V2N26. He produce covers for Fantastic Stories of Imagination including covers for John Jakes' "Brak" story "The Pillars of Chambalor" (March 1965) and Roger Zelazny's "Dilvish" story "Thelinde's Song" (June 1965). The Zelazny story has a Wally Wood look to it.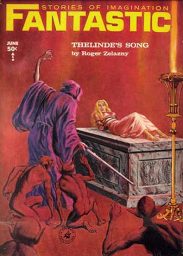 Morrow produced covers for Ace Books and painted the first two covers for Lin Carter's Thongor books.
The next year, he did the covers for Michael Moorcock writing as "Edward P. Bradbury" Martian books. The covers were dynamic and colorful.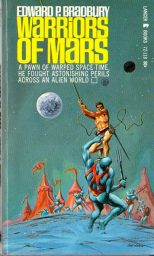 Gray Morrow at the same time was part of Warren Magazines ground breaking black and white magazines. He was present in Creepy #1 in late 1964 and the next four issues.
Frank Frazetta produced the covers for Creepy issues 2-7, Gray Morrow did issue #8. He painted the cover for the fourth, sixth, and tenth issues of Eerie.
Morrow became associated with sword and sorcery stories in the pages of Creepy and Eerie. In an interview Morrow stated:
"The only thing I ever pestered him (Archie Goodwin) about was 'Let me do a Western' or a sword-and-sorcery/fantasy/Conan type thing. HE did come up with that kind of stuff for me, occasionally. . . It was one of the more entertaining things for me to do."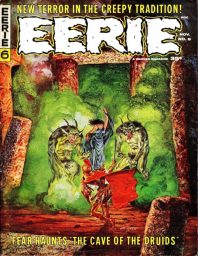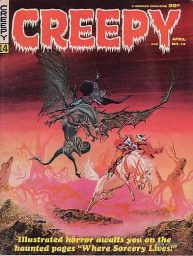 Don Wollheim used Gray Morrow as part of his stable for Ace Books. Classic images for Leigh Brackett, Thomas Burnett Swan, Andre Norton adorned these books.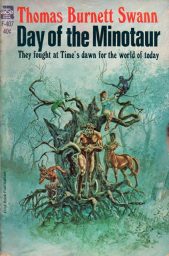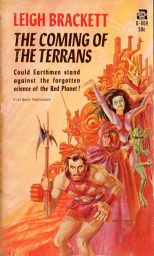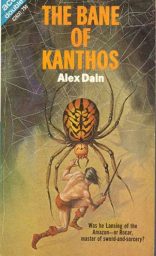 Morrow's cover for Alex Dain's Bane of Kanthos has more of a Frank Frazetta look to it in comparison to the more Wally Wood images of a few years before.
Gray Morrow kept busy in both science fiction book covers, magazine covers, and comic book work. His science fiction and fantasy book covers ended in 1979 though he continued to work including the Tarzan comic strip until the late 1990s.
Morrow had a feel for sword and sorcery in his artwork. The scenes are almost always dynamic and don't have the appearance of staged posing.