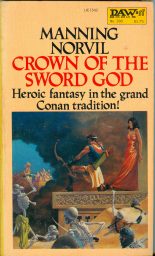 D.A.W. Books was the bastion of sword and planet fiction in the 1970s. Donald Wollheim published Kenneth Bulmer as Alan Burt Akers, Lin Carter, John Norman etc. He also was willing to use new artists.
One of those was Richard Hescox (born 1949) started out as a D.A.W Books cover artist but went on for a long career that continues to this day.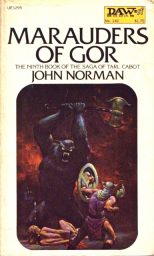 His first book was for the sword and planet novel Walkers on the Sky by David J. Lake (1976). He went on to produce covers for some of Marion Zimmer Bradley Breen's "Darkover" series.
He produced covers for John Norman's Gor books.
D.A.W. Books reprinted Michael Moorcock's Mars trilogy. Hescox did a cover for Lin Carter's The Pirate of World's End (1978).
The Kregen/Scorpio/Antares series written by Kenneth Bulmer must have been a popular one as there was ultimately 52 titles. Hescox painted covers for 11 books.
Hescox's style was sort for these D.A.W. paperbacks were sort of like Jack Gaughan with finer detail.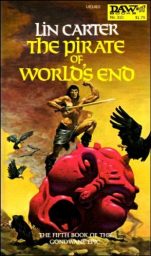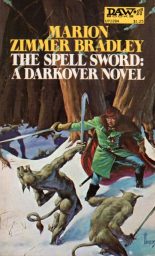 In the middle 1980s, Richard Hescox started doing work for Baen Books, Bantam, Avon, Signet/New American Library. The style became more shiny and polished as was the general style of the time.
He disappeared from paperback cover art after 1994 but reappeared in the early 2000s for a few years. He is not idle. He has done illustrations for the Subterranean Press edition of George R. R. Martin's A Clash of Kings in 2014.
His website (richardhexcox.com) states:
"Richard Hescox is one of the founding lights of the Imaginative Realism movement, first turning in that direction, and creating personal, Fine Art works in a fantastical vein, in 1992. Since then he has painted many, highly sought after, images which have attracted collector and publishers as well as having inspired many followers in the movement. His break from commissioned illustrations has allowed him to paint pictures that flow out of a deep place in his psyche that seeks for beauty, mystery and the romance of a world long forgotten.
Working without the constraints of art directors, deadlines or client specifications, he has produced a stunning body of paintings. These works harken back to the great artistic traditions of the past and are infused with the wonder of an era of myth, exotic culture and mystical yearnings."
He is on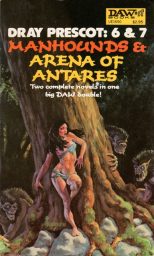 e of those artist whose name you don't know but know the art when you see the D.A.W. paperback.