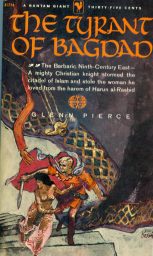 Sandford (Sandy) Kossin (born 1926) is a general illustrator producing many paperback covers and movie posters from the 1950s through the 1970s. He painted some science fiction paperbacks from the late 1950s to the late 1970s.
For a brief time, he was the house artist for Signet/New American Library line of sword and sorcery novels from 1969 to 1970s.
David Hartwell was at New American Library around this time but it is unclear if he had anything to do with Signet's line of sword and sorcery fiction paperback books.
The series amounted to seven novels by a mix of paperback professionals (Ben Haas as "Richard Meade" and John Jakes), fantasy writers Michael Moorcock and Lin Carter, and neophytes (Damien Broderick). The novels are at the least interesting. Lin Carter's Lost World of Time can be argued to be his best novel. John Jakes' The Last Magicians is a notch higher than his" Brak" stories and novels. It has elements that predates Karl Edward Wagner's "Kane" stories.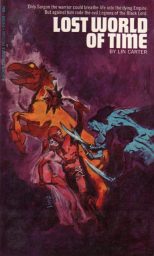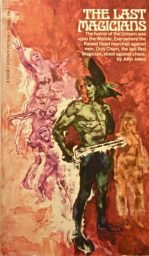 Ben Haas is probably best known for the Fargo series (which is great). Haas wrote two sword and sorcery novels set in a post-apocalyptic future that has returned to a medieval level of technology. What is old is new again with an area of Europe much like old Germany. The novels are a little on the crude side stylistically but move along.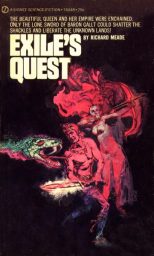 Haas as Meade first novel Sword of Morning Star (1969) had a Jeff Jones cover in his Frazetta imitation phase. Exile's Quest came out the following year with the Sandy Kossin cover.
George H. Smith's Witch Queen of Lochlann is a zany fantasy on the line of Unknown. Imagine Darren Stephens from Bewitched transported to a world of pre-industrial culture and magic.
Sorcerer's World (1970) was Damien Broderick's first novel. I remember have an ornate style. L. Sprague de Camp did not give it a good rating in his review in Amra. Broderick also was the last sword and sorcery novel in the line. The post-Conan boom had gone bust right about this time. Too many books that were not even sword and sorcery were published disguised to look like sword and sorcery.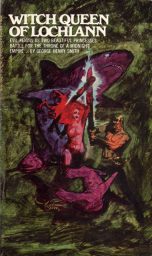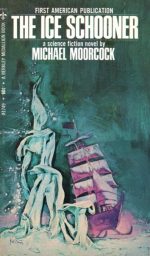 The series did attempt to have its own look and publish new fiction. Kossin's water color book covers don't reach out and grab you like Frank Frazetta. Signet's brief foray into sword and sorcery did produce a few gems. Keep an eye out for them at used bookstores.