Tom Barber (born 1946) is an artist encapsulated within the second half of the 1970s. His first cover painting was for Adrian Cole's A Bane of Nightmares (1976). He would produce the cover for the 2nd edition of the first book in the series, A Plague of Nightmares (1977), and the second printing of Lord of Nightmares (1977). This is a sword and pseudo-science series that Adrian Cole has recently returned to.
Tom Barber did a couple of covers for D.A.W. Books including one from E. C. Tubb's "Dumarest of Terr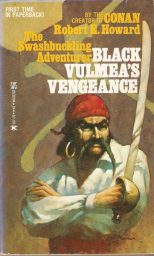 a" series.
Ted White used Barber for four covers for Amazing Stories. Galileo magazine used Tom Barber for a few issues also.
It was with Zebra Books that Tom Barbar was most strongly associated with. He became Zebra's house artist after Jeff Jones no longer produced covers for sword and sorcery paperbacks.
Barber did the cover for Robert E. Howard's pirate collection Black Vulmea's Vengeance (1977). The Robert E. Howard well had then run dry for Zebra Books. Looking around, Roy Torgeson, editor at Zebra reprinted the Tros of Samothrace series by Talbot Mun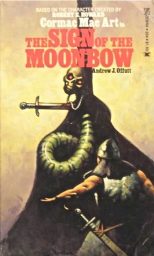 dy. Mundy originally wrote the series for magazine publication in the 1920s with six novellas and one novel. Avon had reprinted the series with two novellas per paperback for the first three books and "The Messenger of Destiny" as its own retitled paperback. Zebra Book ran 2 novellas in the first book (Tros of Samothrace, September 1976) with half of the third. You had to get Avenging Liafail (October 1976) to pick on the third novella along with fourth and fifth novella. The Praetor's Dungeon (November 1976) finished up things. The Purple Pirate (January 1977) collected the four novelettes from Adventure magazine from the 1930s. Queen Cleopatra followed up in April 1978.
The joke of these books is Robert E. Howard's name is in a bigger type size than Talbot Mundy with the obligatory "Heroic fantasy in the tradition of" preceding Robert E. Howard's name. These are great covers though. You can't accuse Tom Barber of being a Frazetta clone. The style is similar to Jeff Jones' covers for Zebra.
At this time, Tom Barber produced a pair of back covers for Heavy Metal magazine.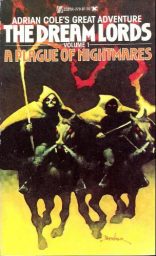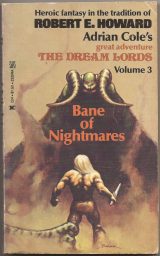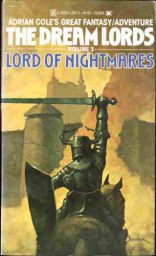 There was an interesting attempt to revive Weird Tales in 1980 as a paperback series edited by Lin Carter. Unfortunately, the series petered out with four books. Barber produced covers for the first three.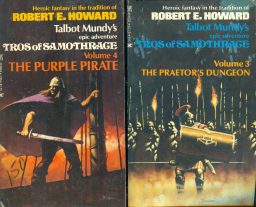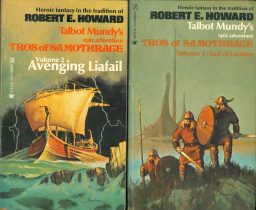 His last cover for Zebra Books was for the collection, Mysteries of the Worm by Robert Bloch in 1981. This was supposed to be the beginning of a new reprint series edited by Lin Carter similar to Ballantine's Adult Fantasy series but more pulp in contents. Zebra Books phased out their fantasy and science fiction line and switched to westerns and romance novels.
Tom Barber disappeared after 1981. He was yet another casualty who failed to cross the 1980 barrier in publishing.