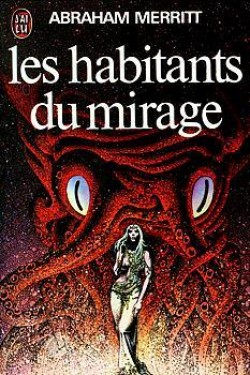 John E. Boyle writes in with this astonishing anecdotal evidence for A. Merritt's enduring appeal:
Merritt's Magic

I'd like to give you an example of just how good A. Merritt was. I read the Ship of Ishtar years ago, and then loaned out the paperback to someone, who either moved or loaned it to someone else, and it was gone. This just happens with books, sometimes.

Then Jeffro began this series, and the old magic of this book cast its spell on me again. I decided to buy a copy the next time I saw it in paperback. That decision became more immediate when I learned of the role Damon Knight and James Blish had in wrecking Merritt's reputation, and I went on Amazon to buy a copy.

I lucked out; I managed to snag a copy of the memorial edition put out by Borden, illustrated by Virgil Finlay, autographed by Finlay himself (one of Merritt's favorite artists). That copy arrived on 2/11/17, and I gave it to my mother to read (being Mater Familias has its perks). She loved it, but I wasn't home when she finished, so one of my brothers grabbed it; he liked it, his wife liked it, then a sister got it and then another sister…

I've owned that book for 5 weeks and haven't read a word of the text yet! This is almost as bad the those Rachel Griffin books by that Lamplighter woman. Four generations of the girls in my family are reading those books and I haven't been able to finish even one of them. It just isn't fair.

Oh, and that autograph by Finlay?

"In Memory of A. Merritt, The Lord of Fantasy, Virgil Finlay."
Meanwhile, Karl Gallagher weighs in on the continuing Pulp vs. Campbellian SF debate with… a question:
So, speaking as someone who reads hard SF, writes hard SF, speaks on panels on cons about hard SF, where are you finding this "Hard SF is the only true SF" propaganda?
You know, they say there's no such thing as a stupid question, but this one really should be embarrassing at this point.
"Hard SF is the only true SF" is so ubiquitous, it doesn't even register as an opinion. Hard SF is the de facto definition of science fiction today.
"Hard SF is the only true SF" is the tacit assumption of Vox Day's "Blue vs. Pink SF" dichotomy.
When you see someone invoke science fiction history by skipping from Verne and Wells directly to Asimov, Heinlein, and Clarke, you're seeing someone insinuate that "Hard SF is the only true SF".
When you see someone claim that science fiction is a ghetto, a sausage fest boys club that is hostile to women, you're seeing someone insinuate that "Hard SF is the only true SF".
When people invoke "the golden age of science fiction" they are (generally unconsciously) pushing outright propaganda that asserts that "Hard SF is the only true SF".
I really have to salute David Brin on this because he at least acknowledges he's taking a side in an ongoing debate. But to act like no one is out there pushing a party line of "Hard SF is the only true SF" is just plain dumb. After all, A. Merritt didn't just quietly lapse into obscurity due to changes in taste, fashion, and impersonal historical forces. He had a lot of "help" from people that were all too willing to put their thumb on the scales within the greater science fiction marketplace.