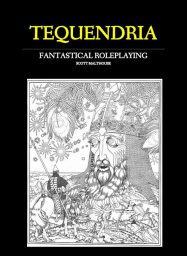 The RPG Tequendria by Scott Malthouse and published through The Trollish Delver Games was released recently on DriveThruRPG as a pay-what-you-want pdf and let me tell you, I immediately wanted to snap it up. Why? Well, the price was right but, that's not the main reason. The main reason is that it is the only RPG that I know of based directly on the works of Edward John Moreton Drax Plunkett, 18th Baron of Dunsany or, as he's better known, Lord Dunsany.
The system is based on The Trollish Delver Games Unbelievably Simple Roleplaying (USR) system and more on that later. But first, let's talk briefly about Lord Dunsany. Lord Dunsany had a prolific and popular writing career of 52 years and more than eighty books published – mostly fantasy but, also war memoirs (he served in the first Boer War and World War I). He also worked in the theatre, radio, television, and film. Without him we almost certainly would have had no H.P. Lovecraft and he influenced too many writers to mention. But, let the short list include many early pulp writers such as Robert E. Howard, Clark Ashton Smith, and Manly Wade Wellman and also more recent writers such as Michael Moorcock, Neil Gaiman, and even Guilliermo Del Toro. But, he's not much read. Even by myself. I don't know the exact reasons why. Despite his popularity in the early 20th Century, in the second half of the 20th and into the 21st he remains largely unavailable. It wasn't until about five years ago I ran across his most popular work The King of Elfland's Daughter, which was a book I'd been on the lookout for for years. Prior to that, the only Dunsany I had read was the collection Beyond the Fields We Know from the Ballantine Adult Fantasy line published in 1972 and read by myself in the early 1980s.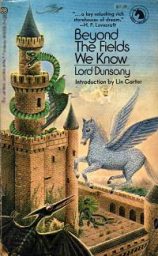 I say don't know the reason why he fell from popularity because all I have read has been gold. His style simultaneously evokes both biblical writings, the Norse sagas, and the One Thousand and One Nights. The stories themselves always evoke quite a feeling of the strange and sublime. But, perhaps it is his style that fell from favor as it does land hard on modern ears raised on staccato Hemingway influenced prose. All I can say is try it; it's wonderful. And, if you try this game you can try it because the last third of the book is taken up by three complete Dunsany works: Idle Days on the Yann, Distressing Tale of Thangobrind the Jeweller, and The Fortress Unvanquishable, Save for Sacnoth. If these three stories don't leave you yearning for more Dunsany, I can't help you. But, for those who I can help, you can find more Dunsany here. If you haven't read any Dunsany I recommend that you read at least these three stories first to get the feel of the things.
I said earlier that Tequendria was the only game based directly on Dunsany's work. But, it's obvious that the whole of fantasy role playing owes some debt of gratitude to Dunsany. Either through direct influence or through his influence on other writers who served as inspiration for hobby. I challenge anyone to read Distressing Tale of Thangobrind the Jeweller and not come away convinced that the classic Original Dungeons and Dragons thief class was at least partly inspired by the story and arguably more so than Tolkien's The Hobbit. Thangobrind is clearly a d4 thief.
But, back to the game. As I mentioned before it is based on the Unbelievably Simple Roleplaying (USR) system which lives up to the name. Character generation is as fast and simple as it gets. Each character has three attributes, Action, Wits, and Ego, which are themselves associated with a type of die: d10, d8, or d6. The player chooses which die is associated with each attribute. A characters toughness starts with a Hits score which is equal to the average of their Action and Wits dice. Then the player chooses an archetype (for D&D players, think class). In this case the archetypes are based on Dunsany's writings. Each archetype has Specialisms, Starting Equipment, and an Ability. Specialisms are skills which aid in accomplishing tasks while Abilities are automatic. For example, a Jewellery Thief has three specialisms (Jewellery Appraisal, Lockpicking, and Sneaking) and one Ability (Greasy Fingers which allows automatic pickpocketing to gain money). A player can either choose an archetype or roll randomly from a table of twenty archetypes. The archetypes include the expected fighter, wizard, thief types of classes but, also include such esoteric things as the telepathic Bathraka Cloudmind and Necronauts who can travel to the Hollow to speak with the dead. Even the more predictable classes have some sort of of odd Dunsany inspired ability or role.
Mechanics as advertised are easy. Tasks are either contested or non-contested. A character rolls the die associated with the tasks attribute, adds modifiers for Specialisms, and possibly equipment associated with the task. If contested the opposing character rolls the same and whomever rolls greater wins the contest. Uncontested tasks roll against a difficulty number set by the GM. Combat is conducted similarly. After an initiative roll, characters proceed in initiative order. Attacks are accomplished by rolling an action die associated with the weapon plus half the character's level. Defending against an attack a character rolls an action die plus their armor level. If the attacker rolls greater than the defender the attack succeeds and damage is done. There are also a few advanced combat rules but, nothing complicated and all easy to incorporate into the game.
Then there is magic. Any character can cast spells. But, spells have a difficulty and can fail. And, all take a toll on the caster in terms of hits. Some archetypes have Abilities that mitigate this to some degree. The rules say that all characters can cast spells but, do not discuss whether the characters automatically know spells. My take is that this is up to the GM. For myself, I'd make the players work for spells by making them search for rare scrolls and the like. The book lists 27 spells from Create Light, to Raise the Dead, and there are even such spells as to summon swarms of bees.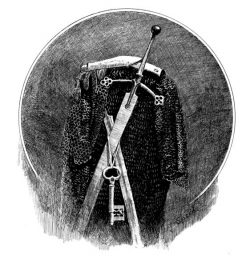 There are short sections on character advancement (by level), healing, travel, environmental dangers (cold, heat, weather), and, of course, treasure (which includes magic items). Then follows a gazetteer that describes the various regions, cities and locations of Tequendria. Each location is briefly described in poetic Dunsanian language that gives a clear feel for each place but, leaves much open to interpretation and GM whimsy. And, if there is any one thing missing from the book that I could wish for, it would be a map showing the relative locations of each place.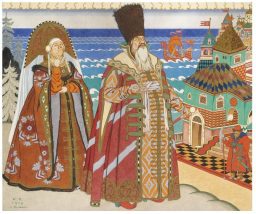 But, I can see why no map was given as the text states, "It is meant to prime the brain, to engage the imagination to spawn your own stories." And, finally, there is the last section – Creatures of Tequendria. This section presents statistics for GMs to play various monsters and animals from dogs to dragons up to Dunsany-created creatures such as the Gibbelin who move in packs to Hlo-Hlo the God Spider.
So, what do I think of it? I like it. It is simple and evocative and works hard to present the minimum needed rather than the most detail. Like Dunsany's writing it leave much unexplained and up to the imagination of the players. Which, for this venue is just the right approach. I really need to play it now. But, first I have some more Dunsany to read.