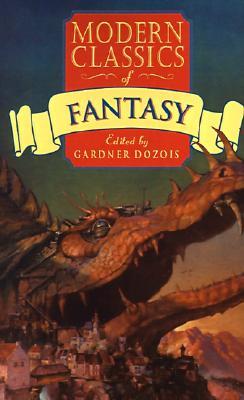 One of the most exciting things to come out of the Appendix N discussion is the number of people that have gone from having not much to read to having more in their to-read pile than they can keep up with. And it makes sense, really. The books in Appendix N defined fantasy and science fiction. Publishers stopped putting these sorts of books into print and an entire audience drifted away from them over the years. When these underserved readers find out what happened, it is as if fantasy and science fiction is alive again. And their exuberance and loyalty is just plain astonishing.
The funny thing about this is that it's all happened before. In the forties and fifties– what is typically referred to as the "Golden Age of Science Fiction"– fantasy was pretty well suppressed. People read Three Hearts and Three Lions and are blown away by a fantasy novel that is written in the vein of what we expect from the hardest of "hard" science fiction… and it's just completely wild. But here's the thing: that was not some kind of cute trick. Really, that was about the only way to get a fantasy novel onto the market at the time! For people struggling to categorize the contents of Appendix N according to contemporary genre conventions, this is why: a whole lot of science fiction was merely fantasy in drag.
So what happens when someone in that environment "discovers" Appendix N…? Just ask Gardner Dozois, because he was there, man:
By the early 1960s, this had begun to change. One of the first cracks in the armor, for me, anyway, happened in 1962, when an SF mass-market line named Pyramid Books published a paperback edition of L. Sprague de Camp and Fletcher Pratt's The Incomplete Enchanter, with a quote on it from Basil Davenport– one of F&SF's back-cover adults– saying that "you never met anything exactly like it in your life." I agreed– I never had met anything exactly like it in my life, and it made a large impression on me. When Pyramid Books published the sequel, The Castle of Iron, a few months later, I pounced on that as well. In 1963, Pyramid brought out an anthology of stories, edited by D. R. Bensen, from the by-then long extinct fantasy magazine Unknown, where the de Camp and Pratt "Harold Shea" stories that had gone into making up The Incomplete Enchanter had originally appeared; sensitized by this connection, I bought the anthology, one of the first anthologies I can remember buying. In its pages, encountered Fritz Leiber's Fafhrd and the Gray Mouser, as well as discovering the work of Manly Wade Wellman and H. L. Gold. A few months later, I came across another Pyramid anthology, this one edited by L. Sprague de Camp and called Swords & Sorcery, a deliberate attempt by de Camp to preserve at least, and perhaps revive, a then-Endangered Literary Species called "sword & sorcery" or "heroic fantasy." Here was another Grey Mouser story, and here for the first time I also encountered Robert E. Howard's Conan and C. L. Moore's Jirel of Joiry, first read the work of Lord Dunsany and H. P. Lovecraft, and first read the fantasy work– I was already with his science fiction– of Poul Anderson; a later de Camp anthology, The Spell of Seven, introduced me to Michael Moorcock's Elric stories. (D. R. Bensen, who was the editor of Pyramid Books during this period, and who therefore was responsible for bringing all this material back in print, can be seen, in fact, as one of the unsung and forgotten progenitors of the whole modern fantasy revival.)
Now, since I have started writing on this topic, I have been told repeatedly that Appendix N is "just" a list of books that Gary Gygax liked. And you know, I guess it was that. But that list of authors that looks so strange and weird and obscure today…? It was just those writers that defined fantasy for a whole bunch of people in the sixties.
After being exposed to these books in the same sort of rapid fire concentration that Gardner Dozois experienced, guys like Jon Mollison and Jon Del Arroz will go so far as to say that it changed their life. That sounds like hyperbole. It sounds like their tongue is firmly planted into their cheeks when they talk like that. But there really is a strange alchemy here that corresponds to a very real and repeatable side effect of reading these books. I mean, the last time this happened you got the sort of groundswell that would put the relatively unknown and eccentric author J. R. R. Tolkien into paperback here in the states. Dungeons & Dragons would be discovered and/or invented shortly thereafter.
The thing is, all of this did not fit the script. Adults were supposed to have set aside fairy tales when they came of age. Society was supposed to have "evolved" beyond the need superstition and myth and fantasy. But no matter how much they sneered, not matter how much they dismissed, no matter how much they disregarded, no matter how much they suppressed it, human nature would eventually reassert itself against the claims of a coterie of would-be psychohistorians.
Big things happened the last time Appendix N was dragged back into the public's attention. And it's happening again right now!