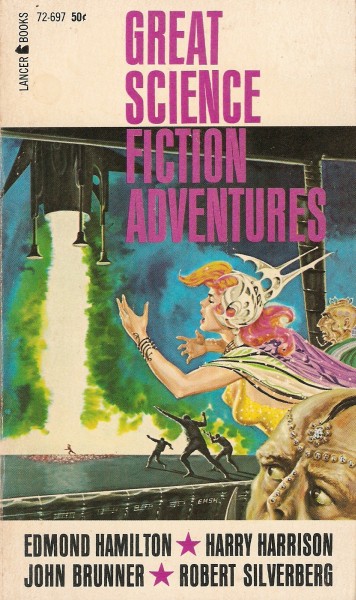 Great Science Fiction Adventures (Lancer Books, 1963) is one of my favorite reprint anthologies. The book consists of four novellas reprinted from the magazine Science Fiction Adventures. Larry T. Shaw edited both the magazine and this anthology.
Science Fiction Adventures was a digest magazine from Royal Publications published from December 1956 to June 1958 for twelve issues.
Robert Silverberg described the magazine in an introduction to Conquerors from the Darkness:
"There was a magazine for a while, circa 1956-58, called Science Fiction Adventures, edited by Larry T. Shaw. Larry had grown up in the bad old days when science fiction magazines had names like Planet Stories and Thrilling Wonder Stories, and the stories were full of bug-eyed monsters and heroes with ray-guns. Though himself a sophisticated and intelligent reader, he felt considerable nostalgia for the junk s-f of his boyhood and was sure that a market existed for it among readers. So, he edited a sophisticated and intelligent magazine called Infinity to express his adult tastes, and he edited rip-snorting old Science Fiction Adventures to indulge his sentimental taste for the wilder, gaudier action fiction. I wrote for both magazines. I gave Infinity the most elegant stories I had in me, and for Science Fiction Adventures I closed my eyes, took a deep breath, and brought forth in a completely unselfconscious way all sorts of ferocious epics of vengeance, conspiracy, perdition, and blaster-play."
The 1950s is my favorite period for action science fiction. I appreciate cosmic sense of wonder of 1930s science fiction by Donald Wandrei, P. Schuyler Miller, and Jack Williamson. 1950s space opera incorporated the galactic empire and gave it glamor. The fiction is sort of like the "chariot opera" historical epics popular at the time in that it has a technicolor pageantry. The writing is also generally better than the 1930s. It is no coincidence that Poul Anderson could switch back and forth between writing a historical set in the Byzantine Empire or the future Terran Empire.
The back cover to Great Science Fiction Adventures has Action Science Fiction by the Masters of the Field. Here is the back-cover description of the stories:
"The Starcombers" by Edmond Hamilton: Greedy scavengers of the Universe, they took the dead dreams of ancient races and sold them for junk– until their bitter battles with the cleft-men taught them what dreams are worth!
"Hunt the Space-Witch!" by Robert Silverberg: Her spell weaves its tentacles through the uttermost reaches of the Cosmos. Unless you find her, your blood-brother is lost forever. . .but finding her is far worse than death!
"The Man from the Big Dark" by John Brunner: Only one man came out of that gaping hole in Space- a pirate. With a girl's mutilated corpse on board his ship, Terak had to be a pirate– but what was his mission?
"The World Otalmi Made" by Harry Harrison: Hideout began as a thieves' planet, and from thieves' honor evolved the code of the Profession. A Profession man would – and could- do anything for a price, but to cancel his contract meant to cancel your life!
The Edmond Hamilton story reminded me of William Hope Hodgson's The Night Land but redone as an interstellar adventure. I like Hamilton's 1950s output. His writing was much improved in comparison to the early 1930s.
The Robert Silverberg story to me is a classic from this time period. He could really write a good adventure story. This story could have been a sword and sorcery story with some changes. Robert Silverberg was one of the best writers of adventure science fiction and space opera in the 1950s.
The John Brunner collection Interstellar Empire is one of my all-time favorite space opera books. "The Man from the Big Dark" is the second story set in that milieu. You have to love swords and spaceships.
Harry Harrison's story is a hard-boiled hit man story with science fiction trappings. With a few changes, it could have been in Manhunt.
Obviously, I don't consider there to be a dud in this book. Larry T. Shaw was the editor at Lancer Books. Irwin Stein owned Royal Publications that published Science Fiction Adventures and co-owner of Lancer Books. He brought Larry Shaw in as editor for the paperback publishing house. There was not an anthology of stories from Infinity. Shaw was the guy responsible for bringing us Conan of Cimmeria in paperback form a few years later. Looking through the contents of the twelve issues of Science Fiction Adventures, I note a fair number of "novels" were reprinted and novellas rewritten as novels. I will be covering that. There is a place for this sort of fiction. When I get home from work and relax, I generally want to read some sort of genre fiction with an emphasis on action and adventure.
So, find yourself a copy of Great Science Fiction Adventures and put it next to Swordsmen in the Sky, my other favorite reprint anthology from that period. Great Science Fiction Adventures should be reprinted every time a new Star Trek or Star Trek movie comes out and available through the Scholastic Book Service. Want boys to read, give them a book like this.