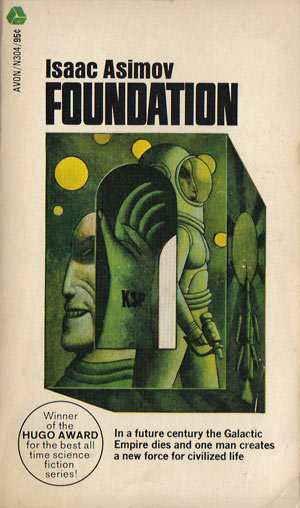 Imagine you were a Yankee and had to visit your family who are in the South. One day during your visit, you were told about a great town which is said to be the heart of the South. After hearing so much praise you were like, "Hey, this town I keep hearing about is just a few miles away from my old folk's place. I've got time, I'll go check it out." Then you finally see it with your own eyes. You explored it and met its inhabitants for like two hours. and it was…okay. The people were cool, the food was tasty and some of the landmarks looked great but it was not what you thought it was. And that's how I manifest my feelings over the Foundation.
Summary
The book is set in the Galactic Empire in the very very VERY far future. Hari Seldon, a man who made a new field in science called psychohistory, predicts the empire is in decay, and will collapse in a few hundred years, ushering in a dark age.
The aristocracy are hostile and skeptical of his statements but they send him and others to the planet Terminus to create the battlestar- I mean Encyclopedia-Galactica that will hopefully reduce the number of years of this dark age.
Analysis
A few pages in and I figured out all of the metaphors and symbolism in this book. It's the fall of Rome, the invasion of barbaric tribes, the rise of the Church and the beginnings of the dark age. I even see some parallels to the French Revolution. It's not subtle, but I don't think the book is trying to be subtle. Unlike the last book I read, Foundation is overt about it's real world parallels and is not ashamed to show it, and I like it. It's practically a fictional retelling of history.
It's very fascinating, this book, especially when you think about when it came out. It was released in 1951, just 6 years after World War 2, the Cold War was young and the Korean War was on going. So here comes this book about a galactic empire coming to an end.
Interesting.
The book's also mature enough to have no political agenda…actually scratch that, it does have an agenda.
Later on in the book (spoilers ahead)…
Members of the Foundation visit galactic kingdoms populated by barbaric people and the people think the scientists are magicians, resulting in the creation of a new religion. Scientists become clergyman, medicine becomes holy water, scientific theories become dogma, and the scientific community becomes a hierarchy with the higher ups wearing red robes.
Hmm? So what's the agenda?
Is the book saying religion is for stupid superstitious people? Is it saying stupid superstitious people are ruining religion? Is it saying the scientific community is becoming a religion? Or am I over interpreting this? What do you think? Comments welcome.
The Writing
The writing is crisp and good. The dialogue is some of the best dialogue of any book I ever read. It's smart, realistic and most importantly, easy to follow. Even though I wish the book took time for some world building, the world it created is good. The book also contains cool science mumbo jumbo.
So overall, I think the writing of the Foundation is very well done…except for one thing, which is my only major issue with the book.
The Characters
What characters? The characters are boring, two dimensional and…oh yeah forgettable. There's barely any personality and practically no one to care about. I can only remember like three characters and even they were boring.
And…That's about it.
Conclusion
I haven't read the sequels yet and to be honest I'm not interested in reading them anytime soon. Maybe one day I will. Foundation was a very good book. It didn't really impact me with mind blowing writing or a deep world changing message, and I don't consider it to be a groundbreaking SF, but I enjoyed it.
Okay Foundation did impact me with one message and it's a message that a lot of people must know.
Empires and society don't last forever. They change, they thrive and they die like human beings and we have to move on.
7 out of 10