That is what put the spurs on me to join in here – this group is /doing it/. Not just talking about it, or analyzing, but 'hey, lets do a magazine…here's the sub page…and now here's the zine!'

-James Bennett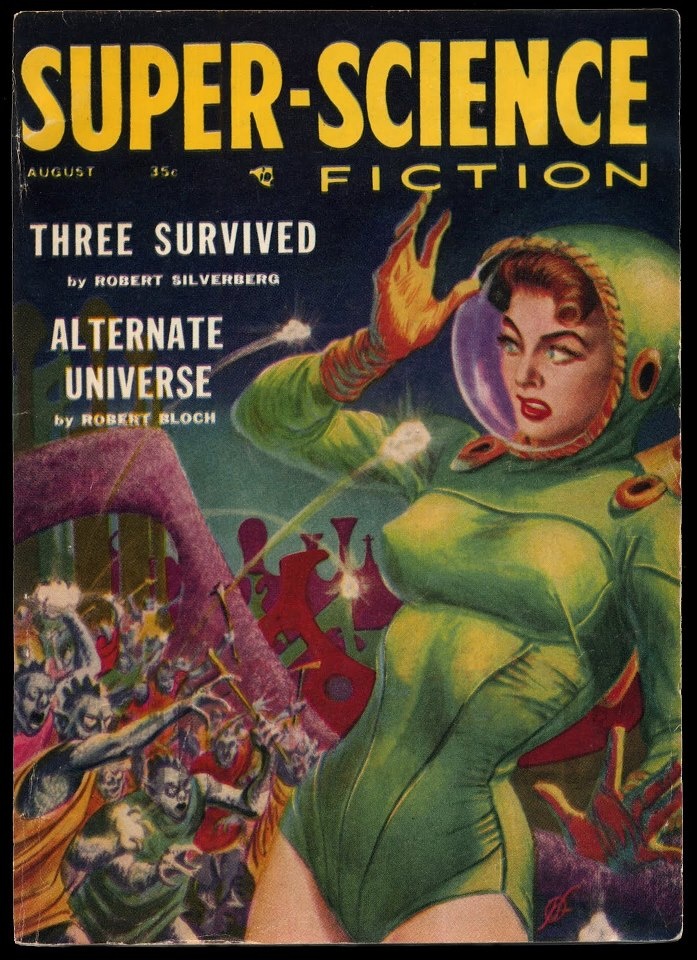 The internet has made aristocrats of us all. Here we are scattered across the world breathing life into an enthusiastic, contradictory, reacto-revolutionary literature movement that we really haven't even defined all the way, and in real time. We don't even have to walk to the mailbox. Those funny letters to the pulp editors took weeks sometimes, it's easy to forget that.
We now have the power to combine the raucous energy of those pre-microcomputer comments sections with the speed of greased electrons on fiber. We find our ideas taking form around us as if we dwelt on the orb of primal chaos before the world was formed. Observe, if you will, the creation process, roughly lifted from the Discord's chat logs:
Jon Del Arroz – 06/15/2017
and yes — Jheric, exactly what Jesse says. Get on the sensor sweep, keep posting.
Jesse Abraham Lucas – 06/15/2017
yeah, show up in CH and other blog comments with links to your space in your username
man, it would be kind of nice to have an auxiliary blog with a bunch of different contributors
right now there's CH and then everyone's personal space
imagine a place that's more pulprev and less wargames
(not that I hate wargames, I wish I had the resources to get into them)
yeah, it would be somewhere ashes could post those book reviews as well
James Bennett – 06/15/2017
(I love me some wargames, but no one to play combined with their expense…)
Jon Del Arroz – 06/15/2017
Yeah that'd be great Jesse. I don't have the capacity to manage that personally
Jesse Abraham Lucas – 06/15/2017
the Bushis sort of have that thing going on for their… whatever it is
hey, might as well brainstorm
pulprev.com
James Bennett – 06/15/2017
Hell, /is/ pulprev.com available? 'cause that would be killer.
Jesse Abraham Lucas – 06/15/2017
it is
And so we gave some couch cushion change to a corporation and reserved the domain, and in expectation of more solid attempts at web design to come we put a Blogspot on it, and that is how pulprev.com came to be.
PulpRev blog: a blog where PulpRev writers discuss books, writing, tropes, art, craft and try to figure out what, exactly, PulpRev is all about.

-Benjamin Cheah
PulpRev.com is meant to be a pure community site, a central place where everything related to the movement is easily available. We're planning on having a place for every PulpRev author, artist, and blogger to display themselves and link to their work. A major focus will be hard and fast writing advice in both general story structure principles and specific, technical ways to phrase things.
One major draw to the PulpRev movement has been that nothing has to be rocket science anymore. We won't present writing as a mystical force that must be cultivated through weeks of contemplating one's block, but as a craft that can be learned and improved (creativity is of course mystical, if you don't have that we can't help).
On the reader's side, we acknowledge that gatekeepers existed for a reason. We do believe in bad stories, and while part of the charm of a pulp-atavist movement is finding those stories that are endearingly sincere and even in their weakness point to something greater, the majority of bad stories aren't like that. One of the goals for PulpRev.com is a comprehensive rating system where listed works are given detailed reviews by our contributors. We want people to be able to find the best stuff first, and we want to be a better-balanced incentive for writers' development than the current submit-and-wait system.
We even hope to publish a lot of fiction ourselves. A submission system is one of our near-term priorities, with the goal for PulpRev.com short stories and serials to be showing off authors and artists with merit, pointing readers to their paid work and donation pages. Eventually we want to accept donations ourselves to put them in a prize pool, but that's a little further off.
We are all free thinkers on our own quests, who come back to the local tavern to share our exploits and convey the lay of the lands we've visited on our adventures.

-Todd Everhart
Anyone who's interested in contributing is welcome to join us in the PulpRev discord. Right now we're looking for:
READERS.
We want dedicated, thoughtful readers able to build a reputation of quickly reading and reviewing PulpRev pieces. Quick feedback is a blessing of the modern age. The sooner shorts, serials, and novels are read and reviewed, the sooner audiences can get to enjoying them and writers can get to improving themselves for he next one.
ARTISTS.
PulpRev is an author-heavy movement right now. There's a lot of demand for enthusiastic artists who embody the pulp spirit and who clearly list the kinds of prices they'll charge.
HOT TAKES.
It's never too early for readership growth. If you have an article that's eye-popping, head-turning, and share-worthy, we want it on our front page with your name on it.
There's a lot we're going to be able to do with this site. I can't wait to see what we all can do with it. Any questions or suggestions are welcomed (even harsh suggestions, there really is a lot we can improve on the site).
Pulprev is when you're tired of disgusting, non-pulpy juice and you decide to take things in to your own hand, via a revolution.

-Contego Stella