Pretty Good Punch For Its Weight: Third Flatiron Anthologies' Hyperpowers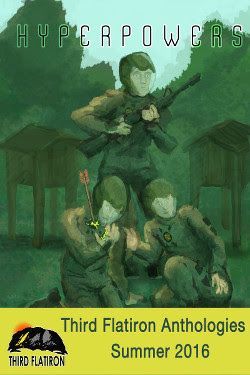 Hyperpowers is an anthology of sixteen short stories of science fiction available in several formats from the publisher's web site. I reviewed the ebook format, which contained no errors worth mentioning and played out across my screen with ease and had smooth links throughout where I expected them. The collection has something for every fan of space sagas and even one story tagged on at the end for those with a more fantastic bent, and the tones span the whole gamut from serious to tongue-in-cheek, familiar to foreign all in the package of scientific speculation that is the warm heart of the genre. Many stories feature technological breakthroughs but I was pleased to read strong, thought-provoking ideas that got me thinking in nearly every short story—quite a feat when each is less than three thousand words according to the editor's commentary at the beginning; the remarks by Bascomb James were entertaining all to themselves and I enjoyed reading them, though I believe many readers would find it more entertaining after engaging with the works due to the already-short stories being referred to with some frequency.
Hyperpowers weighs in just over one-hundred eighty pages of story-text, which should leave most readers happily occupied for much longer than your average movie ticket at a fraction of the cost. I decided after the first couple of stories that I would rather not read them all in one sitting due to each author's widely-varied tone and feel, which I would classify as one of the greatest strengths of the work. Many of the authors are indie or self-published, rather than large familiar names and included was a generous blurb about them for any readers of the anthology that liked the writing style or story that authors told. It helped to give some extra character to each reading and provides a non-disruptive suggestion for how to get more of an author you enjoyed. If you are a fan of good value and pre-screening your time effectively, an anthology like this can save you some time finding a new author to enjoy.
Another great strength is how careful the authors have been to keep their work appealing to people of many different ages and backgrounds. In a genre that sometimes pushes the boundaries and is often accused of exhibitionism and slammed for its graphic or extreme nature, I was surprised that violence and innuendo were both handled very tastefully. The perspective also is delightful, with several of the stories centering around fundamentally alien protagonists that left me able to fill in details and interpret them in a way that was comfortable though it could have been very awkward and distressing. There is a high degree of skill woven into the perspectives each story is told from and the allowances made in language for readers to empathize, understand, and sink into the tales.
That said, the anthology is not all serious thoughts and tender emotional journeys: Fans of the simple straightforward space-fights and cool weapons, alien threats met with brave soldiery, you too will get your fill. One of my favorite stories was Kill the Coffee Boilers! which was far more of a classic romp than a thought-provoking weave. It definitely felt like a piece of candy to read and I caught myself smiling throughout it and many of the other stories. Even robotic and synthetic voices felt genuine and were handled nicely in The Sillicates and Pre-emptive Survivors.
This collection is solid. Being a variety pack, your mileage will vary a bit. I would consider this an ideal gift for a reader who I did not know well, and certainly recommend it highly.