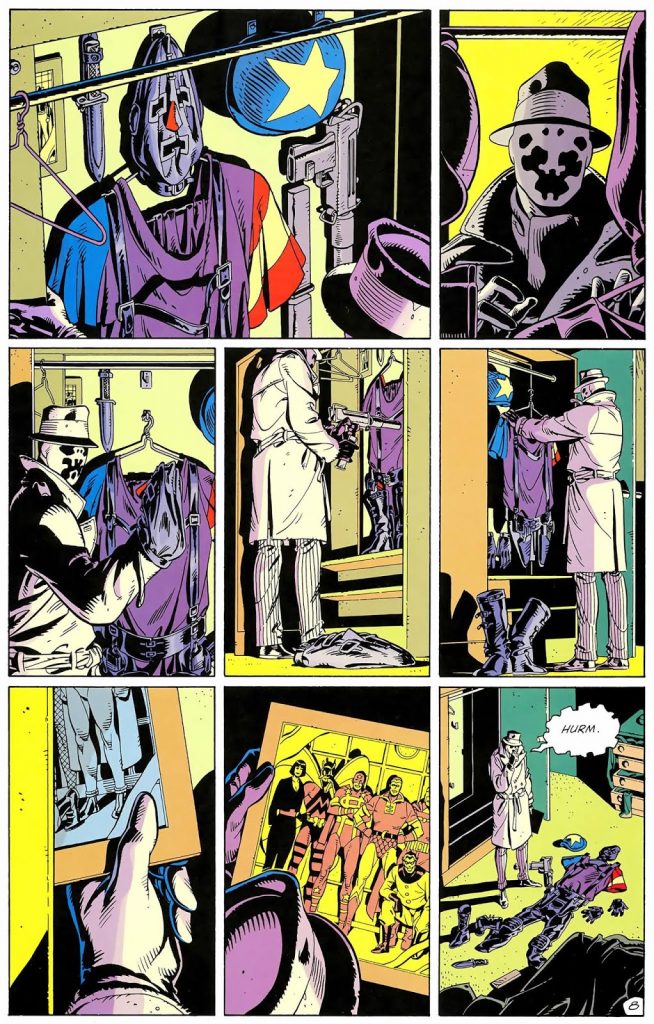 Just as Science Fiction and Fantasy underwent fundamental transformations in the 1980s and beyond, the comic industry also pushed itself further and further into niche territory. It's gone from books selling in the millions of copies to a new normal where now a few thousand people read a book. The gatekeepers of comicdom blame the same factors as mainstream publishers do: readers just don't want to read anymore, there's too much competition for media space, or most recently, readers don't want diversity.  All of those things are true, but there is a greater element which brought comics from a staple in American society to relative obscurity, and that is a fundamental change in the way stories were told in comics.
You'll see the same themes here as what Daddy Warpig discusses in his articles about how Science Fiction being replaced by boring, stodgy, impossible to read literary works. Whereas Campbell and Asimov laid the foundation (pun intended) for Science Fiction to become boring, comics had their destructive revolution much more recently with Alan Moore, Neil Gaiman and Frank Miller, products of the 1980s, ripping the heart and soul out of heroes.
Already, I'm sure people are typing up angry comments about how great Watchmen or Sandman are Dark Knight Returns are. While I've enjoyed reading all three of those, their existence has created a comic industry of followers who are attempting to recreate those stories ad nauseam. Every comic book now has turned from something that's fun to enjoy with the whole family, to PG-13 to R rated dark material, just as much prime time TV has done over the last couple decades. Each of the three works I listed existed for good reason outside of regular continuity or the regular storylines. What's been done in their wake is repeating those concepts and rewriting Stan Lee's or D.C.'s creations which didn't need fixing. As a result, this has torpedoed anyone's interest in reading.  The industry has three major problems in its storytelling, which each one of these works exemplifies in three ways:
A focus on realism in a medium that by definition is absurd. Alan Moore's Watchmen is what brought this on. The whole point of the book was to show real heroes growing old, having problems, being corrupt and dealing with real world issues and relationships – and by "real world" of course we mean a debaucherous romp of sex, drugs and violence, which no one relates to. Modern writers want to switch all their characters to this realism feel, which makes no sense when you have Asgardian gods who magically transform at the picking up of a hammer, or a nerd clinging to walls and swinging from rooftops. Realism has no place in such stories, and it's painful to read boring stories about The Visions sitting at home pretending to eat meals even though they're robots.
An obsession with rebooting mythology. This is Neil Gaiman's hallmark. He's made an entire career out of rebooting. If you look at Sandman, he takes classic mythological figures, imports them into a punk rock/goth 80s world and turns it into a weird horror story. When he worked for Marvel briefly, he rebooted Marvel as if the heroes had been born in the 1600s. American Gods, his novel, is about rebooting mythology again. His formula is obvious. It's all he does, and it's all DC and Marvel do now. It's not selling? Let's reboot Superman again with an all new #1. That'll sell for the gimmick collector for a minute, but then when you degrade into the same, tired, unoriginal realism in storytelling, the sales plummet again. No one wants to read the revamped origin story for the umpteenth time, this time it's the definitive, real version! The original worked just fine and remain in our memories, not the reboots.
Striving to be darker for shock value. This is where Frank Miller changed the game, and for the worse. Everything is gore. Everything is awful, dark, terrible. Characters are dying, whether it be from street thugs or from AIDS, everyone's life is in the pits and sucks. The streets of New York or Gotham are pure cesspools of no hope, and pure grit. He paved the way for writers like Garth Ennis or Mark Millar to try to one up that grittiness, or Ed Brubaker to turn an optimistic character Captain America into some depressing, dark story with his Winter Soldier storyline. Guess what? You've just made sure every parent in America doesn't buy these books because they know they're not appropriate images for their kids to see, thereby turning off an entire generation of customers from getting attached to these works.
The three points above all are dangerous paths for lesser writers to tread, and do lead to even greater problems when EVERY story becomes a combination of these tropes, which is what we have in modern comics. The issue with each of these points is that they necessitate less interesting concepts and characters by definition of what they are. The single issue story moving to graphic novel length or more is evidence of this, and the ultimate result of the realism push. But there's more to comics' decline: you may read a modern storyline that is realistic and dark and a reboot once, but you won't go back and look at it again. That shock value may hold for the moment, but the characters and stories they create are imminently forgettable, because there's no sense of wonder involved and nothing to root for.
I still remember individual panels from Stan Lee's Spider-Man or Hulk. There were silly moments when the characters would do incredible things. Hulk would punch a commie and send him into orbit. Spider-Man would web someone up so fast it wasn't humanly possible. And I laughed in each of those moments and treasure them forever. Why not? I'm reading about a big green monster who got that way because a bomb dropped on him or a kid who got bit by a spider. The fact that good heroes came out of those origins means they're not dark, the fact that they have absurd superpowers means they're not realistic. I already have suspended my disbelief and I'm having fun by doing so. Most readers will feel the same way.
The funny part is, Alan Moore was very much aware of this in his later work. His book Tom Strong was a direct response to the changes in comics, and largely ignored by the critics because of that. If you read his interviews, he is ashamed that the industry took Watchmen and decided to move their entire lines in that direction. It's awful reading about alcoholic Iron Man, jingoistic dated Captain America, wife-beater Ant-Man. It does ruin those characters who didn't need darkness to them. They're supposed to be our heroes, and the message that these creators deliver to us is that heroes don't exist. Why would anyone read that as fantasy when the nightly news tells us the same thing? Comics have been completely ruined, and it's because of the influences these three writers brought. What's needed is a bright new generation of writers who want to deliver wonder again, doesn't want to just copy what's old or do a quick cosmetic makeover but "more realistic".  It's destroyed our country's faith in our mythology, our heroes, and has not only crippled the comic industry because of that, but has delivered a knock down punch to our culture.
This is why we need the #PulpRevolution.
—
Jon Del Arroz is a science fiction author best known for his Top-10 Amazon Space Opera Bestseller, Star Realms: Rescue Run. He lives in the San Francisco Bay Area and is oft hailed (quite soberly!) as the Dean Martin of the science fiction writing scene. His next novel, For Steam And Country, comes out later this year. Read his blog at http://delarroz.com and follow him on Gab: @otomo.