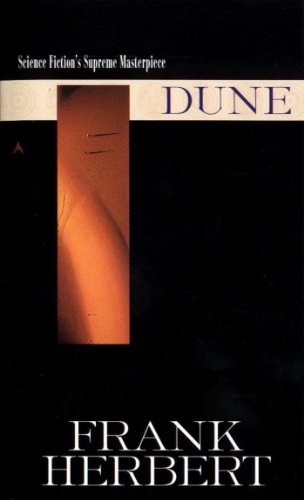 We all know the old saying "curiosity kills the cat". For me though, curiosity can ether bring me joy and wisdom or pain and misery. And the subject being DUNE, it's kind of in between.
Written by Frank Herbert and released in 1965, DUNE is considered by many to be a landmark of sci fi. Once cited as the best selling sci fi novel ever made, it spawned dozens of sequels, prequels, movies, TV miniseries and video games, Its safe to say DUNE has made quite an impact across the stars (pun in tended).
Lots of people love DUNE except for my dad. I remember him saying it was the "most overrated novel of the 20th century". Its popularity and dad's opinion convinced me to see it for myself. So I got DUNE on Christmas, read it, and after 1.000 years, I finished it.
'How was it?' you ask?
(Sigh) I'll just say, I have a love/hate relationship with DUNE. And I won't be surprised if I'm not the only one.
(Summary and good stuff)
Set in the far future, (and I do mean FAR) Mankind has migrated across the vastness of space under a feudal empire.
The most important substance in the universe is the spice, (I know it has name but let's face it we all call it the spice)
which grants people extended lifespans, better awareness and even prescience…it's very complicated. The spice can only be located on the planet Dune (I know it has a name but much like the spice we all call it dune)
A massive, hot, scalding desert with Kaiju sized sandworms and nomadic people called "fremen". Our main character is Paul, a member of the noble family, "House Atreides".
His father "Leto Atreides" is granted stewardship over Dune by the Emperor but is betrayed and killed by the evil, one dimensional Royal family Harkonnen.
Paul now join's forces with fremen to fight the imperium, to take back dune, to complete his training and accept his fate as the Messiah of the fremen.
(OK I'll start with the good parts first and deal with the bad parts later).
I am a person who loves a story with amazingly detailed worlds a story that makes you wish you were there. And DUNE is no exception. It's what you call a dense book, it just sucks you into its beautiful world. And the history is tons of fun. Apparently in the Dune lore, the cliched, "war between man and machine," happened thousands of years ago. And this came out before the matrix. The writing with few major exception is good. It's the kind of writing I want to do one day. And the story as a concept is good.
A man in a far away Galaxy destined for greatness, fights an evil empire with swords and laser guns. This is awesome! And before you say Star Wars, keep in mind this novel came out first.
Now let's see here, umm? The first three chapters were good, uhh…yeah that's all I like about DUNE, everything else sucks.
( The bad and the cheesy.)
The story on paper is good, but as it plays out there's a lot of things going completely wrong. Not only is it a painful long book, but there's just major issues in it you can argue are plot holes. One example is Wellington Yueh.  Yueh "betrays" House Atreides and is pretty much responsible for Leto's death, even though he was imperial conditioning in the Suk school. Which is the highest level of mental, ethical and psychological training known to man, meaning he should be the most trustful and honorable man in the universe And then he betrays the people he vowed to serve.
His reasons… The Harkonnen are torturing his wife.
Really?
But it's more then just plot holes, (which are debatable).
DUNE has an agenda.
What agenda?
Well, if you know a thing or two of Middle Eastern and Semitic languages you'll find the fremen to be pretty much Arabs. There's also the Bene Gesserit, who are the golden girls, if they travel back in time to make the Jesuits. (See what I did there?) Then there's Choam.
The corporation that control's all of the economy in the universe. The author Frank Herbert said flat out in a interview Choam is a analog of OPEC.
You still don't see it? I'll give you one last example, the Sardaukar are the Emperor's elite bodyguards and they all have Jewish names.
That's right!
Dune's got an anti west, anti Israel pro Palestinian agenda! And this came out before the 7 Days War happened!
Yeah, it's offensive, but for some reason it's agenda doesn't tick me off. Remember my "exceptions" with the writing? Yeah, they're are the dialogue and characters.
The characters and dialogue are weird. They're weirdly written and weirdly thought out. I think Mr Herbert was trying to make it look like a period piece, but everything's so unnatural. Nobody acts like a human being which is ironic because in the lore, the humans won against the machines. However, I get the feeling the machines won. Not even a two year old little girl acts normal! Yes, I know she was exposed to the water of life giving her amazing powers, but could she a least say one! Freaking One word of baby talk?!
CHARACTERS
They're boring, uninteresting, almost every smart character gets fooled by average people, and it feels like the plot drags the characters instead of the characters driving the plot!
Paul is maybe the worst offender. He starts as a little side character doing very little, then in the second act he's this whiny little brat you don't care about, and in the third act he become this emotionless rock.
Jessica Paul's mother is shockingly boring and at times is quite the idiot.
There's a bunch of side characters and almost all of them are forgettable. The only character that actually didn't suck for me is Stillgar, the leader of the fremen, but he's not enough.
DUNE also has one of the worst villains I have seen, "the Harkonnen." The Harkonnen are cartoons! No really- walking, talking, cartoons. You wanna know how evil they are?
They lie, they cheat, they're corrupt, they kill, they torture, their gay, they're Russians, they own slaves, they killed all of the puppies on their homeworld (yes, really!) and one of them is so fat he has to use technology in over for him to move!
Oh my! They're so evil!
MOHAHAHAHAHAHAHAHAHA!!!!
(Sigh)
You know what the side dish is?
The dialogue.
The dialogue in DUNE is chessetastic. Imagine some rookie writer was forced to write a sci fi remake of the Holy Bible. The problem is one, he has no experience; two, changing the time periods from ancient to future is really hard, and three you don't have the influence of God so what you get is the most awkward thing since, uhh… North Korea? Yeah, sure, why not-
My point is! It's bad.
It's fifth grade, it's weird, it's uninteresting, and the book takes it way too seriously! So when I find funny moments like this one:
"Don't forget the tooth my lord. THE TOOTH!!!" It's taken very seriously, it loses its humor and becomes cheese.
So what happens when you mix inhuman characters and cheesy unrealistic dialogue? You get DUNE.
If I had to pick a moment that really got on my nerves it have to be THAT chapter near the end of the book.
Yeah I'm going give spoilers, but I don't care anymore!
Paul begins his war against the Imperium. Violence happens. After the fighting Paul receives terrible news, his little sister has been kidnapped and his son has been killed.
Here's some context:
Paul's two year old son, who he loves more then anyone in the universe, has been killed by the empire. Now in most novels– HECK! REAL LIFE! Paul should have fallen to his knees, cried his eyes out, then gotten back up and continued his journey but with a new mission, hunt down those responsible for his son's death. That's what I would have done! That's what my family would have done, that's what everyone would have done! But what's Paul's reaction? (In a emotionless, stone face delivery) Oh…my son's dead…I'm sad…the universe is cruel…moving on!
When I finished the chapter I was shouting, What?! After that Paul reunites with his wife and grieves for about a page and a half. And after that his son is never mentioned again. And from what I heard, he's not even mentioned in the sequels.
You know what? That's it! I'm sorry, my dad is right, this book is overrated. This is one of the most badly written chapters of any book I've ever read! This incident with Paul's son was just mind boggling and unrealistic.
Normally I wouldn't say this, but–
SCREW THIS BOOK!!!
(Sigh)
I'm sorry. Now with all of this whining and complaining You might think that I hate DUNE, And to be perfectly honest…I don't hate DUNE. I don't like it, and I think it's an overrated book, but remember there are things in DUNE that I like.
The world building is good, the world and concept is good, the first three chapters were good, The chapter when Paul meets the girl in his dreams for the first time I thought was cute and the chapter where Paul rides a sandworm was awesome. And I'll go even further to say it influenced me very much as a writer.
But i just don't get why it's so popular?! I have come up with three theories for this.
Theory 1: it's a product of its time.
This book came out in 1965. A time of great change and division in society, a time of war, environmentalism and great interest in Eastern spirituality. And let's be honest, a time when most people in the West didn't know a thing about the Middle East.
So here comes this book that not only touches on these popular topics, but has this vast knowledge of Middle Eastern languages a lot of people had heard of before. It came out before Star Wars and Star Trek and you can argue it helped create Star Wars and many great sci fi stories..
It was revolutionary…back then.
Theory 2: critics like its richness It's a dense book that dives into many topic barely touched on in most books, like ecology that's why it's called a classic.
And if this theory is true, I can see why critics love Game of Thrones so much.
And theory number 3; people just like the book and I don't
If you like DUNE and found it amazing, that's fine. That's your opinion and there's nothing to be shamed of. For me I don't like it. But that doesn't mean I hate Frank Herbert's Dune.
6 out of 10.