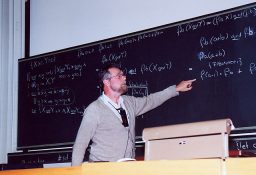 As the genre wars rage on, cool headed fans are stepping up to smooth things over. The subtext of some of this is, "ah, we're not brutish and nasty like some people. We are not doctrinaire like those other sorts of fans. We don't mistake our personal preferences for objective fact. We don't poo poo the stuff that other people like. (Except literary sf. That stuff sucks!) No, we are beings of pure reason, utterly detached from our emotions. Please, let us end this destructive conflict by giving you the chance to recant and submit to our superior conception of how all of this works."
Gosh, that's just so kind of the aristocrats of science fiction to offer to sort this out. I am truly overwhelmed with their magnanimity. Such… gentlemen they are!
I am almost taken in by this… but then they bust out stuff like this:
One: Never Mind Science. Sometimes the author wants to do something and doesn't care if it's proven impossible. Mammals interbreed with egg-layers, rocks hang in the air, and Rule of Cool is all.
That's the bottom end of Karl Gallagher's scale of SF Hardness. And we're supposed to believe that being at the bottom of the scale is no insult, that there's no judgement here. We're supposed to believe that this is some sort of good faith effort to heal an unfortunate breach between brothers in arms in some sort of broader culture war. But here's the thing: this sounds "nice"… these seem like safe and innocuous opinions that are backed up by the weight of everything working writers take for granted.
But the fact is this sort of thing not only rubs salt into some longstanding wounds. It is also stupid. It's myth and bigotry dressed up as kindness and objectivity.
The concept of "hardness" in science fiction was not introduced in order to "help" readers find the sort of stories they were looking for. To act like it is merely some sort of arbitrary genre distinction is embarrassingly disingenuous. A true gentleman would not do this.
So let's be real about this.
Every time I make a claim about an author's motivations, I get called on it. But you act it's impossible that you would ever be subjected to the same sort of rigors on this. You casually insinuate that Edgar Rice Burroughs does not care if his science is proven wrong, that his work is the science fiction equivalent of playing tennis without a net. Poppycock. This is an act of literary aggression and it will not stand.
Edgar Rice Burroughs is not some quaint relic at the bottom of your conceptual totem pole. He is the foundation upon which fantasy and science fiction as we know it is built. The man is a giant among giants. And the only way later authors could even begin to compete with him was to change the rules. The concept of "sf hardness" was specifically introduced as a means of disqualifying him from being "real" science fiction. The consequence of this…? The field was fundamentally transformed, subdued by a clique, reduced to a ghetto of people desperate for the sort of recognition and appeal that Burroughs and Merritt took for granted in their day.
This critical frame is the reason why the science fiction field does not have a canon. It implies that things like heroism and romance are vestigial organs of the medium that ought to have been sloughed off as the field "progressed" to a new level of artistry. It didn't just dethrone the pulp masters. It was part of a wider cultural pulse that replaced the real heroes of science like Newton and Einstein with sneering snake oil salesmen like Carl Sagan, Bill Nye, and Neil deGrasse Tyson.
No, I get that you are cool. You are discerning. You're not on board with that stuff. And most of all… you're nice. You're not a monster like me. I get it, really I do. And I get that genre categories like "hard sf" and terminology like "the Golden Age of science fiction" is going to remain in the vernacular no matter how many editorials I write. But if you really were as easy-going as your posture indicates, you really should look into picking up a new conceptual frame for all of this.
Your current model is not just offensive. It's obsolete.