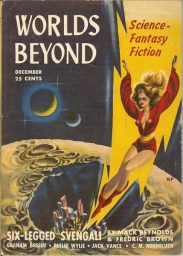 Damon Knight (1922-2002) was a major editor/anthologist and somewhat mid-ranking writer of science fiction from the 1950s to the 1980s. He edited the hybrid science fiction-fantasy digest magazine Worlds Beyond. He is also often viewed as the first real professional critic within science fiction.
From 1950 to 1960, Damon Knight seemed to be everywhere reviewing books for various science fiction magazines. Some of those were collected into the book In Search of Wonder. There has been some mention of Knight in some Castalia House blog posts recently. I happen to have In Search of Wonder and pulled it out and went through it.
I first heard of the book at Pulp-Con. My friend Rick McCollum either bought it or his wife, Paula Robinson. Knight had been a teacher for Paula I think at the Clarion Writer's Workshop. She did sell nine stories to Analog. Rick ran a Knight review of a Gnome Press Robert E. Howard book in the Robert E. Howard United Press Association mailing that irked me. I later got a copy for myself I think at Pulp-Con (for $3.00). About 11 years ago, I was picking up science fiction magazines with reviews of Robert E. Howard from 1950 up to the 1970s.
"Anthony Boucher" penned the introduction:
                "The reviewer's objective is to express his reactions to a work in such a way that the readers of a given periodical will know whether or not they want to read it. The critic attempts to measure the work by more lasting and more nearly absolute standards, to determine its place, not for the reader of the moment, but for the cultivated mind viewing the entire art of which this works forms a segment."
The pre-Campbellian era is covered in a chapter entitled "The Classics."
"With understandable bitterness, some have been driven to the extreme position that no science fiction published later than 1935 is worth reading–while among their younger colleagues it isn't hard to find those who will put the date still later, and argue that everything placed before it was trash."
The review that irritated me some time back was for The Coming of Conan that originally ran in Future, October 1954. To wit:
"Howard's tales lack the de Camp verisimilitude–Howard never tried, or never tried intelligently, to give his preposterous saga the ring of truth…even when they're most insulting to the rational mind.  Howard had the maniac's advantage of believing whatever he wrote; de Camp is too wise to believe wholeheartedly in anything. All the great fantasies, I suppose, have been written by emotionally crippled men. Howard was a recluse and a man so morbidly attached to his mother that when she died he committed suicide; Lovecraft had enough phobias and eccentricities for nine; Merritt was chinless, bald and shaped like a shmoo. The trouble with Conan is that he human race never had produced and never could produce such a man, and sane writers know it; therefore the sick writers have a monopoly of him."
How is this passage criticism? It is more ad hominem attack on three dead writers who are no longer around to defend themselves. The praised L.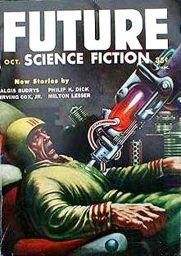 Sprague de Camp was alive and part of the club. I guess Damon Knight never heard of historical personages such as Harald Hardrede or Bohemond.
In a review of Fletcher Pratt's The Blue Star, Knight had this to say:
"I'm no great fantasy-lover; most of Merritt bores me to tears; so do Howard and Lovecraft."
How can you be bored by Robert E. Howard?
Knight wrote two book reviews for The Magazine of Fantasy and Science Fiction, May 1960 ("Ia! Yog-Sothoth! Yah, Yah, Yah!") and August 1960 ("The Tedious Mr. Lovecraft"). One of these was reprinted in In Search of Wonder. I don't know which one was reprinted but his in his review of The Shuttered Room and Other Pieces, he does make some points that I agree with. He first ran some repetitive sentences where the narrator cannot describe things he has seen.
                "No, this is my real objection to Lovecraft and his imitators (aside from their arthritic styles): the monster does appear, sometimes, but only as a sort of peepshow. It is never brought onstage, as Leiber's and Sturgeons's monsters are, to act and react against the other characters. Thus the story remains in embryo, is never developed; one of the primary requirements of fiction is not fulfilled. A story has a beginning, a middle and an end: Lovecraft's pieces are only endlessly retraced beginnings."
Knight likes Fritz Leiber's Conjure Wife much more than I did.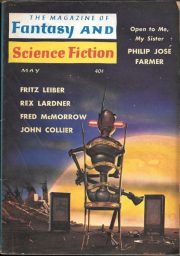 Damon Knight made his name as a critic for taking a sledgehammer to A. E. van Vogt's The World of Null A. I really like some of van Vogt's shorter pieces but admit to getting lost attempting to read a couple of his novels. Knight showed how van Vogt's novel fell apart.
"Yet in van Vogt's world the advancement over 1945, either stated or implied, amounts to no more than (a) a world government; (b) a handful of gadgets; (c) limited development of space travel; and (d) a scientific system of education–the latter developed by a superman."
Knight went on to point out van Vogt's sloppiness in using the word "robot" when he means "android" and lifting Robert Graves' I, Claudius for Empire of the Atom with minimal changes. Knight present valid points.
Most of the smacking around is of 1950s science fiction. Knight points out problems in Richard Matheson's I Am Legend, goes after Philip K. Dick, and had this to say about Ray Bradbury:
"Childhood is after all Bradbury's one subject."
Knight went after bad writing, bad execution of ideas, lack of characterization, and lapses of logic. In going through his reviews and essays, he does not like writers entering into science fiction with bad or faulty science. He also wanted science present, not emotion or nostalgia ala Ray Bradbury.
Damon Knight was wrong on some things. He thought H. Beam Piper's Uller Uprising to be the best novel within the omnibus The Petrified Planet but did not like the military aspect of it. My guess is Knight was averse to action-oriented fiction. He was also right part of the time, especially on plotting and characterization. Modern day writers might want to go through some of his critiques of science fiction. Some of his ideas on horror are not bad either.