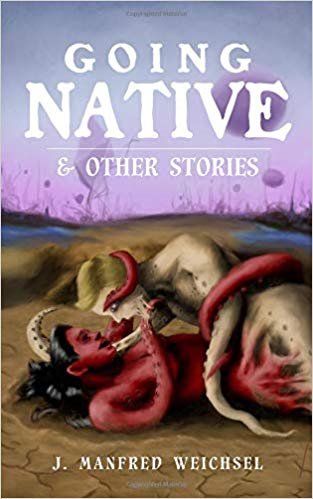 J. Manfred Weichsel has been a regular in the independent short fiction magazines that have sprung up in recent years.  His short works have made the cut and graced the pages of Crisova, Fierce Tales, and Milhaven's Tales of Wonder, and reading them back to back in an anthology like Going Native and Other Tales it is easy to see why.  He writes with a fearlessness that goes beyond the safe and carefully prescribed limits of what passes for the counter-culture today.  His works don't so much touch upon third rails of the zeitgeist as they gleefully grab hold of them and let the energy flow through them.  That's not to say that these stories are preachy or heavy-handed, although the reader's mileage may vary on the latter, but that they don't shy away from considering well-established cultural norms from new perspectives.
Going Native includes six tales of fantasy and science fiction.  All of the stories would have felt perfectly at home rubbing shoulders with the tales that once dominated short fiction magazines.  They have the anything-goes attitude and the spirit of adventure that once characterized the sf/f genre before it became he playground of those reaching for serious literary acclaim.  The stories feature a heavy dose of body-horror, the warning tale seldom seen theses days, and nightmare visions of alternate earths where our own world's mistakes are amplified to a stomach-churning degree.

The book is not without its flaws – Weichsel is an author whose career is in its infancy and at times it shows.  The collection includes a few jarring word choices that don't quite fit into the overall mood of the piece.  That said, as the collection progresses, one can almost see the growth in his skill and an increasing comfort level with his voice.  His authorial voice becomes stronger, the moods darker, and the plots more convoluted, and it's rare to see such growth within the pages of a single volume.
Better yet, Weichsel writes with a daring willingness to experiment, and this volume reads like the outpouring of a man whose visions have been too long contained within his head.  It's a heady thing to be swept along on a journey like this, and his passion comes out in the stylistic choices he makes.
Consider "Complicit in Their Bondage" in which the controversies of today lead inexorably to a future that bears a curse strongly reminiscent of that seen in Jack Vance's Dragon Masters.  Whether its speculating on the roots of today's discontent or speculating on the horrific bottom of a slippery slope, Wiechsel lays his vision out in a way that forces the reader to reconsider his own vision.
In "Alter-Ego" he follows in the footsteps of a Roger Zelazny or Philip K. Dick with the tale of a man who trusts his own judgement so little, he commits himself to a sanitarium.  Once there, he finds the place hides a dark secret, and in the course of his investigation uncovers a mystery that revolves around himself.  Or does it?  The narrator of this piece struggles to understand who he is, even as dark forces and the inmates around him play havoc with the very concept of identity.  Frankly, things got so convoluted that I couldn't keep it all straight, but at no point did I ever doubt that the narrator himself had lost track of who did what to whom and where.  The final confrontation revolves around a battle of wits, as all the best mysteries do, and results in the sort of satisfying conclusion that less brave authors would shy away from.
In the final analysis, if you want to read some of the most unusual and creative short fiction out there today, give Going Native a shot.  It will introduce you to the sort of energetic experimentation that can only be found well outside the usual publishing houses that dominate the industry today.  And keep the name J. Manfred Weichsel in mind – he's an author that shows a lot of promise in this short volume, and you're sure to be seeing a lot more of that name in the years to come.