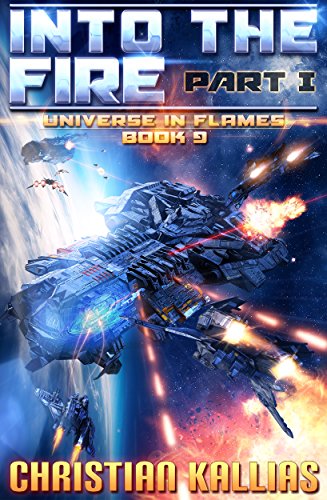 The wait is over; the penultimate book in Christian Kallias' Universe in Flames saga has been released.
Worlds Collide. Enemies Unite. Heroes Fall.
As the last battle draws near, Chase's confidence is shaken from losing Zeus and Olympus. As tensions arise between Chase and those in his group on how to proceed next, he cautions against rushing to Erevos against everyone else's wishes.
Meanwhile, the Emperor is tasked to reclaim the Gorgar home world with the help of Ryonna, Tar'Lock, and Keera. But they soon discover many things have changed since their last visit.
Arakan returns to his home world, overconfident that he can take on anyone that's standing in his way. But something dark is looming over Erevos; a malevolent force that will stop at nothing to get what it wants.
This edition contains the previously unreleased bonus book, Damocles Fall.
*     *     *      *      *
Reader Praise for Universe in Flames:
"It's been a long time since I have lost precious sleep over a series but this is one you just can't put down. The whole series was a page-turner."
"Non-stop action. Bringing all my favorite myths to life. It was over way too soon."
"Plots within subplots keep me on my toes and coming back for more!"
*     *     *      *      *
Start from the beginning with the first two Universe in Flames omnibuses: