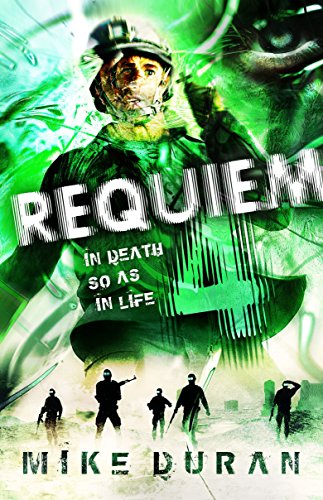 The new novelette by horror author Mike Duran.
Graviton Cemetery—the biggest, oldest, most haunted graveyard in the world.
And Requiem 4 is here to clean things up.
In a dystopian, war-torn future where a godless global network reprograms the masses for compliance, the Requiem units are a dying breed. Manned by sciocists—scientific exorcists—and armed with state-of-the-art technology, the units sweep cemeteries of 'latent soul energy.'
However, there's a lot more than just ghosts in Graviton.
Father Aguste Lax, military chaplain to Requiem 4, has his own doubts. The cross around his neck is a feeble reminder of his waning faith. Yet when they encounter a Type Six entity, no amount of quantum firepower can save them. Lax becomes their only hope for escaping Graviton alive. But can his faith prevail against an evil this ancient? Or will Graviton Cemetery become the final resting place for Requiem 4?
*     *     *      *      *
Reader Praise for Requiem 4:
"[Duran] does a superior job of meshing mythology, religion, adventure, social commentary, and just enough fright to keep me wanting more."
"This story is definitely horror, wrapped up in any number of darkest fears from sci-fi, fantasy, Christian and dystopian fiction. The imagery is more disturbing than graphic, and most of the horror is in the mind of the reader, rather than the text, which is exactly as it should be!"
"This novella is a fun quick read that keeps your attention and keeps you in suspense. Duran has another great story here. 5 Stars."
*     *     *      *      *
Also by Mike Duran, the Reagan Moon novels: