JUST RELEASED: Rocky Mountain Retribution by Peter Grant
Wednesday , 29, March 2017
Just Released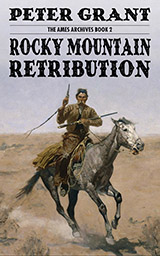 In the post-Civil War West, the railroads are expanding, the big money men are moving in, and the politicians they are buying make it difficult for a man to stand alone on his own. So, Walt Ames moves his wife, his home and his business from Denver to Pueblo. The railroads are bringing new opportunities to Colorado Territory, and he's going to take full advantage of them.
Ambushed on their way south, Walt and his men uncover a web of corruption and crime to rival anything in the big city. And rough justice, Western-style, sparks a private war between Walt and some of the most dangerous killers he's ever encountered, a deadly war in which neither friends nor family are spared.
Across the mountains and valleys of the southern Rocky Mountains, Walt and his men hunt for the ruthless man at the center of the web. Retribution won't be long delayed… and it cannot be denied.
ROCKY MOUNTAIN RETRIBUTION is the second book in The Ames Archives, the Classic Western series that began with BRINGS THE LIGHTNING. Author Peter Grant is a military veteran, a retired pastor, and the author of The Maxwell Saga and The Laredo Trilogy.