JUST RELEASED: Six Expressions of Death by Mojo Mori
Monday , 27, February 2017
Just Released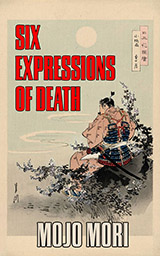 When an unknown man is shot, then stabbed to death on the road between Morijuku and the village of Iwagi, it is natural to assume that he fell victim to bandits preying on travelers passing through the Kiso Mountains. But when Daikawa Tadashi, a samurai from a poor, but ancient noble house, encounters the body, he realizes that there is likely more to the tale than a simple robbery.
And when Tadashi's attempt to dutifully report the murder to one of his daimyo's lieutenants unexpectedly results in a second murder, he finds himself, and worse, his lover, ensnared in a dangerous web of deceit and death. For clan war looms over the mountains, the Tiger of Kai, the lord of the Takeda, is on the prowl, and shinobi stalk the shadows of the night.
SIX EXPRESSIONS OF DEATH is Mojo Mori's debut novel. A historical murder mystery set in a mystical version of 16th century Japan, it is a unique and enthralling tale.