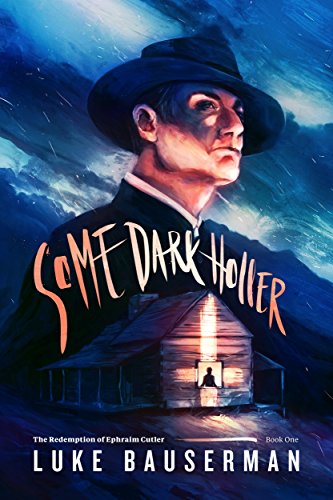 EPHRAIM CUTLER HAS BLOOD ON HIS HANDS AND A HELLHOUND ON HIS TRAIL
When his mother forces him to kill an innocent man, Ephraim Cutler's quiet life in the Appalachian Mountains is thrown into turmoil. With a bounty on his head, Ephraim flees to the hills and hollers where he discovers that his crime has drawn more than the law's attention—the Devil's in town with his eye on Ephraim's soul. Desperate to escape, Ephraim is torn between two clashing figures: an outcast granny doctor rumored to be a witch—and the local preacher. As the line between grim reality and the supernatural disappears, Death rides the ridgetops on a pale horse, and the Devil's hound haunts the backwoods. Ephraim must decide who to trust, evade the hangman's noose, and find redemption.
*     *     *      *      *
Praise for Some Dark Holler:
"For a hillbilly like me, stories set in the Appalachian Mountains live or die by their voice.  Bauserman absolutely nails it.  Not just the way we talk, but the way we think and act.  This may be a debut novel, but the voice is right up there with a Manly Wade Wellman or a Ron Rash." – H. P.
"Tight, descriptive prose, sensuous and evocative as the best horror tales always are. Bauserman has a gift for the ghastly–death in a puddle of moonlight, or something alive in the shadows. An atmospheric backwoods 'Faustus,' full of fiddles and Old Scratch. Highly recommended for lovers of legends and Halloween." – Richard Gleaves, author of The Jason Crane Series
"Loved the gritty down to earth descriptions of places, people and situations, in the particular vernacular of the hill folk living in the Holler. The cross between clever and naïve in the protagonists' (plural) characters was well balanced, and the use of love as motivation, while it could seem trite or "smarmy" in any other circumstances, was well-tempered and not overdone." – Lin Cran, Amazon reader review
"Appalachian folklore has always fascinated me. The myths and legends from the area speak to a simpler time and a way of life best viewed through rose colored glasses. Luke Bauserman has crafted a masterpiece that samples the best of Appalachian lore and serves it up in a fashion that even a city slicker will find appetizing. There be witches, devils, and even Death himself in them thar hills. Fortunately, there are also good-hearted country folk ready to battle the forces of darkness at any cost. So y'all download this here story on one o'them fancy electronic doodads, sit a spell, and enjoy a good yarn." – Ken Mcwilliams, Amazon reader review