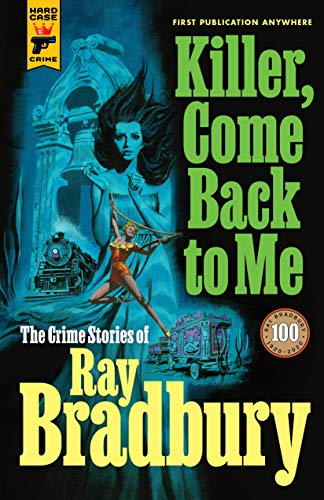 Ray Bradbury (1920-2012) had one of the highest public profiles for a science fiction writer. He used to be on The Tonight Show now and then and had his own T.V. show (Ray Bradbury Theater). When the space shuttle blew up in 1986, I saw him on Nightline. I read The Martian Chronicles in 11th grade of high school as part of English class. Fahrenheit 451 was another favorite English class reading title.
My favorite Bradbury are his stories until around 1950 when he started appearing in mainstream magazines such as Collier's and The Saturday Evening Post. He then went full pathological ice cream nostalgia.
Damon Knight wrote:
"Childhood is Bradbury's one subject, but you will not find real childhood here, Bradbury's least of all. What he has had to say about it has been expressed obliquely, in symbol and allusion, and always with the tension of the outsider– the ex-child, the lonely one. In giving up this tension, in diving with arms spread into the glutinous pool of sentimentality that has always been waiting for him, Bradbury has renounced the one thing that made him worth reading."
Before sentiment overwhelmed Ray Bradbury, he wrote some rather nasty stories. My favorite by him were in Weird Tales. Some can be found in The October Country and those were also rewritten. I found a used paperback around 35 years ago, Bloch and Bradbury. I was eager to read those early Robert Bloch stories in H. P. Lovecraft mode. What I was not expecting is how much I liked the Bradbury stories, "The Handler," "The Dead Man," "Fever Dream," and "The Watchers."
What may surprise some is Bradbury was writing for the detective/crime story pulp magazines in the 1940s. Dell published fifteen stories in the paperback A Memory of Murder in 1984. Hard Case Crime collected crime stories from 1944 to 2009. Here are the contents:
Introduction (Killer, Come Back to Me) • essay by Jonathan R. Eller
 A Touch of Petulance                                    Dark Forces, 1980
 The Screaming Woman                                 Today, May 27, 1951
 The Trunk Lady                                                Detective Tales, September 1944
 "I'm Not So Dumb!"                                       Detective Tales, February 1945
Killer, Come Back to Me!                              Detective Tales, July 1944
Dead Men Rise Up Never                            Dime Mystery, May 1945
Where Everything Ends                                Where Everything Ends, 2010
Corpse Carnival                                                Dime Mystery, July 1945
And So Died Riabouchinska                         The Saint Detective Magazine, June-July 1953
Yesterday I Lived!                                           Flynn's Detective Fiction, August 1944
The Town Where No One Got Off            Ellery Queen's Mystery Magazine, October 1958
The Whole Town's Sleeping                        McCall's Magazine, September 1950
At Midnight, in the Month of June           Ellery Queen's Mystery Magazine, June 1954
The Smiling People                                        Weird Tales, May 1946
The Fruit at the Bottom of the Bowl        Detective Book Magazine, Winter 1948
The Small Assassin                                          Dime Mystery, November 1946
Marionettes, Inc.                                            Startling Stories, March 1949
Punishment Without Crime                        Other Worlds Science Stories, March 1950
Some Live Like Lazarus                                  Playboy, December 1960
The Utterly Perfect Murder                         Playboy, August 1971
Hammett? Chandler? Not to Worry! (essay) by Ray Bradbury  1984
I thought this was going to be A Memory of Murder with more stories. There are differences.
The following stories were left out of Killer, Come Back to Me:
A Careful Man Dies                                          New Detective,  November 1946
It Burns Me Up!                                                Dime Mystery, November 1944
Half-Pint Homicide                                           Detective Tales, November 1944
Four-Way Funeral                                  Detective Tales, December 1944
The Long Night                                                  New Detective, July 1944
Hell's Half Hour                                                 New Detective, March 1945
The Long Way Home                                      Dime Mystery, November 1945
Wake for the Living (The Coffin)                 Dark Carnival (1947)
The Candy Skull                                                 Dime Mystery, January 1948
There is substantial difference in contents between the two collections. As Bradbury wrote, Dashiell Hammett and Raymond Chandler had nothing to fear from him. These crime stories from the 1940s do show a different direction that Bradbury could have gone. "The Whole Town's Sleeping" and "At Midnight, at the Month of June" are connected and feature a serial killer. "The Fruit at the Bottom of the Bowel" has a crazed murderer. Bradbury could have written something like Psycho in a different time-line. "Corpse Carnival" is memorable for a Siamese twin looks for his brother's killer. That is the sort of story Fredric Brown could have written.
Several of the stories have what I call the vague Bradbury ending where the ending is left to the reader to imagine. This is not top-shelf Bradbury but it is interesting Bradbury if you are familiar with his other fiction.