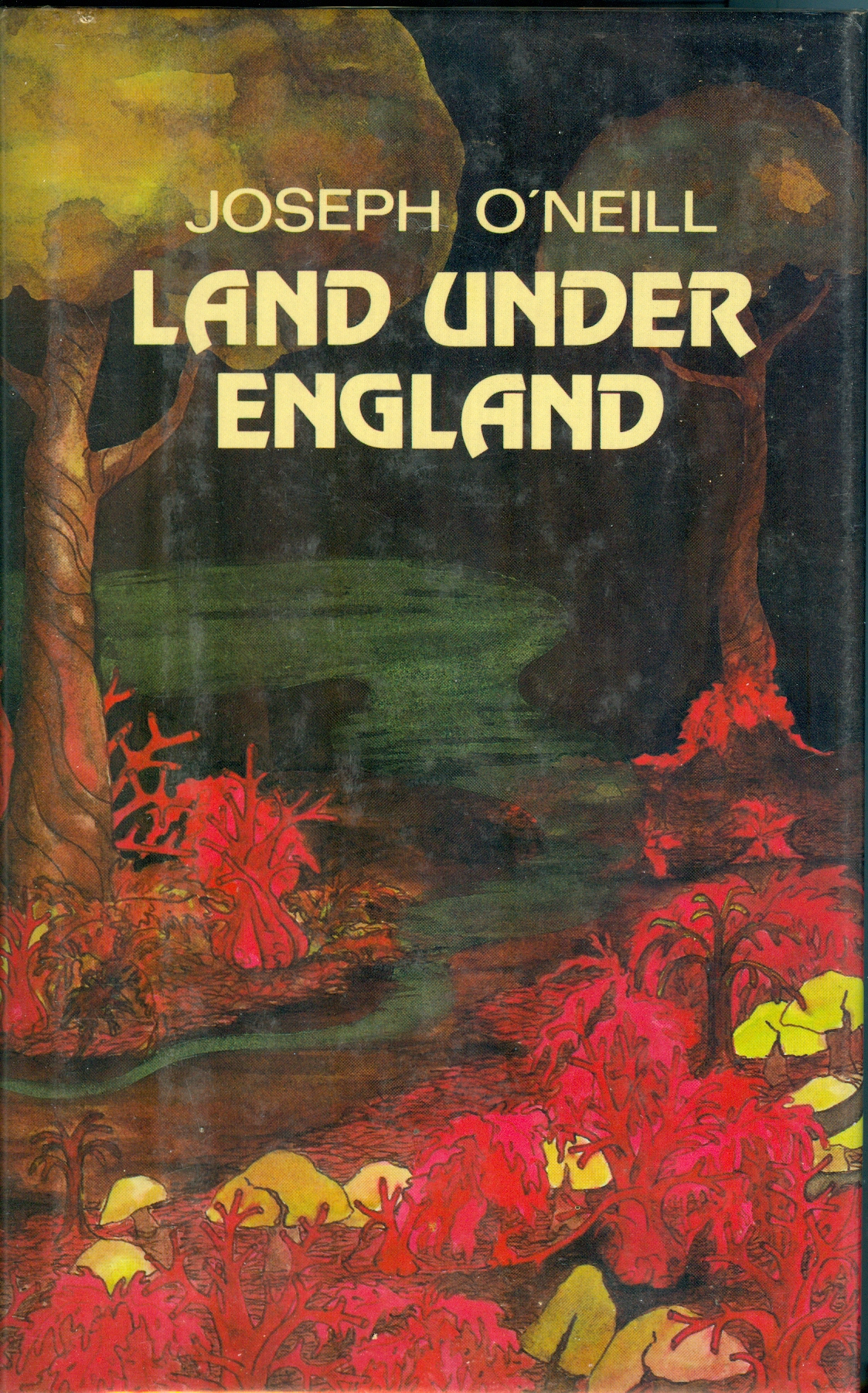 Joseph O'Neill's Land Under England was originally published in 1935. O'Neill (1873-1953) worked for the Irish Department of Secondary Education where he was the head from 1923-44. He wrote a few novels on the side.
Karl Edward Wagner included Land Under England in his 13 best science fiction horror novels. Sometime back, a friend of mine sent me the Overlook Press reprint from 1981. A discussion of Wagner's list of the best 39 best horror novels made me pull it off the shelf and finally read it.
The novel is told in the first person by Anthony Julian. The Julian family claims to be of Roman origin living along Hadrian's Wall in Cumberland in Britain. Anthony's father is obsessed with the Wall and a supposed portal to an underground world. There are stories of ancestors descending into that world and returning.
Anthony's father goes off to WW1 coming back a changed man. One day he disappears while searching along Hadrian's Wall. Anthony in the meantime had become involved with his mother's side of the family and the munitions business.
Anthony finds the portal and descends through a tunnel finding a vast underground cavern. Within this subterranean world are forests of giant mushrooms, giant spiders, and big lizards. He is found by men who communicate by telepathy. They are descendants of Romans who have created a new society where there is no individuality. Everyone is a featureless automaton who goes about their duties within a figurative hive. Julian is taken to the Master of Knowledge to attempt to break him down mentally and absorb him. He successfully resists and is sent outside the cities where it is thought he will come to his senses and return to be absorbed. Julian searches for his father with adventures in the swamps. Taken attempting to steal a book, he is taken to the Master of Knowledge who agrees to take him to his father. His father has been absorbed and reacts with hatred seeing his son. The Master of Knowledge allows Anthony Julian to leave. He finds on the way his father is stalking him. The man who had been his father wants to take him back and drain his mind on making new weapons. He has plans to invade the outer world and retake the surface for the Romans. There is a climax and Anthony Julian is found in a mine shaft in a delirious state.
This is a strange novel. On one hand it is a lost world novel. The underground world is well done with the phosphorescent forests and unique eco-system. Within it is a dystopian novel on totalitarianism. Everyone assumes this is an anti-Fascist novel though it can just as easily be seen as an anti-Communist novel.
The introduction by Anthony Storr has the line:
"Man's tendency to primitive identification in a homogenous flock a far greater cause of evil than any excesses springing from individuality."
Storr underestimates that tribal identification is the default position with humans. Great evil has been done with ideologies that assume everyone is a blank slate and can be remade.
The novel appears to have its adherents as it was reprinted by New English Library in 1978, the Overlook Press hardback in 1981 and paperback in 1985, a Penguin paperback in 1987 (with Rodney Matthews cover), and finally a Gollancz/Orion trade paperback in 2018.
The prose can be overwrought at time. Anthony Julian can come off insipid. I am not quite sure why Karl Edward Wagner considered Land Under England a horror novel, but his best horror novel list is problematical in that it does not include Dracula. Wagner used the idea of underground Romans for his Bran Mak Morn pastiche Legion From the Shadows.
Joseph O'Neill wrote a future war novel (Day of Wrath) where Germany, Japan, and China take on the world. That has never been reprinted. The Joseph O'Neill novel I want to read is Wind From the North wherein a Dublin clerk has a time-slip and his mind resides in the body of a Viking at the Battle of Clontarf in 1014 A.D. For those of you unfamiliar with the Battle of Clontarf, it was the climactic showdown between the Irish and the Norse fought on Good Friday. Dublin Bay was red with Viking blood at the end of the day. When word reached Rome that summer of the battle, the bells were rung in celebration of the victory over the heathen. This sounds like a novel worthy of reprint status.