LAST DAY to Back Will Caligan's Comic
Monday , 29, January 2018
Comics, News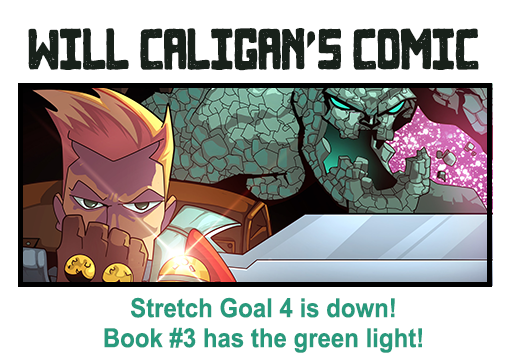 Today is the last day of the one-week campaign for Will Caligan's Comic, which currently stands at $53k and 730 backers. That also means Book #3 is go! We've decided to add new rewards of Paperback #3, Hardcover #3, and The Works #3 for those who are interested. Arkhaven Comics has decided that whether we hit the final stretch goal or not, we will produce Book #3 in full color. In addition to the ace colorists at Arklight Studios who are contributing their considerable talents at a steep discount for the covers, we have also hired an excellent professional colorist who will color Will's interior illustrations for Books 1, 2, and 3. An example of his work is below. Imagine what this guy could do with The Feast of the Elfs or the space battles in Back from the Dead!
If you haven't backed the campaign yet, note that an Iron Star backing will now get you 18 digital comics for only $25.
Thanks also to the various professionals who are contributing their skills to the campaign. Their collective contributions in kind are of a similar scale to that being provided by the financial backers. To quote one of them: "$?$*! We're doing EIGHTEEN issues? Well, all right then."
So, which books do you want to see? Chuck Dixon has said that the entire GREEN KNIGHT'S SQUIRE trilogy can be done in 12 issues. Can THE STARS COME BACK or ROCKY MOUNTAIN RETRIBUTION be done in 6? What about SWORD & FLOWER? Voting is tomorrow.