Leigh Brackett is something of a staple here at Castalia House and for the Pulp Revolution crowd at large, but I must admit it's taken me quite a while to get to her stuff. I've seen Alex's reviews, of course, and I've noted her constant exclusion by the "women have historically been excluded from SFF!!1" crowd. But in my crazed consumption of Howard, Burroughs, Vance, and other old-timey greats I've neglected some of the other masters. It's a far out kind of experience, trying to get up to speed on Appendix N (though my reading list is slightly expanded). O glut of goodness!
Here's another admission – I actually read one of her short stories a few months ago and for the most part I kept my mouth shut. Because I didn't really care for it. But wait, don't reach for your blaster yet! Winning the Every Day Should Be Tuesday Leigh Brackett Giveaway prompted a revisiting. So now I've started reading the Eric John Stark stories, and I've also gone back and read a couple more of her shorts.
And I have reassessed.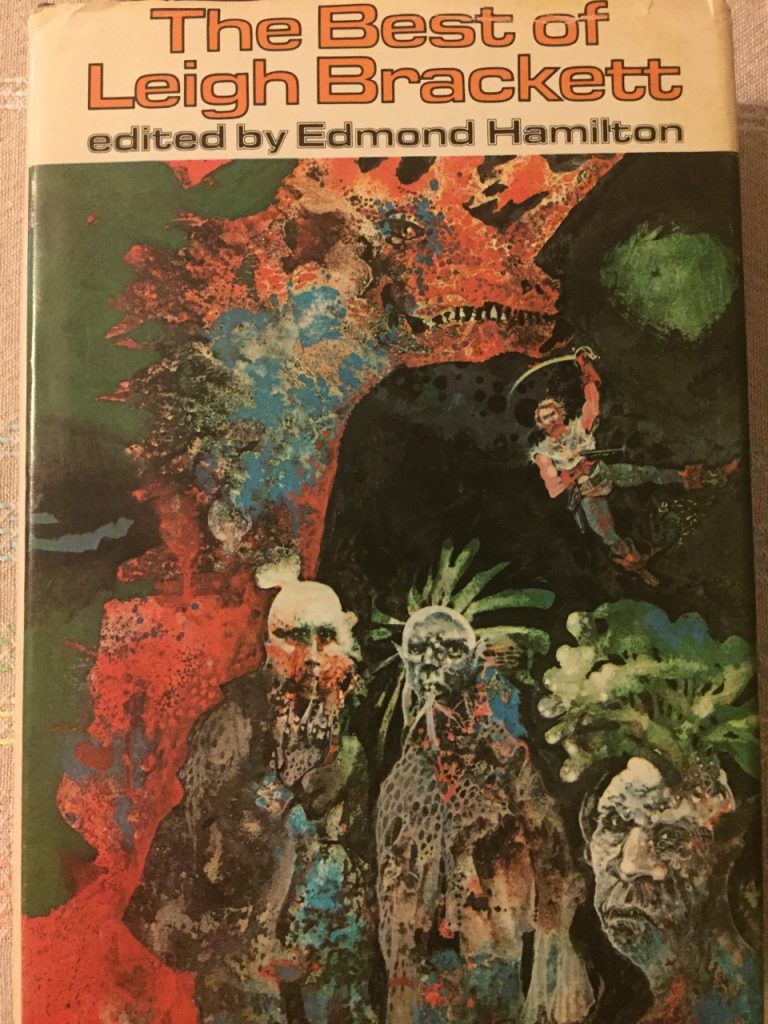 "The Jewel of Bas" tells the story of a couple of wandering thieves – a harpist and his mousy wife. We are initially introduced to a seemingly generic fantasy world with "Forbidden Plains" and a main character who grew up in the Thieves' Quarter. But before long we've got beast men, androids, a dude named Bas the Immortal, and his magical gem. Although I felt the story dragged on a bit too long, I could see how some would enjoy this one. Personally I found the prose itself to be a little unsatisfying. I've mentioned before that certain fantasy tropes just stick in my craw for whatever reason (perhaps they just feel lazy to me), and this had a few such, mostly related to the two bickering protagonists. The drive of a loving husband to save his wife turns out to be a major theme, and that was well taken. Ultimately I found that I appreciated Brackett's creativity but didn't care much for the characters, and so overall the story fell flat. This was the first story in the collection I've been reading from, and I think it was a poor choice for leadoff hitter.
The second and third stories, "The Vanishing Venusians" and "The Veil of Astellar," were much more impressive.
"The Vanishing Venusians" tells us the tale of a large group of colonists from Earth stranded on a barely inhabitable Venus. For quite some time they have been voyaging, trying to find a suitable piece of land to call home. Previous attempts at settling have failed due to the many hazards and generally poor conditions on the Venusian surface. Finally the group is forced to stop, and several men volunteer to search a nearby plateau for habitable ground. In this story, too, we are introduced to a mostly unlikable protagonist – a man who has been stripped of hope and become cynical and somewhat cruel. Yet over the course of the tale, he changes, or perhaps his true nature reasserts itself. Ultimately we wind up with a hero. I don't want to give away too many elements of the story, but I was also struck by Brackett's creativity in this one. The lifeforms found on Venus are imaginative and skillfully crafted and described. The way our hero handles these strange creatures makes for a great climax.
I wasn't quite sure what to make of "The Veil of Astellar" at first. At first the tale seems somewhat disjointed and the nature of the main character and the people around him is unclear. There are bits of dialogue and narrated thought that don't make sense until later on. But there is a payoff, and I decided that I liked this one. The ending is bittersweet, and rather than hero, we wind up with a somewhat villainous protagonist who finally makes a good choice. He remembers a past love and his forgotten self. Whether or not redemption is possible for this once-man, he tries. I found the ending rather haunting, actually, but satisfying.

They say you shouldn't judge a book by its cover. Nor should you judge a master writer by a single story. If I had, I wouldn't have discovered that hey – I like Leigh Brackett!
Now if only I could find something to make me appreciate Frizt Leiber…
PCBushi can also be found on Twitter or at the PCBushi blog, where he ruminates on scifi/fantasy, games, and other spheres of nerd culture.