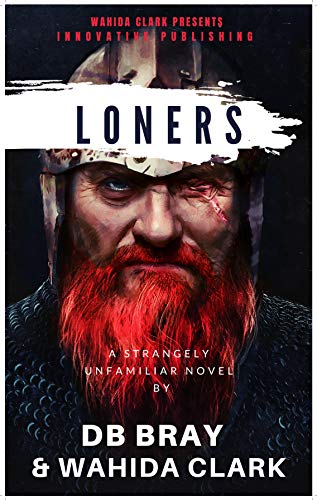 After a hundred years as a mercenary and bounty hunter, dwarf Jari Rockjaw has his eye on a quiet life of retirement on a homestead far away. But before he can buy the farm, he needs one last bounty: the head of the most infamous dwarven reiver in Labrys. But to cut through his target's armies, Jari needs a company of fighters, not just the help of a few battle-weary friends. As the number of vengeance seekers, rogues, and castaways grow around him, Jari's vision of retirement soon gives way to the demands of leadership. Can this reluctant mercenary captain lead his troop of Loners to riches, revenge, and retirement?
Loners, by D. B. Bray and Wahida Clark, may be touted as "a humorous action adventure", but, make no mistake, the humor comes straight from the gallows. Jari's tale swings far away from the humor of a Discworld, choosing instead the grim of a grim dark fantasy. But Loners is grim-dark with heart, focusing on the nobility of comradeship as the bonds between Jari and his mercenaries are tested and grow stronger. Hard fighting and harder perils are punctuated by soldiery banter, and the revolving door of hirings and deaths never reduces the characters to faceless names. Bray and Clark might be too fond of the rogue and hidden prince trope, but the main weakness is that Jari and the Loners are swept along by the tide of subquests from set piece to set piece, instead of active participants in their story. But the grim adventures with gold under the grime do not fall into excess, and provide a satisfying tour of an embattled yet hopeful perseverance.
---
E-rank hunter Jinwoo Sung may be the unluckiest hunter in all of Korea. Certainly, he is the weakest and most pitied. But when a group hunt through a rare and lethal dungeon leaves Jinwoo bleeding out, a strange voice gives him a choice and a second chance. Jinwoo now finds himself revived, with a host of new and daily quests, a stat sheet, and a sudden boost of power as he gains levels. But what will this once weak hunter do with his new-found strength? Find riches? Settle scores? Get the girl? And what new rivals might emerge from the shadows?
When released in English, Chugong's Solo Leveling arrived with fanfare in light novel circles. Honestly, it's hard to see why. Solo Leveling is an average litRPG in an oversaturated light novel and litRPG market. And average just is not good enough. Solo Leveling does balance the interruptions caused by stat sheets quite well, as, unlike most litRPG heroes, Jinwoo is more concerned with what power can get him instead of exploring the intricacies of the ruleset thrust upon him. As such, Solo Leveling serves as an illustration of the difference between power fantasies and progression fantasies. In some ways, the use of power for an end instead of as a means humanizes Jinwoo more than his Western counterparts, who are caught up in munchkinning their way through their stories. But the naked thirst for power and what it can seize can be cause for a shower, even if Jinwoo does not take his pursuit into the hedonistic excess so common in power fantasy.