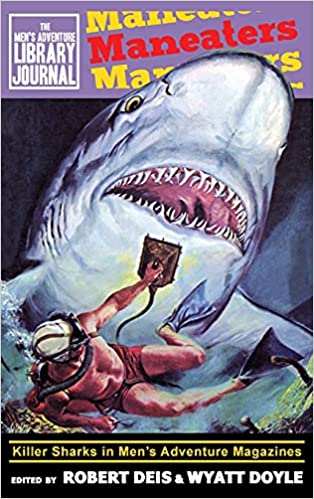 Who likes to watch Shark Week on the Discovery Channel? A lot of people do. Maneaters: Killer Sharks in Men's Adventure Magazines from New Texture is a recent offering in their fine line of books.
Maneaters is an anthology of sixteen pieces culled from men's adventure magazines from the 1950s to the 1970s. Some were presented as true stories as so common in those magazines. At least one is a fictional piece. Accompanying the stories are cover art of the magazine these originally appeared in.
Steve Cheskin, creator of Shark Week penned an introduction on how that came to be.
The stories are short. My guess is most are around 2,000 words. There are all sorts of violent encounters with sharks: plane crashes, ship sinkings, scuba diving, a day at the beach etc. There are all sorts of death by shark not to mention arms and legs getting bit off.
The end of each story has a comment often by a PhD in Marine Biology on how the story is bollocks or accurate.
For me, the high point was the reprint of "E Mao Ariki" by Robert Edmond Alter. I consider Alter one of the last great generalist fictioneers. He also died young at age 40. Alter wrote mysteries and crime for Alfred Hitchcock's, Manhunt, Mike Shayne etc. He also wrote a number of adventure stories for Argosy and Adventure from the late 1950s to the mid-1960s. One area of fiction was the sea creature peril story. He wrote at minimum three shark stories for Argosy in the 60s. He might have written the great shark novel before Jaws had he not died young. "E Mao Ariki" is from Argosy, July 1969 and the search for a Carcharodon in French Polynesia. The Carcharodon is a prehistoric shark like the Megalodon. In this case, the shark is 30 feet long. I would really love to see a big, thick hardback collecting the best of Robert Edmond Alter. You can find a handful of his stories in the Alfred Hitchcock paperbacks from way back when.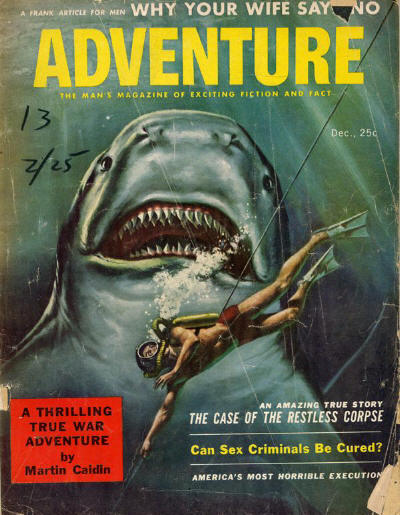 This is a fun book. You read one or two stories a week to spread it out. My daughter grabbed my copy to read it first as she loves Shark Week. Maneaters is in hardback or paperback format, 6 x 9 inches, 196 pages. You can order directly from menspulpmags.com.