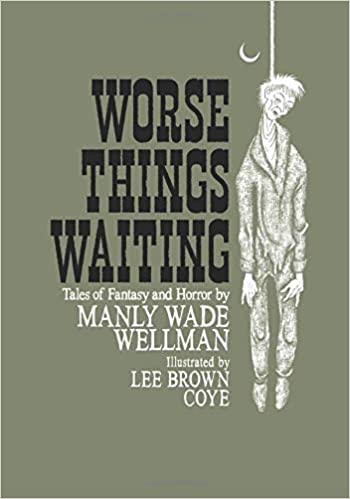 I've been a Manly Wade Wellman fan ever since listening to a Baen Podcast where David Drake discussed the life and works of his friend–and dropped the little-known bombshell that John the Balladeer stories were included in the ebook version of Mountain Magic. Ever since then, reading Manly Wade Wellman has seemed like being a part of a secret club. Wellman is highly regarded by those who have read his works–but finding them has been a challenge. Up until recently, most of Wellman's stories have been locked up in expensive small-print-run collector's hardcovers or scattered in public domain collections.
About a couple years ago, that began to change. Who Fears the Devil? was released as an independent ebook and several collections returned to print for the first time in years–and in more affordable paper than the hardcover collectors' editions that still appear to this day. Wellman's works appear these days in a number of small presses, however, so it is easy for the avid reader to miss the news of the return of a previously out-of-print favorite. Even I missed the 2020 return of Lonely Vigils, the collection of Judge Pursuivant and John Thunstone occult mysteries, until recently. Again, it seems like you have to know someone who knows of Manly Wade Wellman to find out where the good stuff is.
So, at the behest of a couple Twitter mutuals, here's a list of what's available at reader-friendly prices. This is not intended to be a comprehensive list, as not only have many of the collector's editions gone out of print, the contents of a number of smaller public domain books can also be found in the larger collections.
Today, Manly Wade Wellman is best known for his stories of John the Balladeer, also known as Silver John after the silver strings on his guitar. These short stories are collected in Who Fears the Devil?, a classic of Appalachian fantasy. Unfortunately, the ebook edition of the last few years has gone out of print, so the best way to read of John the Balladeer is still the ebook version of Mountain Magic. Again, that's the ebook version, as, due to a rights issue at the time with the Kuttner estate not allowing ebooks of his works, Baen substituted the John the Balladeer stories instead. Currently, there is no reader-friendly paperback in print at this time.
Shadowridge Press has returned to print two important collections once published by Carcosa. Worse Things Waiting is a collection of 28 stories and two poems taken from the pages of Weird Tales, Unknown, Strange Stories, and many other Golden Age pulps. Meanwhile, the launch of Lonely Vigils was overshadowed by, well, 2020 in all its madness. This collection features famous occult detectives from the Golden Age of the Pulps, Judge Pursuivant, Professor Enderby, and John Thunstone (of whom some of his adventures have been reviewed here and here), and is a must for fans of Seabury Quinn. Both collections are in paperback only.
Sword and sorcery imprint DMR Books has brought back two of Wellman's later fantasies. Heroes of Atlantis & Lemuria collects for the first time the mythological tales of the heroic Kardios, a survivor–and self-professed cause–of Atlantis's fall. As a bonus for pulp fans, Heroes pairs Wellman with a rare Leigh Brackett story. And just in the last few days, DMR Books has released Manly Wade Wellman's final novel, Cahena, a historical tale of a legendary warrior queen and the one soldier who dared to love her. Both books are offered in digital and paperback formats.
A trio of lesser works round out this reader's guide to buying Wellman's stories. First, a pair of familiar faces in The Further Adventures of Sherlock Holmes: War of the Worlds and Captain Future: The Solar Invasion. And a rare publication of Wellman's science fiction in West Point, 3000 A.D.. Check each link for the versions available.
With the recent burst of rereleases, I am hopeful that more Wellman works might be made available soon. But, with the also recent returns of Who Fears the Devil? and Hok the Mighty to out-of-print status, if Wellman's strange tales and even weirder monsters interest you, don't dally on the purchase.
(EDIT: D. M Ritzlin gives a reminder that the sixth Kardios story can be found in Renegade Swords alongside Robert E. Howard, Clark Ashton Smith, A. Merritt, and more.)
---
Keep an eye out this weekend, as I'll be doubling up with a review of Brian Niemeier's latest, Combat Frame XSeed: S.