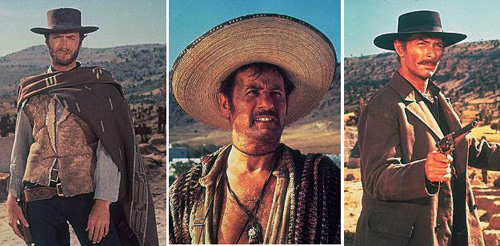 The elements of fantasy and science fiction are everywhere, but the core of what really made the old stories function has evaporated. For instance, Rogue One is routinely compared to The Magnificent Seven, but only the most superficial aspects of the classic Western's premise are carried forward. The overall approach to how characters are established as being either likable or unlikable are worlds apart.
What do I even mean when I talk about likable and unlikable characters…? That's a fair question. And to delve into it, I'll use the classic spaghetti western The Good, The Bad, and The Ugly as a reference point.
Notice how in the film introduces three outlaws, and then establishes and develops their likeability or unlikability with every scene. Yes, the plot has to move along to its epic conclusion. But in some sense, the plot is just a device for showing the character qualities of its participants.
There's "the man with no name", the Good. He pulls off these insane scams of turning in outlaws for a reward and then shooting them off the gallows and riding off to the next town to do it again. It's hilarious. It's also sketchy. To maintain his likability as a protagonist, he is shown to only shoot the hats off the townspeople when he does this.
There's the bandit character, the Ugly. He's a scruffy underdog brought in for comic relief. He's not the most reliable ally you could choose for an adventure. But note that it is left unsaid whether he actually committed all the dastardly crimes that he is accused of. He treats "the man with no name" so harshly, his likability is at stake. To recover it we are shown the rare bit of back story to make him more sympathetic: he was so poor he had to choose between being a priest or an outlaw. And if the audience can't respect his being an outlaw, they can at least acknowledge that he chose the more "manly" path.
Finally… there is the Bad. This guy is simply a cold-blooded killer. However to him… it is only a job. And he treats it like one; you've got to respect that! But given that he is the heavy here and that you really want to the audience to cheer when he is finally defeated, there is some work here to do on the part of the writers. How to establish his unlikability…? Give him a position running a concentration camp. Is that enough? Nope. They have to show him forcing the southerners to play music in order to cover up the fact that he routinely beats them senseless. Is that enough…? No it isn't. To really clinch the deal, he is shown to be looked down on by a Yankee officer that has failed to uncover solid evidence of his wrongdoing.
Now compare this to Scarlet O'Hara's character in Gone With the Wind:
She is shown to marry a goof for no other reason than to hurt the guy she is actually in love with.
She relegates her sister to a life as an old maid by stealing her beau… whom she only wanted for his sawmill.
Though she treats her husbands coldly, they are nevertheless shown to be willing to sacrifice themselves for her honor at the drop of a hat. That done… they are nothing to her.
She has one friend that is willing to stick up for her socially, stand by her through thick and thin. And it is that one friend whom she is willing to betray by throwing herself at her husband.
If Gone With the Wind is any indication, then traditional virtues are irrelevant when presenting a heroine to largely female audience. Heroes? Even of the larger than life outlaw variety…? Those guys are absolutely going to be judged on whether or not and even how much they can be respected on a scene by scene basis.
And of course, the Scarlet O'Hara effect is in operation consistently with heroines to this day, even with characters like Katniss or Bella Swan who are not shown to be even half as rotten. Characters like Rey and Jyn Erso necessarily suffer from this as well. These characters are cast in a traditionally heroic role… but they are not required to follow the same rules as the people that preceded them.