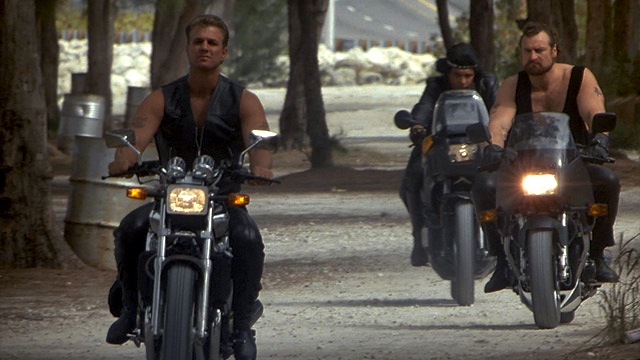 A case can be made that Miami Vice was the quintessential crime show of the 1980s. The show caught my notice in 1984 when home for Thanksgiving or Christmas. I watched episodes on rerun in summer 1985 and made the effort to watch the second season. The show was stylish with the sun, glamor, pastels, cars, music.
Somewhere along the line I lost interest by the third season. That is how I missed "Viking Bikers from Hell." It originally aired April 3, 1987. It did not help that Miami Vice ran at 9:00 P.M. Eastern on Friday nights. I was generally going out at that time.
What makes the episode interesting is John Milius wrote it as "Walter Kurtz." John Milius: writer for Dirty Harry, Jeremiah Johson, Dillinger, Magnum Force, The Wind and the Lion, Apocalypse Now, Conan the Barbarian, Red Dawn, Extreme Prejudice, Farewell to the King, Geronimo: An American Legend, Rough Riders. He also directed some of those movies. In between, he wrote a T.V. episode for a hugely popular show. Dick Wolf and Michael Duggan wrote the teleplay from Milius' story.
Opening scene with northern warrior statue. Reb Brown plays Reb Gustafson who has just gotten out of prison. His boss, Edward "The Wire" Constantine is dead, killed by Sonny Crockett (Don Johnson). Reb had a strong fraternal bond with The Wire. He goes on a killing spree taking out anyone that could be connected with the death of The Wire. Reb appears to have exploding bullets in his pistol. A crossbow is used in one hit. He uses a rifle for a long range shot in another.
Sonny Crockett is on the list for elimination. Crockett has to take out Reb before he gets him.
There are some recurrent items you see in John Milius stories. Reb mentions reading Nietzsche in prison. Milius used the famous "That which does not kill us" quote at the beginning of Conan the Barbarian. A prison psychiatrist compares Reb to Genghis Khan. Milius used the "Crush your enemies, drive them before you, and hear the lamentation of their women" quote by Genghis Khan in Conan. Red Dawn opens with the school teacher describing the Khan's hunt as Soviet paratroopers begin to land. Reb mentions going to Valhalla.
The best Milius stories are about men from civilization who become hard in the wilderness. Conan the Barbarian does have a certain passionate fandom but Milius just did not get Robert E. Howard. His taking the barbarian into civilization did not work as well.  Reb Gustafson is an atavism, a throwback to reavers of a bygone age.  He manages to shoot Tubbs who takes a head wound. Still not sure what sort of round Reb is firing with the explosion and sound like a cannon.
There is a final showdown. First a S.W.A.T. team corners the bikers in their hideout. The shootout is a bit hokey and over the top. Reb escapes to have his showdown with Sonny Crockett hand to hand. Crockett manages to shoot Reb with two gut shots with his backup. The backup pistol is a .45. I would think two shots to the gut with a .45 ACP would put him down. I just had a retired U.S. Marshal tell me about a case of a criminal taking fourteen 9 mm rounds before being put down. So, there might be cases of someone taking a .45 slug and still come at the shooter.
"Viking Bikers from Hell" is a curiosity when examined in comparison to other works by John Milius. You watch the episode looking for Milius Easter Eggs.
Reb Brown is tall and muscular. He is also too wholesome to play a hardened killer biker. He has an amiable California surfer dude persona. Clancy Brown (Kurgan in Highlander) has that aura of menace and would have been my choice.
Weapons:
Smith & Wesson 645. Johnson had the 10 mm Bren 10 the first two seasons. This was brand new. .45 ACP.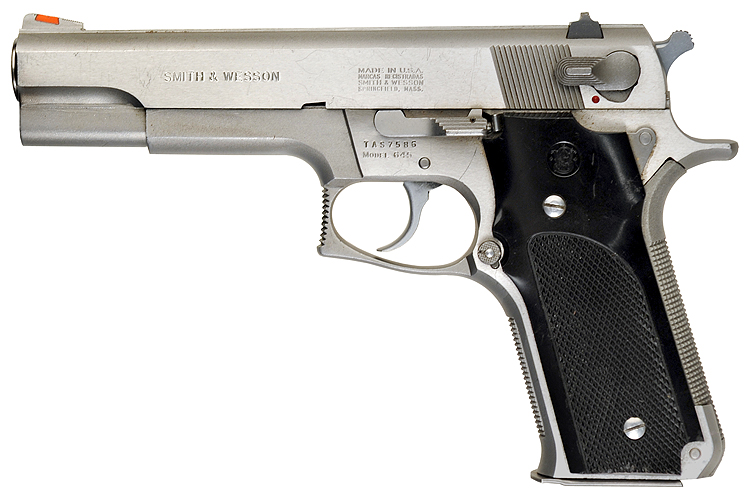 Deltonics Combatmaster. Don Johnson carried this in an ankle holster. .45 ACP.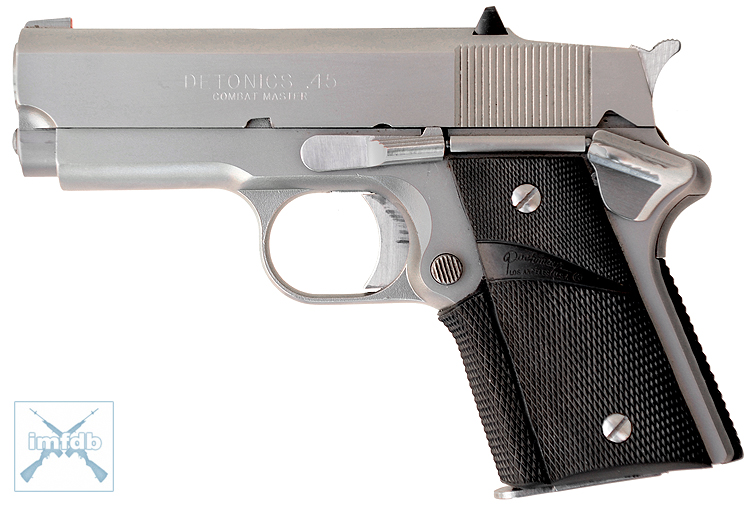 Desert Eagle Mark 1. Reb Brown carries this. .357 Magnum.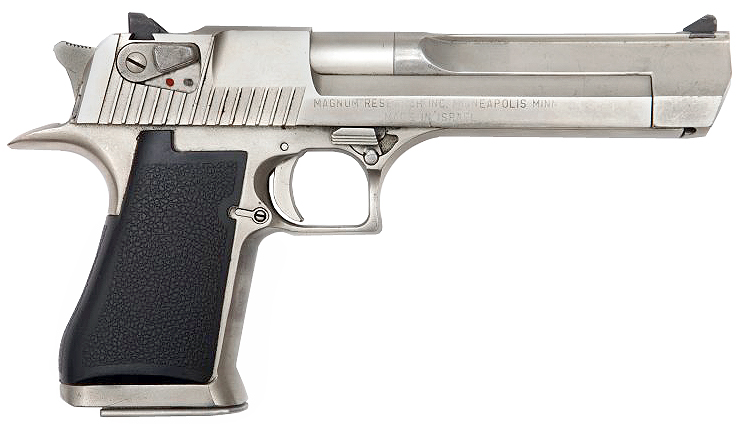 Wilson Combat Smith & Wesson 3000 shotgun. Carried by Tubbs.

Franchi Spas-12 gauge.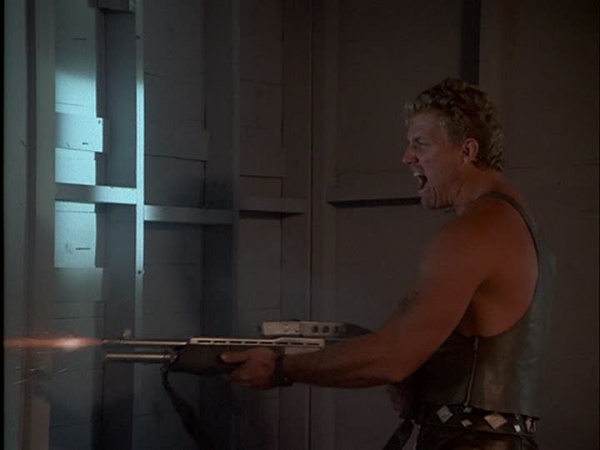 Smith & Wesson M76. 9 mm.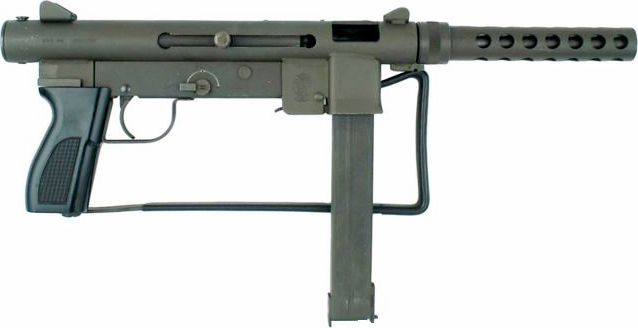 Colt Model 733. 5.56 x 45 mm.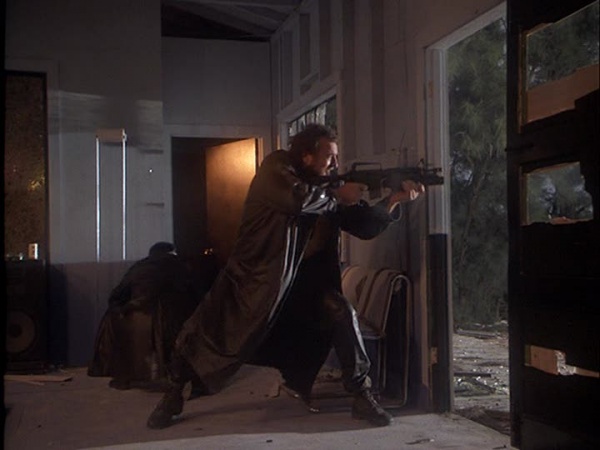 Remington Model 7400.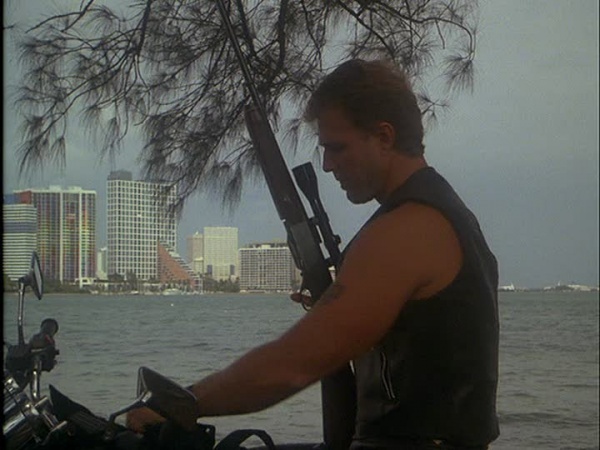 Music: Jan Hammer provided background music. In some scenes, there is guitar that sounds to my ear by that of 1980s Jeff Beck. Hammer had played with Beck since the late 70s. They did a live album together. The opening theme to the show was a top 40 hit in 1985. That is Jeff Beck playing guitar in the song. The first time Beck had been on the U.S. singles chart since 1969 with Donovan (Goo Goo Barabajagal).
George Thorogood and the Destroyers' "Who Do You Love" is played in the biker bar scene. There is a song "Valhalla" by Chris Barr (?). Simply Red's "Heaven" is used. During the shootout with the S.W.A.T. team, I thought the music sounded like The Damned. Sure enough, "Tightrope Walk" was used. Taken from the album Anything which is the one Damned album I don't have. The Damned had been popular after their Phantasmagoria album in 1985 with the songs "Shadow of Love" and "Grimly Fiendish" getting lots of airplay on college radio. 
You can watch episodes of Miami Vice at NBC.com.