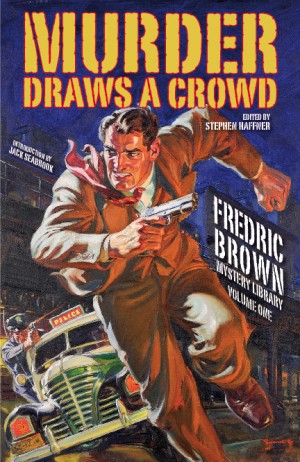 One could make the argument that Fredric Brown (1906-1972) is the most important crime writer of the late 1940s/early 1950s.
He certainly seems important enough to warrant two separate reprint series, one in the 1980s and one now. Something I can't think of any other crime writer from the period.
You probably know Fredric Brown best for the story "Arena" that was adapted as a Star Trek episode in 1967. The original story appeared in Astounding Science Fiction in 1944. Brown had been adapted for Thriller, Alfred Hitchcock Presents, and Darkroom. There have even been some movies made of his novels including The Screaming Mimi and Martians Go Home.
I mainly know Brown's science fiction far more than his crime fiction. I have The Best of Fredric Brown and read Rogue in Space in the NESFA Press collected novels hardback.
There are two wonderful trade paperbacks of crime fiction from the 1990s– The Mammoth Book of Pulp Fiction (1996) and American Pulp (1997). Both have Fredric Brown stories contained therein including "The Wench is Dead" in Mammoth Book of Pulp Fiction. That is all the crime fiction of Fredric Brown that I have read up to now. I had intentions of reading some of his novels but just never saw any.
Karl Edward Wagner included The Screaming Mimi and Here Comes a Candle in his Thirteen Best Non-Supernatural Horror novels list. Black Lizard Books reissued The Far Cry and His Name was Death in the 1980s. So Brown is remembered and respected.
Haffner Press is reissuing Brown's shorter fiction in a series of hardbacks. The first, Murder Draws a Crowd came out last year almost simultaneously with the second volume, Death in the Dark. There were some printer problems that delayed Murder Draws a Crowd for around a year.
Haffner Press produces good sized hardback books of very high quality. The books are Smyth sewn and the paper is archival quality. Murder Draws a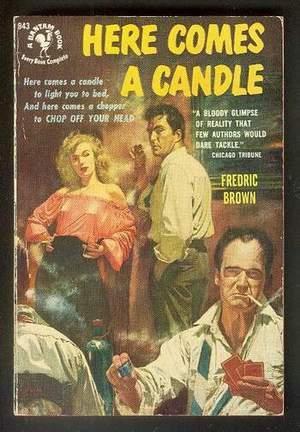 Crowd is no exception. 717 pages, 39 stories reprinted from pulp magazines, one story is from a western magazine. There is also a story never published in a magazine as it was written for Brown's kids ("How Tagrid Got There"). That story is a fantasy or written like a fairy tale. There is also an appendix of 133 pages of vignettes that Brown wrote for trade magazines such as The Driller.
The introduction, "The Apprenticeship of Fredric Brown: 1936-1942)" by Jack Seabrook is short but informative. The first story is "The Moon for a Nickel" from Street & Smith's Detective Story Magazine, March 1938 issue. The last story, "Bloody Murder" was in Flynn's Detective Fiction, January 10, 1942.
I had intended on reading one story a night. I often will have three collections or anthologies going at once and try to read one from each a night. In this case, I started reading one story, ended reading another, sometimes three a night.
You get to see Fredric Brown getting more sophisticated with story structure. The stories are not especially hard-boiled. They are generally short. The stories often involve a gimmick. One story has a guy pursued by gangsters escaping down a hill on a child's wagon. Another has an insurance agent using his knowledge to escape a gang of kidnappers. One story involves big cat taming in a circus. Brown tried hard to make his stories different. I will also say they are very readable. Some of the stories are forgettable but a good number of them are not.
If I were to do one thing different, I would have liked to have read some of Brown's later novels first before diving into his early fiction. Haffner Press has produced complete short fiction of Jack Williamson, Leigh Brackett, and currently doing Henry Kuttner and Edmond Hamilton. I had read all those authors' better known works before reading all the early fiction. It gives a sense of perspective. Like I said, I just don't see the Bantam paperback editions of Fredric Brown at the used bookstores around here.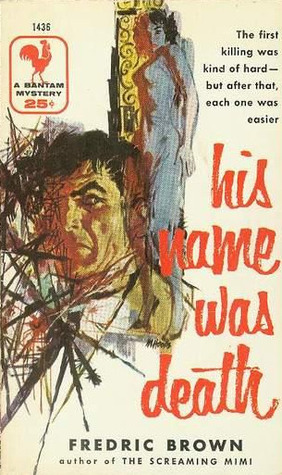 Murder Draws a Crowd also includes the interior illustrations from the pulp magazines where the story appeared. The production values that went into this book are A+. You can order Murder Draws a Crowd directly from Haffnerpress.com or from Amazon. Cost is $50.00, which generally includes shipping. Haffner Press also periodically will run specials especially with pre-orders.