This week's roundup of the newest releases in fantasy and adventure features dragons, druids, dwarves, and, not one, but two renowned zombie series.
---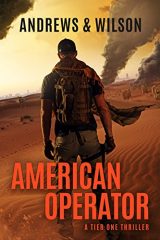 American Operator (Tier One Thrillers #4) – Jeffrey Wilson and Brian Andrews
A shocking attack in Ankara leaves the US Ambassador to Turkey dead and his chief of staff, Amanda Allen, in the hands of brutal terrorists. But Allen is no ordinary diplomat. She's undercover CIA. The DNI and the President turn to Ember, America's premier black-ops task force, and its deadliest weapon, former Tier One Navy SEAL John Dempsey, for help. To find Allen, Ember gets embedded in the most dangerous battlefield on Earth: Syria. But when all communications are disabled by an attack in Turkey, Dempsey finds himself with no backup—a lone shadow warrior racing against time to rescue Allen from her captors before she reaches her breaking point.
What Dempsey doesn't realize is that Allen is just a pawn in a much larger game. A new player has already been unleashed: a legendary mercenary who matches the American Operator in skill, tactical prowess, and a killer instinct for survival. Now there is far more at stake than a kidnapped CIA agent. Dempsey and his team better get this one right, because the balance of power for the entire Middle East rests on their shoulders. And the new threat is far more dangerous than any Dempsey has encountered in his decades waging war against terrorism.
Game on.
---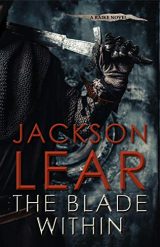 The Blade Within (Raike #1) – Jackson Lear
Someone kidnapped the wrong girl.
Twelve hours ago Raike didn't even know she existed. Nor would he have cared. That was until the only clue to her kidnapping lay in a cryptic note foretelling her death – a note Raike has seen once before. Now he's prepared to lose everything to get her back.
Standing in his way is an alliance of two mercenary companies, a city watch who cares more about stopping Raike than finding the missing girl, and an imperial general who had little to fear – until Raike came along.
A gripping fantasy thriller that will keep your heart racing until the very end.
---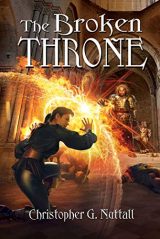 The Broken Throne (Schooled in Magic #16) – Christopher Nuttall
The Kingdom of Zangaria has fallen into civil war.
On one side, King Randor and his forces, determined to impose his rule over the entire kingdom.
On another, the noblemen who want to crush the king.
On a third, Princess Alassa and the Levellers.
Caught in the middle, Emily must steer a course between her loyalty to her friend, her duty to people who put their faith in her and her fears for the future.
But King Randor has unleashed forces even he may be unable to control…
---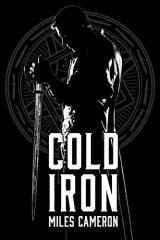 Cold Iron (Masters & Mages #1) – Miles Cameron
Aranthur is a promising young mage. But the world is not safe and after a confrontation leaves him no choice but to display his skill with a blade, Aranthur is instructed to train under a renowned Master of Swords.
During his intensive training he begins to question the bloody life he's chosen. And while studying under the Master, he finds himself thrown into the middle of a political revolt that will impact everyone he's come to know.
To protect his friends, Arnathur will be forced to decide if he can truly follow the Master of Swords into a life of violence and cold-hearted commitment to the blade.
---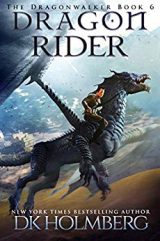 Dragon Rider (The Dragonwalker #6) – D.K. Holmberg
Saving the dragons means risking himself.
The empire remains in chaos following the last attack. Fes searches to connect to the newly raised dragon, wanting to find him before the Damhur attack again, but when he finally returns to the capital, he's too late.
War has returned to the empire in full.
With dragons controlled by the Damhur attacking along the coast, the fire mages and Dragon Guard outmanned, Fes urgently needs to find a way to save the dragons—and help the empire. The search brings him to a foreign land where he uncovers ancient secrets in his quest. He fears delay; the power of the empire fire mages is limited and already failing.
Somehow he needs to find a way to victory, but how can one man stop a war that has raged for centuries?
---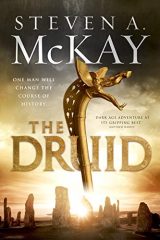 The Druid (Warrior Druid of Britain #1) – Steven A. McKay
In the aftermath of a surprise attack Dun Buic lies in smoking ruins and many innocent villagers are dead. As the survivors try to make sense of the night's events the giant warrior-druid, Bellicus, is tasked with hunting down the raiders and thwarting their dark purpose.
With years of training in the old ways, two war-dogs at his side, and unsurpassed skill with a longsword, Bellicus's quest will take him on a perilous journey through lands still struggling to cope with the departure of the Roman legions.
Meanwhile, amongst her brutal captors the little princess Catia finds an unlikely ally, but even he may not be able to avert the terrible fate King Hengist has in store for her.
This, the first volume in a stunning new series from the bestselling author of Wolf's Head, explores the rich folklore and culture of post-Roman Britain, where blood-sacrifice, superstition and warfare were as much a part of everyday life as love, laughter and song.
As Saxon invaders and the new Christian religion seek to mould the country for their own ends one man will change the course of Britain's history forever. .
---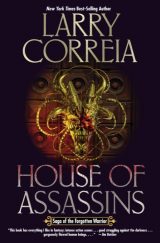 House of Assassins (Saga of the Forgotten Warrior #2) – Larry Correia
An eARC is an electronic Advance Reader Copy. This is an unproofed manuscript and is guaranteed to be full of typos and error. But you get the entire eARC well in advance of the publication date.
Ashok Vidal was once a member of the highest caste in all of Lok. As a Protector, he devoted his life to upholding the Law, rooting out those who still practiced the old ways and delivering swift justice with his ancestor blade Angruvadal. None was more merciless than he in stamping out the lingering belief in gods and demons among the casteless. His brutality was legendary and celebrated.
But soon Ashok learned that his life to that point had been a lie. He himself, senior member of the Protector Order, was casteless. He had been nothing more than an unwitting pawn in a political game. His world turned upside down and finding himself on the wrong side of the Law, he began a campaign of rebellion, war, and destruction unlike any Lok had ever seen. Ashok no longer knows what to believe.
He is beginning to think perhaps the gods really do exist. If so, he's warned them to stay out of his way.
They would do well to listen.
---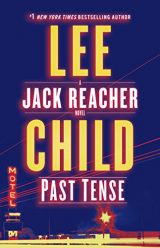 Past Tense (Jack Reacher #23) – Lee Child
Jack Reacher hits the pavement and sticks out his thumb. He plans to follow the sun on an epic trip across America, from Maine to California. He doesn't get far. On a country road deep in the New England woods, he sees a sign to a place he has never been: the town where his father was born. He thinks, What's one extra day? He takes the detour.
At the same moment, in the same isolated area, a car breaks down. Two young Canadians had been on their way to New York City to sell a treasure. Now they're stranded at a lonely motel in the middle of nowhere. The owners seem almost too friendly. It's a strange place, but it's all there is.
The next morning, in the city clerk's office, Reacher asks about the old family home. He's told no one named Reacher ever lived in town. He's always known his father left and never returned, but now Reacher wonders, Was he ever there in the first place?
As Reacher explores his father's life, and as the Canadians face lethal dangers, strands of different stories begin to merge. Then Reacher makes a shocking discovery: The present can be tough, but the past can be tense . . . and deadly.
---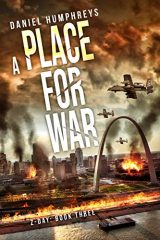 A Place For War (Z-Day #3) – Daniel Humphreys
"We stand on the brink, ready to reclaim this continent. Our fight today is not for resources or supplies. We're coming home."
The future is now. Equipped with a mix of primitive and bleeding-edge technologies, the US military is bringing everything we have left to bear against the zombie horde. The evolution of the infected into vicious alpha predators has made old tactics dangerous and obsolete.
It's time to break out the big guns.
Meanwhile, Miles Matthews leads a small team on a last-ditch mission deep into infected territory. Miles and his team will be on their own, surrounded, and outnumbered. Succeed, and they end the alphas' reign of terror. Fail, and they join the horde.
Will this be our last stand, or the final victory in a decade-long nightmare?
---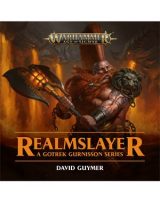 Realmslayer (Gotrek and Felix #18) – David Guymer
Gotrek Gurnisson was the greatest monster slayer of the age, who met his doom at the End Times. The heroic duardin stepped forth into the Realm of Chaos to fight the daemons gnawing at the world's ending and satisfy his death oath, leaving behind his companion Felix Jaeger. Now Gotrek has returned, having outlived the old gods and the Old World. Spat from the ruinous depths with his redemption unfulfilled, he emerges into the Mortal Realms, a strange new world where gods walk the earth and dark forces are ascendant. Nothing is as he remembers. His oaths are dust, and the lands are torn asunder by Chaos. Yet when Gotrek learns of human champions being elevated to immortality for Sigmar's fight against this darkness, the so-called 'Stormcast Eternals', he knows why fate has brought him into this new age. To find Felix. For only then can he find the peace in death he seeks. But is there more to Gotrek's apotheosis than even he can fathom? Has he truly been chosen by Grimnir and for what purpose?
LISTEN TO IT BECAUSE: Gotrek's back, and he's voiced by Brian Blessed.
---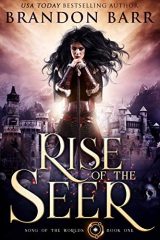 Rise of the Seer (Song of the Worlds #1) – Brandon Barr 
Two women. Two worlds. One epic destiny.

A god-gifted young woman is chosen for a grim task– one that will take her beyond the boundaries of her own world. Winter's chilling visions of the future make clear that her choices will not only affect the success of her mission… but whether those she loves will live or die.
On the distant world of Hearth, Meluscia is the daughter of a dying king. As he wages a bitter war in the north, a growing evil devours the villages of the east. She would turn her kingdom's forces to face the emerging threat– but first, she must gain the throne… and confront the secret desire that torments her soul.
Though worlds apart, Meluscia and Winter's destinies are bound together by portals and an ancient prophecy that promises to pull friend and foe together in a devastating collision.
---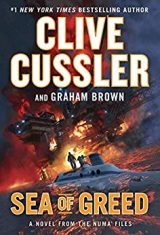 Sea of Greed (The NUMA Files #14) – Clive Cussler and Graham Brown
After an explosion in the Gulf of Mexico destroys three oil rigs trying to revive a dying field, Kurt Austin and the NUMA Special Projects Team are tapped by the President of the United States to find out what's gone wrong. The trail leads them to a brilliant billionaire in the alternative energy field. Her goal is the end of the oil age; her company has spent billions developing the worlds' most advanced fuel-cell systems. But is she an environmental hero…or a rogue genetic engineer?
The NUMA crew discovers that the oil fields are infected with bacteria that are consuming the oil before it can be pumped out of the earth–a bacteria originally lost decades ago when two submarines vanished in the Mediterranean.
With hired killers on his trail, can Kurt Austin locate a submarine that's remained hidden for more than fifty years? And even if he can, can the biological terror that's been unleashed be stopped?
---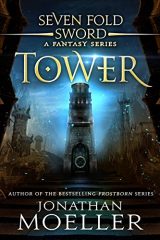 Sevenfold Sword: Tower – Jonathan Moeller
Ridmark Arban is the Shield Knight, the defender of the realm of Andomhaim. 
The realm is at peace after a long and terrible war, but dark powers threaten other lands.
And when a mad elven wizard comes to the High King's court, Ridmark finds himself fighting not only for his own life, but for the lives of his family.
For the quest of the Seven Swords has begun…
The quest of the Seven Swords has brought the world to the edge of destruction.
To defeat the evil of the Seven Swords, Ridmark must learn the secrets of their making. But the creator of the Swords is imprisoned within the dungeons of Urd Maelwyn, once the stronghold of the dark elven tyrant called the Sovereign.
And those who enter the dungeons of Urd Maelwyn never return…
---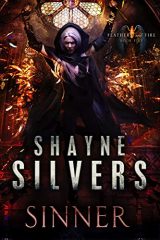 Sinner (Feathers and Fire #5) – Shayne Silvers
Callie Penrose is struggling to find her special purpose in life. Rather than allying with any of the powerful supernatural groups begging to sign her up—the Vatican, the vampires, the shifters, or the Armies of both Heaven and Hell—Callie has been picking fights with all of them.
But when she's abducted by a Host of Angels, and a Greater Demon begins hunting her through the daytime streets of Kansas City, Callie learns that her past has come back to haunt her.
Thanks to her actions in recent months, Solomon's Temple has been opened, and the estate sale is on a first-come, first-served basis.
To win her birthright, Callie is going to need Cain's help. Even then, she's going to have to cut some corners, cross some lines, to take a bite out of an apple…
But they say every Saint was once a Sinner…
---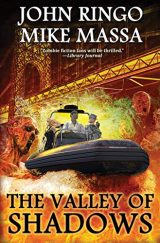 The Valley of Shadows (Black Tide Rising #6) – John Ringo and Mike Massa
From his corner office on the forty-fourth floor of the Bank of the Americas tower on Wall Street, Tom Smith, global managing director for security, could see the Statue of Liberty, Battery Park—and a ravening zombie horde.
Good thing Smith, late of the Australian special forces, isn't a man to give up easily. But saving civilization is going to take more than the traditional banking toolbox of lawyers, guns, and money. Smith needs infected human spinal tissue to formulate a vaccine—and he needs it by the truckload. To get it, he will have to forge a shady alliance with both the politicians of the City of New York and some of its less savory entrepreneurs.
But all of his back-alley dealing may amount to nothing if he can't stave off the fast-moving disease as it sweeps across the planet, leaving billions dead in its wake. And if he fails, his only fallback is an incomplete plan to move enough personnel to safe havens and prepare to restart civilization.
What's more, there are others who have similar plans—and believe it or not, they're even less charitable than a Wall Street investment banker. Sooner or later Smith will have to deal with them.
But first he has to survive the Fall.