This week's roundup of the newest releases in fantasy and adventure features ancient conspiracy theories, Saxon warriors, a Comanche rescue, the ultraviolent Goblin Slayer, and Haruki Murakami's newest novel.
---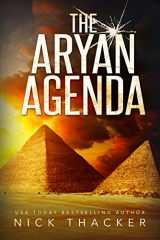 The Aryan Agenda (Harvey Bennett #6) – Nick Thacker
Ancient conspiracy theories. Neo-Nazis. Nonstop action.
Harvey Bennett and his CSO team receive a distress call from their friend, Sarah Lindgren:
Her father has been kidnapped. Worse, she believes his kidnapping is only the tip of the iceberg.
From Santorini to Egypt, Michigan to Athens, The Aryan Agenda is a nail-biting mystery/thriller of epic proportions!
Harvey Bennett is back in his most intense adventure yet.
---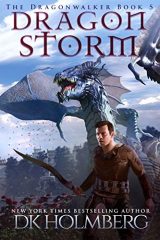 Dragon Storm (Dragonwalker #5) – D. K. Holmberg
A war long thought over has returned, and this time the empire is not equipped to survive. Still, the dragons are safe, living in the heart of the forest near an ancient Deshazl settlement. Though hidden from the Damhur who would control them, Fes feels they deserve more and longs to see them fly free again.
When another attack leaves the empire weakened, Fes and a few friends search for allies. Finding those allies is key, but who can they trust? With the most recent attack, the likelihood of defeat looms close, and without help, they will certainly fail.
Worse, not all is as it seems. The war that has raged for centuries has left a far more lasting effect than any have ever known. The empire must be secured, and only then can Fes take the next step in ending the war—this time for good. But if he can't protect the dragons, how can he defend against the Damhur?
---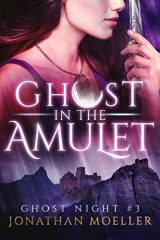 Ghost in the Amulet (Ghost Night #3) – Jonathan Moeller
Caina Amalas was once a deadly Ghost nightfighter, a spy and agent of the Emperor of Nighmar.
For all her life, Caina has run from the memory of her cruel mother.
But her mother was merely the weakest member of a family of powerful and ruthless sorcerers.
Now Caina has the Ring of the ancient necromancer-king Rasarion Yagar, and her aunt Talmania Scorneus is hunting for her.
And to take the Ring, Talmania is willing to kill Caina and everyone close to her…
---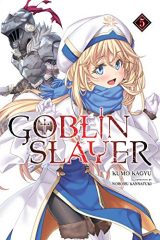 Goblin Slayer, Volume 5 – Kumo Kagyu
A young priestess has formed her first adventuring party, but almost immediately they find themselves in distress. It's the Goblin Slayer who comes to their rescue–a man who's dedicated his life to the extermination of all goblins, by any means necessary. And when rumors of his feats begin to circulate, there's no telling who might come calling next…
A young noblewoman has disappeared while out on a goblin hunting quest. When Goblin Slayer and his party set out to find her, they are stunned to discover a horde of goblins have built their nest within an ancient dwarven fortress…and these ones even appear to be followers of some primitive, sadistic cult! But what troubles Goblin Slayer most of all is their leader, who is stronger and more intelligent than any goblin he's faced before…
---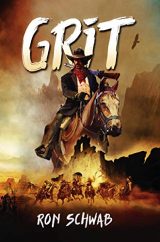 Grit – Ron Scwab
"Grit" McKay survived the bloodiest battles of the Civil War without incurring as much as a single scratch on his body. When money became hard to come by after the war, he began taking jobs to recover white children that had been abducted by raiding bands of Comanche.
Jessie Hamilton's twin sister, Jennie, was taken by the Comanche when the girls were ten years old. Even though she has been separated from her sister for fourteen years—was Jennie even still alive?—Jessie still feels a powerful connection with her sister, and she is determined to find out what happened to her . . . with the help of Grit McKay.
Overflowing with breathtaking adventure, Ron Schwab's latest Western novel has as many twists and turns as the trails Grit McKay must carefully navigate in his search for Jennie Hamilton.
---
Killing Commendatore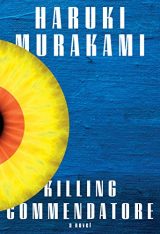 – Haruki Murakami
In Killing Commendatore, a thirty-something portrait painter in Tokyo is abandoned by his wife and finds himself holed up in the mountain home of a famous artist, Tomohiko Amada. When he discovers a previously unseen painting in the attic, he unintentionally opens a circle of mysterious circumstances. To close it, he must complete a journey that involves a mysterious ringing bell, a two-foot-high physical manifestation of an Idea, a dapper businessman who lives across the valley, a precocious thirteen-year-old girl, a Nazi assassination attempt during World War II in Vienna, a pit in the woods behind the artist's home, and an underworld haunted by Double Metaphors. A tour de force of love and loneliness, war and art—as well as a loving homage to The Great Gatsby—Killing Commendatore is a stunning work of imagination from one of our greatest writers.
---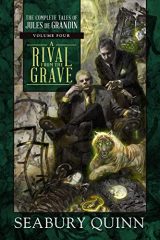 A Rival From the Grave – (The Complete Tales of Jules de Grandin #4) – Seabury Quinn
Today the names of H. P. Lovecraft, Robert E. Howard, August Derleth, and Clark Ashton Smith, all regular contributors to the pulp magazine Weird Tales during the first half of the twentieth century, are recognizable even to casual readers of the bizarre and fantastic. And yet despite being more popular than them all during the golden era of genre pulp fiction, there is another author whose name and work have fallen into obscurity: Seabury Quinn.
Quinn's short stories were featured in well more than half of Weird Tales's original publication run. His most famous character, the supernatural French detective Dr. Jules de Grandin, investigated cases involving monsters, devil worshippers, serial killers, and spirits from beyond the grave, often set in the small town of Harrisonville, New Jersey. In de Grandin there are familiar shades of both Arthur Conan Doyle's Sherlock Holmes and Agatha Christie's Hercule Poirot, and alongside his assistant, Dr. Samuel Trowbridge, de Grandin's knack for solving mysteries—and his outbursts of peculiar French-isms (grand Dieu!)—captivated readers for nearly three decades.
Collected for the first time in trade editions, The Complete Tales of Jules de Grandin, edited by George Vanderburgh, presents all ninety-three published works featuring the supernatural detective. Presented in chronological order over five volumes, this is the definitive collection of an iconic pulp hero. The fourth volume, A Rival from the Grave, will include all the stories from "The Chosen of Vishnu" (1933) to "Incense of Abomination" (1938), as well as an introduction by George Vanderburgh and Robert Weinberg and a foreword by Mike Ashley.
---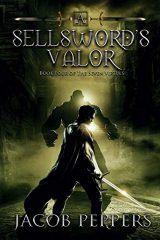 A Sellsword's Valor (The Seven Virtues #4) – Jacob Peppers
Belgarin's forces have retreated, but in the city of Perennia there is no rejoicing. The air is filled with the mourning cries of survivors, and the wind that blows through the city carries the smell of freshly dug graves and death.
As the city grieves, Aaron and his companions attempt to hold together an alliance that threatens to crumble around them. While the alliance's leaders bicker and argue, Boyce Kevlane, an ancient wizard bent on revenge, has taken Belgarin's place as king and uses his twisted powers to create an army out of nightmare.
To stand a chance of keeping the coalition together, Aaron is forced to venture into Baresh, a city gripped by madness and terror, in search of proof of the coming danger.
To survive, Aaron will be forced to call on his friends and the growing power of his bond with a creature of myth. Yet even this may not be enough. For there are other powers in the world, darker ones, and there is no telling what secrets the shadows hold.
---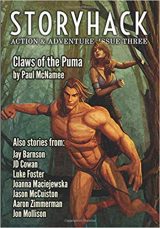 StoryHack Action & Adventure #3 -edited by Bryce Beattie
Proof that short fiction can still be exciting. StoryHack is a magazine focusing on action and adventure fiction in a wide variety of genres.
In this issue, you'll read:
Claws of the Puma by Paul R. McNamee – In the rainforests of Brazil, poaching loggers and traditional rubber tree tappers are at war. Journalist Sarah Stoughton gets more than she bargained for when she is caught up in the violence, and comes face to face with the legendary man of the jungle, the Puma.
Shoot First by Jay Barnson – Flint and another agent are assigned to confiscate a dangerous cursed magical artifact from a street gang, only to find that the entire operation was a set-up by a local crime boss and an analyst from within the Order.
Inside the Demon's Eye by JD Cowan – A young adventurer searches the Black Lands for a lifesaving treasure. He may not get the chance to find it, as he is being stalked by a malevolent force.
The Dealer's Tale by Jon Mollison – A pregnant blackjack dealer walks a deadly line as she prepares to betray her mafia-owned boss to the feds.
…and more!
---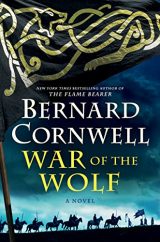 War of the Wolf (The Saxon Tales #11) – Bernard Cornwell
His blood is Saxon
His heart is Viking
His battleground is England
While Uhtred might have regained his family's fortress, it seems that a peaceful life is not to be – as he is under threat from both an old enemy and a new foe. The old enemy comes from Wessex where a dynastic struggle will determine who will be the next king.  And the new foe is Sköll, a Norseman, whose ambition is to be King of Northumbria and who leads a frightening army of wolf-warriors, men who fight half-crazed in the belief that they are indeed wolves. Uhtred, believing he is cursed, must fend off one enemy while he tries to destroy the other. In this new chapter of the Saxon Tales series—a rousing adventure of courage, treachery, duty, devotion, majesty, love and battle, as seen through the eyes of a warrior straddling two worlds—Uhtred returns to fight once again for the destiny of England.
---