The Colonies throw off England's shackles in a second American Revolution, two genetically engineered sharks battle sea monsters for the fate of the free world, and the Shield Knight quests to stop the rise of an evil new god in this week's roundup of the newest releases in fantasy and adventure.
---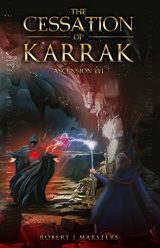 The Cessation of Karrak (The Ascension of Karrak #3) – Robert J. Marsters
Betrayal… something the companions would never have suspected of one of their own.
Sadly, they are oblivious to the twisted thoughts of revenge harboured by one of the younger wizards. His darkest secret, his true identity… an identity hidden from them, but recently revealed to the shadow lord. The alliance between the traitor and the dark sorcerer Karrak would undoubtedly prove to be more dangerous than any threat they had overcome previously.
Could they still succeed?
Now, the situation more precarious than ever and facing insurmountable odds, no decision made by Jared Dunbar can be easy if he and his companions are to survive the final confrontation. Even at the cost of his own life, he must bring about…
The Cessation of Karrak.
---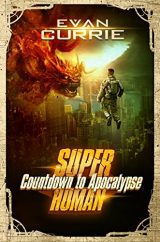 Countdown to Apocalypse (Superhuman #2) – Evan Currie
The first shots of war have been fired, now it's a race against time to stop a headlong rush before someone fires the last shots.
The alien probe that created dozens of superhuman weapons and unleashed them on Houston has a new testing site, the city of Hong Kong, and Alexander Hale has been asked to intervene. With no idea who, or how, the experiments on people are being done he slips into the city to try and find out what ever he can, but beyond the skyline of Hong Kong trouble is brewing.
With China and The USA rushing headlong toward a nuclear exchange, there may only be hours to save the world from this countdown to apocalypse.
It'll take a superhuman effort.
Good thing he has that going for him, because nothing else seems to be.
---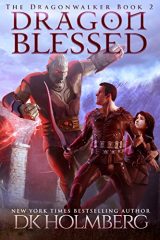 Dragon Blessed (The Dragonwalker #2) – D. K. Holmberg
The magic of the ancient dragons cannot be ignored.
Learning he's descended from the ancient Deshazl, those once known as the Dragonwalkers, has changed nothing for Fes. He continues to serve Azithan and the empire, even after deceiving them. The ancient Deshazl magic lives within him, but Fes doesn't know how to control it or even if he should try.
An old nemesis approaches him with a job he can't refuse, and he's forced to head toward Toulen. When betrayal separates him from from a friend in need, Fes must begin to understand how to use his Deshazl magic. If he can't, not only will he lose his friend, but innocent people will suffer.
With a growing magic within him, Fes questions not only the nature of his power, he's forced to make a choice between these new connections and the empire.
---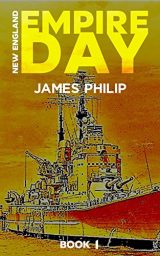 Empire Day (New England #1) – James Philip
It is nearly two hundred years since George Washington was killed and his Continental Army was destroyed in the Battle of Long Island and now New England, that most quintessentially loyal and 'English' imperial fiefdom – at least in the original, or 'First Thirteen' colonies – is about to celebrate its devotion to the Crown and the Old Country, of which it still views, in the main, as the 'mother country'.
In Whitehall every British government in living memory has complacently based its 'American Policy' on the one immutable, unchanging fact of New England politics; that the First Thirteen colonies will never agree with each other about anything.
In past times a troubling question has been whispered in the corridors of power in London: what would happen to the Empire – and the Pax Britannica – if the British hold on New England was ever to be loosened?
If the New World ever discovers again a single voice supporting any kind of meaningful estrangement from the Old Country; it would surely be the end of the Empire…
---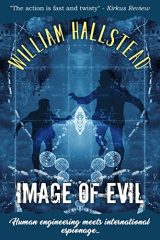 Image of Evil – William Hallstead
Raphael Kooven, half-Dutch, half Argentinian, master at espionage and international thievery, dies on the eve of his most demanding assignment.
Then he is astonished to find himself alive in another man's body, the product of a breakthrough in human engineering by an obscure Montreal neurosurgeon. He is a magnificent scientific creation, as astounding as the electronic development he has been assigned to acquire.
All that stands in his way is a disgraced ex-cop, exiled to a remote think-tank in Maryland's Catoctin Mountains. Discredited Security Chief Marty Horn is unable to convince the institution's director, his Washington superiors or even an FBI friend that an incredible change had taken place in a key resident scientist.
Horn determines to stop what he is convinced is a sinister penetration of security. He puts his job, his sanity and ultimately his life on the line against one of the most startling espionage plots ever conceived.
---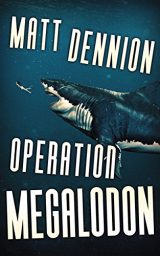 Operation Megalodon – Matthew Dennion
It has been six months since the terrorist Rol-Hama had captured the world's cryptids.
The madman transformed the cryptids into giant monsters and then unleashed them on the world. Sea monster attacks quickly shut down worldwide shipping. The world's economies and vital infrastructures are falling apart. Essential supplies that keep the world functioning including food, medicine, and oil are unable to be delivered. In response the US government enacts Operation MEG (Monster Extermination Group). The plan consists of mutating two great white sharks to monstrous proportions.
Now the fate of world is in the hands of Operation Megalodon.
---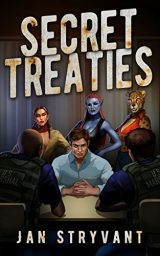 Secret Treaties (The Valens Legacy #9) – Jan Stryvant
Having killed Gradatim's pet demon, Sean now has to move onto Portland, a true Gradatim stronghold. When the Gradatim breaks the silence with an attack on Sean's family, Sean's response is drastic and immediate, yet the Gradatim cannot help but to escalate their own response. Pushed into a corner, Sean and the Lions' response is both drastic and deadly, sending shockwaves through both magical and governmental organizations.
Forced now into a two front war as Sean has to deal with the consequences of his own actions, other parties start to take an interest in him and his crusade as politicians start to wrangle inside the government and council heads look to settle old scores as well as new ones, doing their best to take advantage of the changing dynamic in their own bids to gain power.
But allies have a way of turning up in the places that you least expect, and when it comes time to take a stand, there are still people who will stand for what is right.
---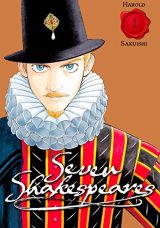 Seven Shakespeares #1 – Harold Sakuishi
Literary secrets come alive when Harold Sakuishi, creator of the all-time-classic rock 'n' roll manga BECK, tackles a different kind of legend: William Shakespeare.
He's said to be the greatest playwright and poet in history, the author of Romeo and Juliet, Hamlet, and Macbeth, but just who was William Shakespeare?
It is Sixteenth-Century England, and the Protestant Reformation controls the hearts of the people and their consciences. With the tides of history whirling fiercely, and a devastating storm of persecution brewing, what path will the young boy William Shakespeare choose?
Harold Sakuishi unlocks the secrets behind the writer you only thought you knew!
---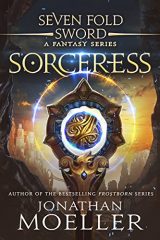 Sorceress (Sevenfold Sword #7) – Jonathan Moeller
The quest of the Seven Swords will unmask treachery.
Ridmark Arban is the Shield Knight, questing to stop the rise of the evil New God. The sorceress Cathala, imprisoned within magical stone, holds the lore of the creator of the Seven Swords.
But dark powers are stirring in the Serpent Marshes, and Cathala has secrets of her own.
Secrets that might kill Ridmark and his friends…
This is sword-and sorcery at its very best. – Amazon Reader Review
---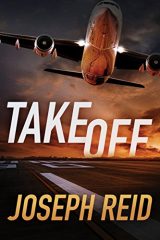 Takeoff (Seth Walker #1) – Joseph Reid
Still reeling from a devastating personal tragedy, air marshal turned investigator Seth Walker embarks on his first case. All he has to do is accompany female pop star Max Magic to Los Angeles and deliver her to the FBI. But when their routine flight ends in a hail of gunfire at LAX, Walker has no choice but to take the frightened diva on the run.
After a second attack leaves him battered and bloody, Walker realizes he cannot trust the FBI. To keep his client alive, he must use a patchwork of trusted aviation contacts to get her home to Austin, where the key suspects await.
But as they race to stay one step ahead of their deadly pursuers, the biggest danger of all may be what they're heading toward—the dark secrets that Max herself has been keeping…
---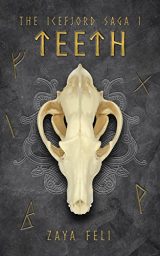 Teeth (The Icefjord Saga #1) – Zaya Feli
Twelve years after the death of his family, Isa meets a boy in the woods with an injured foot who can bring ravens back to life. But something else has come to Ulfheim, and when Isa opens the rune ward keeping the village safe to let the strange boy through, the wicked beast that has haunted Isa's dreams his entire life follows.
Six years later, the boy from the woods returns and his arrival sets events into motion much grander than Isa could have foreseen. Isa's control is slipping. The wolves close in on Ulfheim and home is no longer safe.
In the north, Fenrisborg stirs. If Karel wants to save his sister and prove his worth, he must act now. But Ulfheim is as unforgiving as his father's chilled halls and Karel will need all his skills to deceive a jarl and capture an evil creature.
---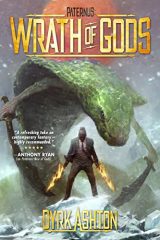 Wrath of Gods (Paternus Trilogy #2) – Dyrk Ashton
On the run from an ancient evil and his army of terrors straight out of myths from around the world, Fi and Zeke aid Peter in his globe-trotting quest to seek out the remaining Firstborn, uncover the enemy's plans, and gather the warriors of old for what may become the final battle in the world's oldest war. Along the way, Fi and Zeke discover they, too, have strengths of their own–though they come at a cost neither may wish to bear.
"What a sequel should be – bigger stakes, bloodier action, and even more mythological madness." – Fantasy Book Critic