The northern frontier of Britannia, a magical school, a conquered city, and Manly Wade Wellman's Sgt. "Bible" Jaeger feature in this week's roundup of the newest releases in fantasy and adventure.
---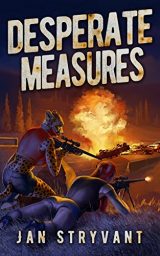 Desperate Measures (The Valens Legacy #8) – Jan Stryvant
Things are starting to heat up for Sean and for some of his allies as well. The Sacramento Vestibulum council is starting to act in ways that no one had anticipated, and the Gradatim national council is by no means standing idly by either. When several of the councils decide to ban together in a move to eradicate Sean's followers and remove him as well, Sean has no choice other than to try and teach them a painful lesson.
But those aren't all the problems that Sean now has to deal with. More and more people are counting on him as the days go by and the burdens he must shoulder are quickly growing. Between the magical work he must do, the people he must lead, the battles he has to fight, and the money he needs to earn, Sean barely has time for his wives, much less himself these days.
And if dealing with the magic users isn't enough, there are some very 'mundane' issues on the horizon that he may soon find himself dealing with as well.
---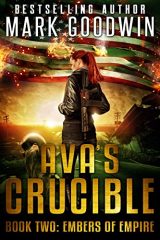 Embers of Empire (Ava's Crucible #2) – Mark Goodwin
America has fallen and Ava's band of misfits is all that stands between freedom and absolute tyranny.
Political division in the United States has reached the boiling point and the Second American Civil War is well underway. Communist agitators have been successful in their efforts to intimidate voters from key states and steal the election. A far-left socialist candidate has seized the reins of power and his designs against the republic are absolute. With a sympathetic congress, he will sign in sweeping bans on firearms, criminalize free speech, and institute a new government agency to root out dissenters.
Ava's group pledges to launch an insurgency campaign against the occupying force in Texas, but they'll have to watch out for those who have been tasked with purging the patriots. Her team cannot fail in their mission to liberate Texas. If Texas falls, America's demise is all but certain.
---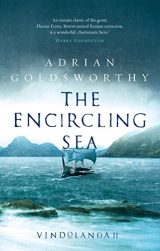 The Encircling Sea (Vindolanda #2) – Adrian Goldsworthy
Flavius Ferox, Briton turned Roman centurion, is charged with keeping Rome's empire intact. But from his base at Vindolanda on the northern frontier of Britannia, he feels enemies closing in on him from all sides.
Ambitious leaders await the chance to carve out empires of their own. While men nearer at hand speak in whispers of war and the destruction of Rome.
And now new threats are reaching Ferox's ears. Stories about the boat-dwelling men of the night, who have cursed the land and only come ashore to feast on men's flesh.
These are just rumours for now. But Ferox knows that rumours stem from truth. And that no one on this isle is safe from the great, encircling sea…
---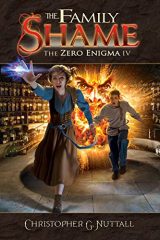 The Family Shame (The Zero Enigma #4) – Christoper G. Nuttall
Isabella Rubén is a traitor – at twelve years old.
Disgraced, abandoned by her friends and shunned by her family, Isabella is sent into exile with scant hope of returning to her former home. Her destination, Kirkhaven Hall; a stone mansion miles from civilisation, inhabited only by a pair of older exiles. Existence as she knew it is over.
But as she tries to settle into Kirkhaven Hall, and a life far from the one she enjoyed before her fall from grace, she discovers that the hall has secrets. Intruders on the grounds, ghostly shadows moving at night …
… and a plot that may destroy everything she once held dear.
---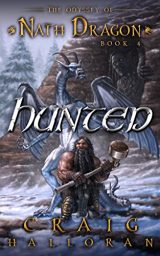 Hunted (The Oddyssey of  Nath Dragon #4) – Craig Halloran
Nath, Darkken and Maefon's relationships grow stronger and they become quite the formidable band of heroes. Still taken in by the deception, Nath journeys with his new companions across Nalzambor to the town of Old Hen. It is there that they begin a desperate search in a bizarre gargantuan crypt guarded by the undead. Within, they hope to find the secret of Dragon Steel, that can be turned into a weapon, that can kill anything.
Brenwar, Slivver and Master Elween pull their forces together in order to track Nath down. Can they find him before Lord Darkken's deception takes a complete hold on Nath? Will they be able to reveal the insidious Lord of the Dark in the Day's deception? Or will Nath set his sights on taking over Nalzambor with his brother?
---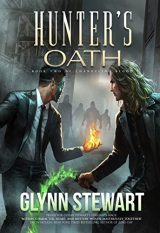 Hunter's Oath (Changeling Blood #2) – Glynn Stewart
Jason Kilkenny is a quarter-human Vassal of the Queen of the Fae and the neutral arbiter of supernatural affairs around the Fae Court in the Canadian city of Calgary. He has spent half a year building relationships with the existing power structure–but all of that is thrown into chaos when the Fae leadership dictates that Calgary's Court split into Seelie and Unseelie factions. Backed by the highest authority, the new Lord Andrell is there to build an Unseelie Court from nothing, and he will brook no interference, no challenges.
Meanwhile, a rogue Fae launches a vicious slaughter at Calgary's largest public event, and Jason is dragged into an investigation and pursuit of a monster far more powerful than he is. The rogue's Unseelie heritage brings him into conflict with Lord Andrell, and the city's peace is threatened.
One wrong step could unleash civil war between the new Courts and Jason's own secrets could lead to lighting the embers of a civil war amongst all Fae–embers that have slumbered since before his birth.
If only he knew what those secrets were…
---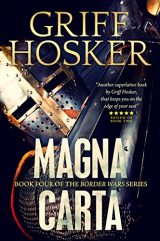 Magna Carta (The Border Knight #4) – Griff Hosker
The Earl of Cleveland has managed to put himself in King John's good graces just at the time when other barons decide to rebel. They seek more land and power. The newly appointed Earl is caught in the middle. When the Scots begin to raid once more Sir Thomas is forced to rally the loyal knights of the north and repel them. Following the actual history which led to the Magna Carta and beyond this fast-moving novel moves from Scotland to Wales and Northampton and Lincoln. It culminates in the battle of Lincoln 1217 when the French army attempted to conquer England.
So long as the Earl and William Marshal stand shoulder to shoulder with the boy king, Henry III, then England will be safe!
---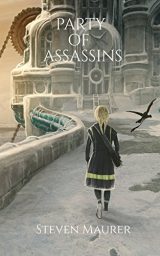 Party of Assassins – Steven Maurer
The thing about war is that life still goes on.
As rival princes ravage across Aeterna, mustering armies to vie for the throne of the Nutearean Empire, Xanthe's main concern is getting a date for the upcoming Festival of Favors. Hard for a poor scholar's daughter, who sees nothing in her looks that would ever attract a suitable boy.
Yet even in the relative safety of northern Thule, the southern interregnum brings danger. Fanatics rise when rulers fall. The Curate preaches that ancient technologies weren't lost due to apocalyptic battles, but seized as divine punishment for mortals usurping the authority to shape life. Some schismatic zealots go further. Against the law, they murder 'witches' – girls with mysterious talents engineered into their bloodlines – hoping to cleanse mankind of its sins.
And Xanthe has a secret…
---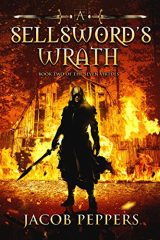 A Sellsword's Wrath (Seven Virtues #2) – Jacob Peppers 
Aaron Envelar thought a sellsword's life was as dangerous as any life could be. He was wrong.
Trapped in a conquered city with a reward on their heads, Aaron and his companions must find a way to elude the soldiers pursuing them while he struggles to understand his bond with Co, a magical creature of myth and the Virtue of Compassion. There is power within the bond, power that could help him protect his friends, if he's lucky enough to master it before the darkness within the bond consumes him.
But luck, Aaron knows, is a blade reached for in the dark, the man who grasps it as likely to bleed for his trouble as find the handle.
Stalked by Belgarin's soldiers, Aaron and his companions struggle to find allies before it's too late. But Belgarin's army is not the only danger they face, and even should they escape, even should Aaron master his bond with a legendary creature of magic, they may still fail. They may still die.
For there are other legends in the world, other magic. And not all legends are good ones. Not all magic is benign.
---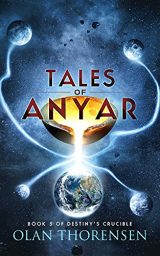 Tales of Anyar (Destiny's Crucible #5) – Olan Thorensen
The Destiny's Crucible series chronicles the incredible adventure of Joseph Colsco, a college student of no particular importance, who is thrust into an unimaginable fate by an accident that couldn't happen—but did. Cast naked on the planet Anyar, he forges a new life for himself and rises to prominence and responsibilities he would otherwise never have imagined. However, much is left undone and uncertain. For readers who finished the first four books, many questions were left unanswered, and many stories left untold. This collection of short stories and novellas addresses some of the questions, expands previous books, and points to future directions. The anthology begins not on the planet Anyar but on Earth, with the aftermath of the improbable accident that starts Joseph Colsco on his new life.
---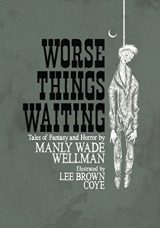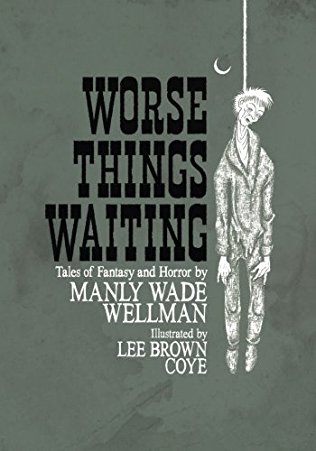 Worse Things Waiting – Manly Wade Wellman
Available again for the first time in 45 years, Shadowridge Press is proud to present Manly Wade Wellman's WORSE THINGS WAITING, one of the cornerstone short story collections in the fantasy and horror genres. Originally published by the legendary imprint Carcosa, Worse Things Waiting gathers 28 stories and two poems, selected from over 100 stories—the cream of nearly a half-century of fiction taken from the pages of Weird Tales, Unknown, Strange Stories and many other Golden Age pulps. Included are such classic tales as—
"The Undead Soldier"- featuring the original ending that Weird Tales considered too horrific to publish.
"The Devil Is Not Mocked" and "The Valley Was Still"- adapted for TV on Night Gallery and The Twilight Zone respectively.
"Coven" and "Fearful Rock"- Wellman's two novelettes featuring Sgt. "Bible" Jaeger and his battles with diabolical evil in the Civil War south.
—and many more. The very best of Manly Wade Wellman, fully illustrated with over 30 ghoulish drawings by the legendary master of the macabre, Lee Brown Coye.