Arthur returns, samurai clash with cultivator mages, and fourteen authors roll the dice on famous battles in this week's roundup of the newest releases in fantasy and adventure.
---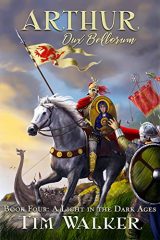 Arthur Dux Bellorum (A Light in the Dark Ages #4) – Tim Walker
From the ruins of post-Roman Britain, a warrior arises to unite a troubled land.
Britain in the late Fifth Century is a troubled place – riven with tribal infighting and beset by invaders in search of plunder and settlement. King Uther is dead, and his daughter, Morgana, seizes the crown for her infant son, Mordred. Merlyn's attempt to present Arthur as the true son and heir of Uther is scorned, and the bewildered teenager finds himself in prison. Here our story begins.
Arthur finds friends in unexpected quarters and together they flee. Travelling through a fractured landscape of tribal conflict and suspicion, they attempt to stay one step ahead of their pursuers, whilst keeping a wary eye on Saxon invaders menacing the shoreline. Arthur's reputation as a fearsome warrior grows as he learns the harsh lessons needed to survive and acquire the skills of a dux bellorum, a lord of war.
---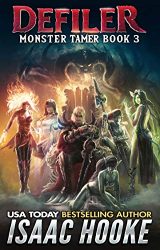 Defiler (Monster Tamer #3) – 
Monsters. Girls. Mayhem.
The Darkness has taken Malem. The Breaker fights for Vorgon now.
But that doesn't mean Malem is going to let anyone harm the five women he's bound to. They give him the power to control monsters, after all. Besides, they're super hot.
Vorgon doesn't like the devotion Malem shows his women, so the evil demon decides to send him on a fool's errand—-his mission is to infiltrate the kingdom of the Tree Elves and Break their queen. No easy task, given that she is surrounded by an army of bloodthirsty fighters and merciless mages, not to mention a crapload of monsters.
This errand might just backfire on Vorgon, however, because if Malem succeeds, he will grow in power far beyond anything the demon ever dreamed of…
---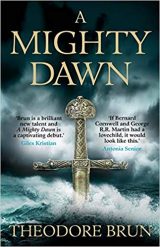 A Mighty Dawn – Theodore Brun
Hakan, son of Haldan, chosen son of the Lord of the Northern Jutes, swears loyalty to his father in fire, in iron, and in blood. But there are always shadows that roam.
When a terrible tragedy befalls Hakan's household he is forced to leave his world behind. He must seek to pledge his sword to a new king. Nameless and alone, he embarks on a journey to escape the bonds of his past and fulfil his destiny as a great warrior. Whispers of sinister forces in the north pull Hakan onwards to a kingdom plagued by mysterious and gruesome deaths.
But does he have the strength to do battle with such dark foes? Or is death the only sane thing to seek in this world of blood and broken oaths?
---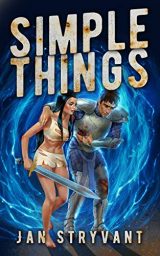 Simple Things (The Valens Legacy #13) – Jan Stryvant
Sean's found himself trapped in the realm of the demons, and he's also found a mystery there as well – a lioness. How and why she's there, and if she'll help him, he doesn't know yet. But if anyone knows the lay of the land, the demons, and how to get out of there, he figures it would have to be her.
Back home, Adam is doing his best to fit in and not make too many mistakes. At least he heals fast so no one notices the bruised shins from being kicked by Roxy all the time. The war however is already starting to heat up, even without the main gateway being open. Apparently Sean's actions are having an effect, and not necessarily a good one.
But people are pulling together and everyone is starting to discover just how high the stakes really are.
---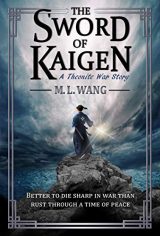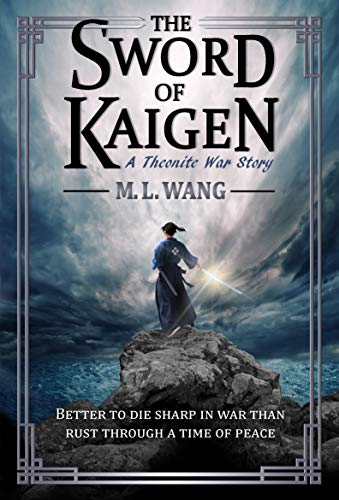 The Sword of Kaigen – M. L. Wang 
On a mountainside at the edge of the Kaigenese Empire live the most powerful warriors in the world, superhumans capable of raising the sea and wielding blades of ice. For hundreds of years, the fighters of the Kusanagi Peninsula have held the Empire's enemies at bay, earning their frozen spit of land the name 'The Sword of Kaigen.'
Born into Kusanagi's legendary Matsuda family, fourteen-year-old Mamoru has always known his purpose: to master his family's fighting techniques and defend his homeland. But when an outsider arrives and pulls back the curtain on Kaigen's alleged age of peace, Mamoru realizes that he might not have much time to become the fighter he was bred to be. Worse, the empire he was bred to defend may stand on a foundation of lies.
Misaki told herself that she left the passions of her youth behind when she married into the Matsuda house. Determined to be a good housewife and mother, she hid away her sword, along with everything from her days as a fighter in a faraway country. But with her growing son asking questions about the outside world, the threat of an impending invasion looming across the sea, and her frigid husband grating on her nerves, Misaki finds the fighter in her clawing its way back to the surface.
When the winds of war reach their peninsula, will the Matsuda family have the strength to defend their empire? Or will they tear each other apart before the true enemies even reach their shores?
---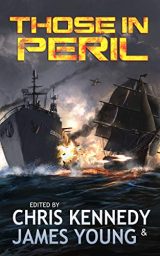 Those in Peril (The Phases of Mars #1) – edited by Chris Kennedy and James Young
Fourteen outstanding authors. Fourteen worlds that never were.
Throughout the human experience, historians have wondered, "What if?" What if Japan had been on the side of the U.S. in World War II? What if things had been just a little different in the Falklands? What if Russia had started World War Three?
Wonder no more, for these questions, along with many others, are answered within the pages of this book. Told by a variety of award-winning authors, like Sarah Hoyt, the 2018 Dragon Award Winner for Alternate History, and Kacey Ezell, the winner of the 2018 Baen Reader's Choice Award, "Those in Peril," deals with naval warfare that never happened in our world…but easily could have.
The first book in the exciting new "Phases of Mars" anthology series, there is something for everyone inside! From sailing ships, to steam, to today's modern aircraft carriers, "Those in Peril" traces several centuries of naval warfare…that wasn't. From adding a psychic…to making a different choice of friend or foe…to something insignificant toppling a kingdom, this book has it, so come aboard and find out "what if" all of these things had changed history…just a little. You'll be glad you did!
---
Viridian Gate Online: Firebrand – J. D. Astra and James Hunter
New worlds get new kings, and that's exactly what Abby thinks she's found in her boss' hacked code.
With a cataclysmic asteroid careening toward Earth, the VRMMORPG project Viridian Gate Online has become more than just a game, and Abby thinks her boss, Robert Osmark, wants to be more than just its founding father.
Now, Abby holds a hacked key to the kingdom that could earn her a punishment worse than death. To uncover the secret that drug lords and corrupt politicians paid millions for, Abby must dive into the game she helped create and team up with one of its AI creations. It's a race against the clock as she tries to discover what's hidden in the secret code before Osmark can crown himself ruler over all that remains of humanity.
---
Underlord (Cradle #6) – Will Wight
A tournament approaches.
All around the world, great clans and sects prepare their disciples to fight against one another in a competition of young Underlords. Even the Blackflame Empire is drawn in, but their youth are not strong enough to compete.
Yet.