A blood feud among oil rig divers, a sword in an enchanted forest, and an assassination plot in Saudi Arabia are featured in this week's roundup of the newest releases in fantasy and Adventure.
---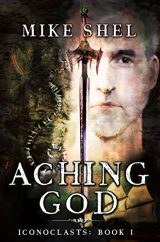 Aching God (Iconoclasts #1) – Mike Shel
"Closer, mortal. You are here, finally, to feed the Aching God…"
The days of adventure are passed for Auric Manteo. Retired to the countryside and isolated with his scars and riches, he no longer delves into forbidden ruins seeking dark wisdom and treasure. But just as old nightmares begin plaguing his sleep, he receives an urgent summons back to that old life.
To save his only daughter, he must return to the place of his greatest trauma: the haunted Barrowlands. Along with a group of inexperienced companions and an old soldier, he must confront the dangers of the ancient and wicked Djao civilization. He has survived fell beasts, insidious traps, and deadly hazards before. But how can he contend with the malice of a bloodthirsty living god?
First volume in the planned epic fantasy trilogy Iconoclasts, Aching God is the debut novel by RPG adventure designer Mike Shel.
---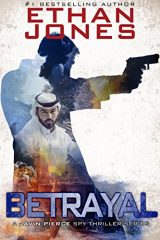 Betrayal (Javin Pierce #2) – Ethan Jones
Spies on the hunt. A traitor in their midst.  Suspicions are high and time is short.
Who is behind the betrayal?
Spy Master Javin wants to eliminate two terrorist masterminds, but he's not the only one looking for them. When the mission suspiciously goes awry, his team is now forced into a dubious alliance with Mossad and the infamous Iranian Islamic Revolutionary Guard.
Pursuing the terrorists deep into hostile Saudi Arabia, they not only discover an assassination plot that could topple the Saudi kingdom, but also suspect a traitor has infiltrated their team. Who is behind this betrayal? With suspicions high and time short, can Javin and Claudia unmask the traitor and stop the assassination plot before the Middle East is plunged into an all-out war?
---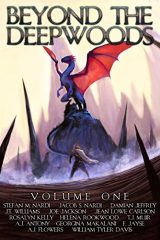 Beyond The Deepwoods: Volume One – presented by Mystic Inkwell
Mystery. Wonder. Adventure.
For centuries, fantastic tales of myth and magic have captured the minds of our race, igniting the deepest corners of our imagination and giving us the ability to dream of things far beyond the realm of possibility. Tales filled with wondrous creatures, strange magic, and grand adventures.
In this anthology, fifteen debut and international best-selling authors contribute their best fantasy short stories. Explore new worlds and meet mighty dragons. Uncover lost secrets and fight against ruthless monsters. Journey Beyond The Deepwoods and unlock a whole new realm of imagination…if you dare.
Beyond The Deepwoods will keep you turning the pages deep into the night.
Grab your copy of Beyond The Deepwoods: Volume One today, and join these fifteen amazing authors as they take you on a journey what it is that lies beyond the deepwoods.
---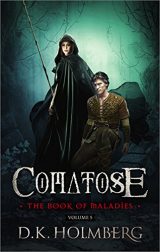 Comatose (The Book of Maladies #5) – D. K. Holmberg
Newly promoted to full physicker, Alec still struggles with his place in the University. Friends treat him differently and the master physickers no longer allow him to study with them. After everything that has happened, he's still an outsider. When his father arrives at the university for healing, Alec must use everything he learned from him in order to save him, but even that might not be enough. He must discover the secret of his illness by finding a way to work with the master physickers, but what he finds is unexpected and hints at a greater plot taking hold.
Sam wants nothing more than to head toward the Theln lands after her brother, but with Alec needing her help, she postpones the journey. Rather than having the opportunity to help Alec, she finds herself chasing details of the past Marin has hidden, only to realize the deception to the city runs much deeper than she could ever had imagined. Could it be that Marin had actually saved Tray as she claimed?
Though they have both progressed in knowledge and ability, it still might not be enough to stop a plot against the city that has gestated for years and finally threatens to come to fruition. The truth behind the plot has the potential to destroy the city, if it doesn't destroy Sam and Alec first.
---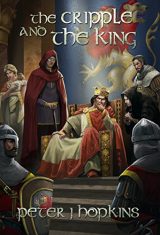 The Cripple and The King – Peter Hopkins
The ancient Nacian Empire is gone, and in its place, a shell of a kingdom lives in exile off the coast of their former glory. King Lucan ascends the throne unprepared and unwilling to meet the challenges ahead. Lucan has assumed power only after his brother, the capable and charismatic Vespasian, was brutally blinded and forced to abdicate the throne. With the help of his older brother, Lucan must navigate an ever-growing web of politics and schemes, face off against enemies both foreign and domestic, and learn to govern greater than Vespasian ever could.
To the homefront, Lucan finds no comfort as he alienates his new bride, Mila, whose marriage was Vespasian's attempt to buy time with an old enemy, and their son Hadrian whom Lucan can hardly stand to hold. With a wit greater than a match for Lucan, he must discover that his closest allies are already close at hand, and take their advice.
To the sea, one thousand ships appear on the horizon, ready to swallow the whole kingdom into the sea with merciless marauding. To the fields and hills of Nacia, banners rise in a civil war as lords break their vows to fight both the king and amongst themselves. Lucan must unite his squabbling lords and crush his enemies before the burden of crown crushes his erudite and fragile mind.
---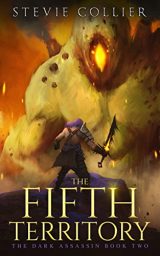 The Fifth Territory (The Dark Assassin #2) – Steven Collier
His best friend is dying an agonizing death. The love of his life has rejected him. His parents once thought dead, are actually alive. The ancient evil that terrorized his young life has been reawakened.
With hopes of finding a way to save his friend from a slow death, Esh dares the dangerous skies to cross the Endless Sea to the Fifth Territory of Auroth. It is here that he discovers an entirely new race, one that relies heavily on a powerful sorcery he's never heard of. The Radiance.
It is this Radiant energy that offers Esh hope that Barish can be saved, yet his hopes are dashed when he learns that the source of this power, the Lambent Heart, has been stolen.
Not only does the fate of his best friend lie on his shoulders, but now so do the souls of an entire civilization as they have lost their life source. As Esh turns his attention to tracking down the Lambent Heart, his own heart sinks for that of which he seeks lies in the chest of a seven-hundred-foot monster. And it's headed his way.
And Master Rift's training didn't include anything on slaying a colossus!
---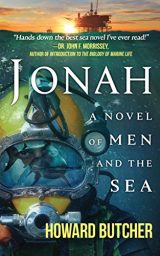 Jonah: A Novel of Men and the Sea – Howard Butcher 
Jonah, an apprentice oil field diver, is partnered with Seed, a parolee from Angola, Louisiana's notorious maximum security prison. The two strangers work in the brutal and exotic offshore world of the Gulf of Mexico.
An accident enrages Seed, and his shocking retaliation starts a blood feud. Roughnecks and Riggers across the Gulf want retribution against Jonah's dive team. Every assignment sends Jonah farther out to deeper and more dangerous jobs.
Topside, he must fight to survive the worst that men can do, while undersea he works in a surreal world where every breath can bring death, the night ocean lights up with bioluminescence, and giant predators hunt.
---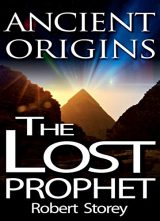 The Lost Prophet (Ancient Origins #6) – Robert Storey
THE LONG PROPHESIED END OF DAYS
IS MYTH AND LEGEND NO LONGER
BUT A TIME IN SPACE
AND THAT TIME
…IS NOW
The newly elected president of the United States of America, John Harrison Henry, the first independent candidate to win a campaign since George Washington, is fighting to save his nation, and the entire world, from nefarious forces hell-bent on chaos and destruction. Many think John is a man apart, a man who stands alone, and yet there are those who fight to help him achieve the impossible. And while these brave few fight against the might of the Global Meteor Response Council that rules the world with an iron fist, in distant lands old forces shift and new powers rise, for word has it that something is coming which is going to change everything. It's something we missed… and it's almost here.
---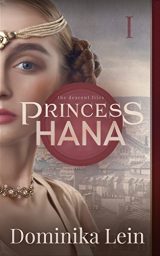 Princess Hana (The Descent Files: Hana #1) – Dominika Lein
A story of budding romance, dashed dreams, and the loneliness of suffering secrets.
War has waged for all of Princess Hana's life. She has only just become a woman and yet defeat looms on the horizon, her home running out of people, land, and time.
A wanderer stumbles upon her ritual in the forest, recognizing the princess as an opportunity. With some unknown plot in mind, he uses her to gain entrance into the royal castle.
A four-part series, Princess Hana is the first installment of The Descent Files: Hana and shares the story of an incarnation lived by the spirit Hanhoka (featured in available stories, I, the One and We, the Two) through an adjacent plane of physical reality.
---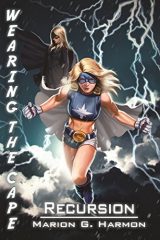 Recursion (Wearing the Cape #7) – Marion Harmon
It's been just weeks since the state funeral for the Sentinels, Atlas, Ajax, and Nimbus, lost in the Whittier Base Attack. Astra, Hope, is recovered from her own injuries. At least physically. Mentally . . . not so much, but she feels ready to actively wear the cape again. Which is good since, between the revelation of her short-lived relationship with Atlas (nine years her senior) and her virally pungent public comments on the current political debate over breakthrough registration (the National Public Safety Act), she needs to raise her profile. But she's better now, steady, ready for anything.
Or is she? First her quantum-ghost BF Shell reveals that something's off. Hope's CHANGED. Unaccountably and impossibly changed, she's not the Hope she was even just last week. Confronted with Shell's evidence, Hope recovers an impossible memory and follows it to the realization that she's really not the Hope of last week. She remembers three years of memories of a life she hasn't lived yet. She remembers the fight with Villains Inc., the addition of the Young Sentinels, her adventures in Littletone, Japan, and across a dozen extrarealities. The one thing she doesn't remember is how she got here.
How did she get here? WHERE is here?
---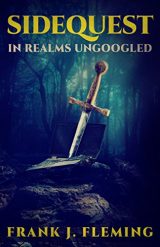 Sidequest: In Realms Ungoogled – Frank J. Fleming
Terrance Denby takes an unusual route to work one day and finds himself in an enchanted forest where winged fairies give him a sword and tell him, "Your journey is about to begin. Learn to use this sword or perish."
Terrance doesn't have time to go on a magical quest: he's late for his job as a computer programmer. But when he gets to work, he suddenly notices things he hadn't seen before. Like the fact that his boss is a demon with scaly skin, horns, and bloodstained fangs. Or that an "unnamed thing below" feasts on human victims in an arena filled with people absorbed in their cell phones.
Set up on a blind date with a perky blonde named Shannon, Terrance finds that she is wearing a full suit of armor complete with a helmet and sword. "I'm a Sister of Torment," she explains. "We're a group of women who serve the Darkness." Terrance can't help wondering how such a nice, attractive girl ended up beheading people with an ax.
But their budding romance is complicated when Terrance is recruited by The Infinite, a shadowy group that is at war with the Sisters of Torment and their demonic overlords. Will Terrance join them? Or will he try to return to his old life and forget the evidence of his now-awakened senses? Faeries, elves, warriors, mermaids, and his dark-souled girlfriend will help him decide.
---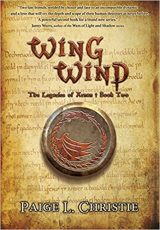 Wing Wind (Legacies of Arnan #2) – Paige L. Christie
The land withers under the pall of Draigon Weather, ushering in a new Sacrifice in the trading town of Melbis.
Cleod, lead sword of Kilras Dorn's renowned caravan, finds himself haunted by his failures and the shadow of long-departed Leiel. Shaa, the Draigon that broke and nearly killed him, has returned, and the need for revenge ignites his soul. Now he must choose between two lives—that of solace and friendship or that of violence and death. Whether to be a trusted guardian or a Draigon slayer.
Far to the north, the Draigon share old teachings, laughter, and heartache. Hard lessons prepare the newest of them for the role she will claim. Then, time-honored treaties between Draigon and Draighil are violated, threatening everything the Draigon protect. Now they must decide which is of greater need—continuing the secrets held for centuries or exposing the truth of their existence.
For knowledge, the Draigon know and Cleod will come to understand, can raise a storm to shake the very future of Arnan.