This week's roundup of the newest releases in fantasy and adventure features the controversial explorer, the apprentice knight, the useless goddess, and the White Wolf.
---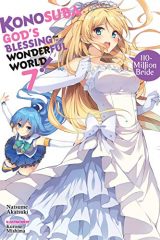 110-Million Bride (Konosuba: God's Blessing on This Wonderful World! #7) – Natsume Akatsuki 
Game loving shut-in Kazuma Sato's life as a young schoolboy in Japan abruptly comes to an early end…or at least it was supposed to. When he opens his eyes, though, he sees a beautiful goddess that offers him a once in an after-lifetime chance to be reborn in a parallel world. The catch is that the world is violent and threatened by a growing evil! Fortunately, he can choose any one thing to bring with him. So he chooses the goddess, Aqua!
Still sitting pretty on the reward money from defeating several of the Demon King's generals, Kazuma is taking it easy. Darkness, on the other hand, is nowhere to be found. Just as rumors about Darkness leaving to marry a lord begin to circulate, a letter turns up.
"I can't see you anymore. Please accept my resignation from the party."
Is this the beginning of the end for everyone's favorite band of misfit adventurers?!
---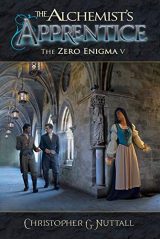 The Alchemist's Apprentice (The Zero Enigma #5) – Christopher Nuttall
Five months after the House War, the city of Shallot is on edge. The Great Houses plot and plan against one another, while the magicians rebuild and the common folk fear another outburst of fighting. And one young nobleman has a plan.
Rebecca is a half-caste shopgirl in an apothecary, dreaming of an apprenticeship that will allow her to rise out of poverty and finally make a name for herself in a city that has no use for her kind. But when her master undertakes a commission for an enigmatic young nobleman, she finds herself drawn into a maelstrom of criminals, ambitious nobles and a plan that may shake the foundations of the Great Houses themselves …
"An excellent way to make a good start in a new addition and expansion to the Zero world. Once more, Christopher Nuttall has gifted us with a slew of interesting characters involved in a convoluted problem while expanding our knowledge of some of the inner workings of the ruling families of society. Can't wait for another look!"–Amazon Reader Review
---
Appalling Stories 2: More Appalling Tales of Social Injustice – presented by Obsidian Point
The virulent disease of political correctness has infected the body politic from nose to toes, and even the field of literature isn't immune. The best way to inoculate yourself against this Social Justice Warrior-carried malady is to read entertaining, old-school fiction that neither pulls punches nor takes prisoners.
That's where Appalling Stories 2 comes in. The spiritual sequel to the top-selling anthology Appalling Stories, this new collection brings you ripped-from-the-headlines tales of short fiction written to make you laugh, make you cry, and even make you think. Just a little.
In these pages you'll read stories of humanity's terrifying First Contact with extraterrestrial life, the horrifying secret behind today's radical feminist movement, what happens when the wokest man you know discards the last of his White Privilege, and more. From a far-future history of America's decline to disturbing tales of gun control gone wild, you're sure to find something that will stick with you long after you've closed the book.
And the best part is that you'll be making an SJW so mad when you tell him/her/zir what you're reading.
---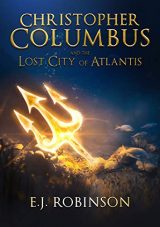 Christopher Columbus and the Lost City of Atlantis – E.J. Robinson
History remembers Christopher Columbus as a steadfast explorer who crossed the Atlantic to discover America. But what if I told you that's not the real truth? That he was, in fact, a notorious adventurer who defied kings and gods in pursuit of a legendary treasure? Join him and his companions as they voyage to the lost city of Atlantis, where the fate of two worlds hangs in the balance.
"A creative and fun romp with an unlikely historical figure turned hero. This was an engrossing read that had me hooked from the first page to the last. I read [the author's] Robinson Crusoe series, too, and this book has the same huge adventurous scope with even more twists, turns, and action. Highly recommended."
---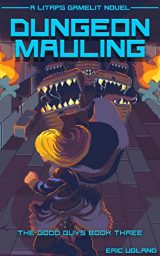 Dungeon Mauling (The Good Guys #3) – Eric Ugland 
Just when Montana thought he had life in Vuldranni figured out, the rug is pulled out from under him. He's alone once again, but now he's in the crosshairs of the man who would be emperor, and a whole host of people are counting on Montana to provide a safe haven for them.
Montana has one hope of actually completing his quest of forming a dukedom: he needs to bust Nikolai out of prison.
A prison that no one has ever escaped from alive.
A prison whose only exit is little more than rumor and probably doesn't even exist — through a sentient dungeon, hell-bent on causing torture, inflicting pain, and extracting the ultimate price: life.
Montana and his hirðmen are down to their last chance. So they get themselves arrested and enter Osterstadt prison. Can the Good Guys do good by going bad?
---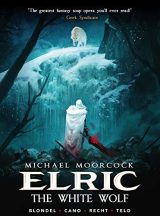 Elric: The White Wolf (Elric #3) – Julien Blondel, Jean-Luc Cano, Julien Telo, and Robin Recht 
Fantasy's greatest antihero returns for a third chapter. The stunning adaptation of a fantasy legend, acclaimed by critics, fans, and Michael Moorcock himself.
Reliant on magic and herbs for his strength and prolonged life, Elric's grip on Melniboné crumbled, as his people slid into decadence.
His quest for revenge forever changed his destiny, as he finds the legendary cursed sword Stormbringer.
It has been a year since Elric of Melnibone abandoned his throne, his love, and his soul.
Now he sells his skills as a warrior-wizard, seeking to end the curse of his black sword… and the world calls him The White Wolf.
---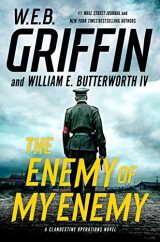 The Enemy of My Enemy (Clandestine Operations #5) – W.E.B. Griffin and William E. Butterworth IV
Special agent James Cronley Jr. finds that fighting both ex-Nazis and the Soviet NKGB can lead to strange bedfellows, in the dramatic new Clandestine Operations novel about the birth of the CIA and the Cold War.
A month ago, Cronley managed to capture two notorious Nazi war criminals, but not without leaving some dead bodies and outraged Austrian police in his wake. He's been lying low ever since, but that little vacation is about to end. Somebody–Odessa, the NKGB, the Hungarian Secret Police?–has broken the criminals out of jail, and he must track them down again.
But there's more to it than that. Evidence has surfaced that in the war's last gasps, Heinrich Himmler had stashed away a fortune to build a secret religion, dedicated both to Himmler and to creating the Fourth Reich. That money is still out there in the hands of Odessa, and that infamous organization seems to have acquired a surprising–and troubling–ally.
Cronley is fast finding out that the phrase "the enemy of my enemy is my friend" can mean a lot of different things, and that it is not always clear which people he can trust and which are out to kill him.
---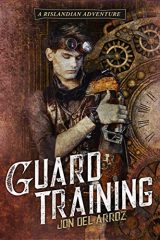 Guard Training (The Steam Knight #2) – Jon Del Arroz
Spies and traitors everywhere!
Apprentice Knight James Gentry is used to a life of travel and adventure, but now he's been assigned to stand guard for Princess Reina. Tensions mount with King Malaky, as James can't keep his eyes—or hands—off the beautiful princess. To make matters worse, the Wyranth have discovered the location of the king's retreat, and they're coming to assassinate Rislandia's royal family.
James must keep his heart in check as Princess Reina's passions steam up for him in return. Negotiations for crucial aid to the kingdom could depend on Reina's hand in marriage to another man. With his heart and the kingdom at stake, can James perform his duty for his country?
---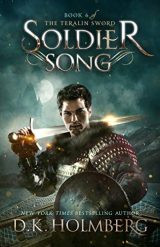 Soldier Song (The Teralin Sword #6) – D.K. Holmberg
When songs are sung about Endric, what will be said?
Having spent the last five years continuing to serve the Denraen, Endric feels the weight of a looming responsibility. He must choose how he will serve. Will it be the Conclave where he feels drawn to a greater power, or will it be within the Denraen where his father wants him to claim true leadership?
An opportunity arises to better understand a threat to the Historian Guild which will lead him away from the city—and delay his decision. In order to understand the growing silence of the guild, he must find the one man who can provide insight into the guild, but Novan has always followed a different lead. The journey brings him far to the south, where Endric discovers far more than he expected, and has a realization about himself that will change his life forever.
---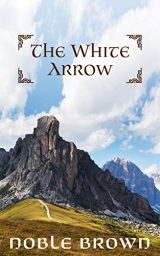 The White Arrow – Noble Brown
The Third Age of The Western Realms has been marked by a great conflict in the east. But now the danger has come to Lyria, and the largest of the old kingdoms is in open rebellion. Follow the stories of several unlikely heroes as they battle dark forces in a fast-paced tale of epic fantasy, filled with mystery, intrigue, and suspense.
"Noble Brown's The White Arrow is set in a fictional world where Lyria is but one of the lands you'll journey to in this fast-paced (and that is an understatement!) Fantasy book. But to say it is just a book in the Fantasy genre would be selling this one short. Though a relatively quick read, this book has plenty of depth to accompany the action and adventure.
"In the spirit of Tolkien, Martin, or Lewis, Brown thrusts the reader into a fully-realized world where one kingdom, Lyria, is on the verge of collapse, while another rallies to attempt to save their ally."–Abraham Lopez