This week's roundup of fantasy and adventure features Appalachian witches, Merlin's shape-shifting magic, and the return of Allan Quatermain.
---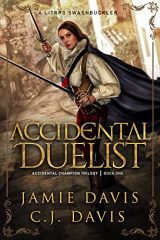 Accidental Duelist (The Accidental Champion #1) – Jamie Davis and C. J. Davis
A Lost Princess and the Swashbuckling Game of a Lifetime
Cari Dix didn't know her whole life was a lie, she only knew she didn't belong here. Growing up with the most ordinary parents ever, all Cari wanted was a life of adventure and a little bit of fun.
When she discovers an old, restored computer from her father's past, Cari stumbles into a fantasy game world she'd always thought a part of her childhood imagination. Taking her combat fencing skills with her, she sets out to explore a world her parents said didn't exist.
Come along and play the game.
---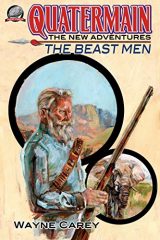 The Beast Men (Quatermain: The New Adventures) – Wayne Carey
When all the villagers of several veldt kraals mysteriously go missing, Allan Quatermain finds himself embroiled in one of his most baffling African adventures. Whispers among the Zulus claim weird beast men, half-human and half-cat, are responsible for the abductions. Quatermain and his companion Mnqoba begin their investigation skeptical of the rumors but at the same time baffled by the unexplained disappearances of so many so quickly.
Their mission leads them to a ranch owned by British Doctor Emerson Blake and his late partner's beautiful widow, Emma. Both scoff at the stories of the beast men and do their best to convince the famous hunter that there must be a logical explanation. Quatermain is almost won over when, after a new attack by the creatures, Mnqoba is counted among the missing. Now he must confront the reality; someone or something has brought death to Zululand?
---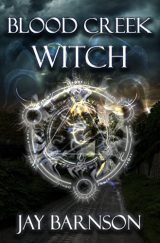 Blood Creek Witch – Jay Barnson
Deep in the Appalachian Mountains, a monstrous evil rises, and the only one who can stand against it is a teen-aged witch who doesn't believe in magic.
Grieving and lost after the death of her parents, Jenny Morgan is sent to West Virginia to live with an aunt she's never met. It's there that Jenny is confronted with an unbelievable family heritage of witchcraft and magic – something she immediately dismisses as old-fashioned superstitions. However, once her new home is threatened by deadly horrors straight out of myth and folklore, her aunt's stories become impossible to ignore.
Now Jenny and her three new friends – friends with dark secrets all their own – are the only ones who stand a chance of stopping the growing evil, but only if Jenny can embrace her arcane heritage. But little does Jenny know, becoming a witch will attract the attention of an even greater evil – the same un-killable creature her parents died to protect her from.
---
Dragon Seed (Archemi Online #1) – James Osiris Baldwin
Before being conscripted to fight in the Total War, Private Hector Park had a shattered family, a collection of old videogames, and a promising career as a motorcycle stuntman. Now, he is dying from a virus threatening humankind with extinction. He has three days to live.
When Hector's brother contacts him after years of hostile silence, Hector goes to try and make peace. But his brother has an offer even more unbelievable than reconciliation: the chance to cheat death by joining him in Archemi, a full-immersion fantasy VR-RPG videogame.
Determined to forge a life worth living, Hector undergoes the experimental upload process and chooses the difficult path of the Dragon Knight. To achieve his dream, he must prove himself worthy of imprinting a dragon, a being with whom he will share a telepathic bond more intimate than any human relationship.
But at what cost?
---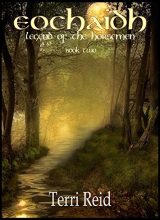 Eochaidh: Legend of the Horsemen #2 -Terri Reid
Over a thousand years ago a brave band of Knights of the Round Table agreed to enter Morganna's castle and remove an ancient spell that allowed the sorceress the ability to travel in time. But they had been betrayed, Morganna caught the young men and despite Merlin's protection, cast a spell upon them that would age them a year for every day they lived as men. Merlin did the only thing he could; he changed the men to horses so they could roam as immortals until someone could break the spell.
For more than one thousand years, the Herdin family was charged with the duty to help the horses and break the spell. Once every hundred years, the signs aligned and another Herdin risked their life to free the knights. This time, Meaghan Herdin's father, Lord John, is the last surviving male heir in the Herdin line. Will he be able to break the spell or will Morganna and her followers destroy Meaghan's family?
---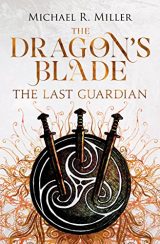 The Last Guardian (The Dragon's Blade #3) – Michael R. Miller
As winter wanes, the fragile bonds of the Three Races begin to break.
With Darnuir recovering from his addiction, and Blaine reclusive in the hallways of his Order, it falls to Lira to manage the mounting tension between the humans and zealous dragons before catastrophe strikes from within the city walls.
In Brevia, King Arkus unveils his new weapons to the Assembly of Lords, but is it a gift to his people or a threat? Cassandra fears it the latter and vows to curb her father's new unchecked power that she herself helped to create.
And beneath the burned mountain of Kar'drun, Dukoona suffers at the hands of his Master. His one hope now lies in the crippled spectre Sonrid, who is forcing his broken body back to the mountain in order to play his part, or die, and be free from his pained existence.
Darnuir awakes weakened, and to an alliance on the brink. He must at last become the leader the dragons need but will he be too late to save his people, not just from Rectar, but from years of their own mistakes?
---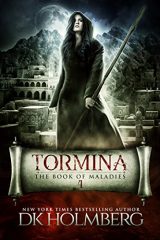 Tormina (The Book of Maladies #4) – D. K. Holmberg
While trying to track down her brother, Sam discovers she isn't through with Marin quite yet. An attack proves that a traitor sympathetic to Marin remains active in the city, but training prevents Sam from finding answers. With the Thelns once more in the city, Elaine doesn't believe Sam should be involved in the search, which means she has to go off on her own. Doing so risks her position at the palace, but any other choice puts her brother in danger.
Alec continues his studies and realizes how much he still has to learn at the university. Now that he knows some of the master physickers are also Scribes, he wants answers, but his search places him at odds with someone far more powerful than him. When Sam asks for his help with her quest to find the traitor, Alec has to make a dangerous decision and the fallout will change their lives in the city.
Failure means more than another Theln attack upon the city—it means they might lose everything they have discovered about themselves.
---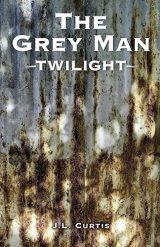 Twilight (The Grey Man #5) – J. L. Curtis
Never count an old man out, even when he's hanging up his hat!
Deputy Sheriff John Cronin is looking forward to a quiet retirement, working on the ranch, and handing it off to his granddaughter Jesse. And he's got to pass on a generation worth of investigations, but it's not as easy as handing over the case files and the keys. First, he's got to train Aaron Miller to fill his role, from the way to dress for rural juries to the finer points of stakeouts and murder investigations, Texas style.
Between the oil patch workers and the cartel's drug runners, there are plenty of loose ends for him to tie off… or terminate…