Mecha knights, combat frames, android detectives, and missing aircraft feature in this week's roundup of the newest releases in science fiction.
---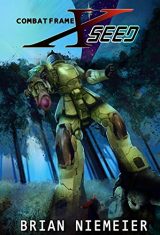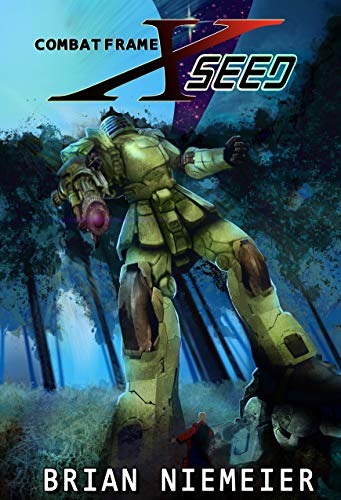 Combat Frame XSeed – Brian Niemeier
The future is over.
Civilization on Earth has collapsed. Oligarchs have established a new order in manmade space colonies at the Earth-Moon LaGrange points.
A group of powerful colonies form the Systems Overterrestrial Coalition to re-civilize the earth, but grounders view the colonists as hostile meddlers. The Coalition counters the rising violence with giant manned robots called combat frames.
The independent L3 colonies denounce the war on Earth. In response, Coalition Security Director Sanzen takes L3 leader Josef Friedlander's wife and daughter hostage. Amid the tense standoff, Friedlander's son Sieg launches an unsanctioned rescue mission to L1's Byzantium colony.
---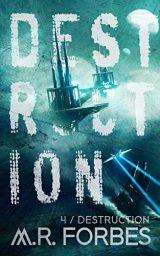 Destruction (Forgotten Colony #4) – M.R. Forbes
The Deliverance isn't alone.
That's not a surprise. The planet was chosen for a reason.
But the situation is more dire than Caleb ever imagined. The enemy he's encountered isn't the enemy he was seeking, and the conflict is expanding in ways he can barely conceive.
Taken prisoner by an opponent both familiar and foreign, he'll have to prove himself one more time…
Or watch everything he's fought so hard to protect be destroyed.
---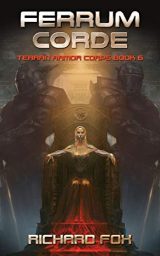 Ferrum Corde (Terran Armor Corps #6) – Richard Fox
The war against the Kesaht Alliance enters its final days, and Earth is losing.
The Terran Union must launch one last desperate assault to save itself, but the enemy is legion and ready to crush the battle-weary human forces.
Earth needs the Ibarra Nation to join the fight, but Stacey Ibarra has other plans.
She hunts for a super weapon that will forever alter the balance of power in the galaxy, all the while her mind teeters on the brink of insanity. Roland, her loyal Armor soldier, must decide if she can be trusted to wield the Ark, or if she's too dangerous to rule the nation he swore to defend.
Gideon, his hatred of his former lance mate as white hot as ever, waits for his chance to exact revenge against Roland for his betrayal.
Can old vendettas be forgotten? Can the Iron Dragoons reunite to save us all?
The second Ember War series rockets to its epic, and tragic, conclusion!
---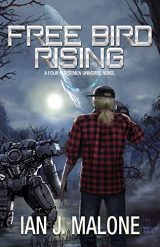 Free Bird Rising (Four Horsemen Tales #7) – Ian J. Malone
"A noted explorer once asked, 'Who knows if there are secrets lurking in the unseen corners of hyperspace?' The answer is simple. There are!" — Colonel Terrance Van Zant, Commanding Officer, Swamp Eagle Security
Taylor Van Zant has a lot on his mind.
Like everyone in Jacksonville, North Florida, the early-twenties bartender from Riverside saw his world upended when his brother, Terry, an interstellar mercenary and local hero, died suddenly in a freak starship accident. Five years later, having been stonewalled for answers, Taylor faced a choice: Honor his mother's wish that he never go merc or defy it to save her life by resurrecting Terry's company.
That was thirteen months ago. Now the newly reformed Eagles stand on the verge of a major milestone: owning their own flagship. There's just one problem. Terry left behind a ship that no one knew about, a rare breed of cruiser with a most peculiar secret.
---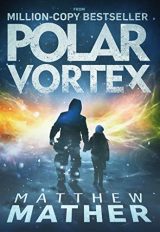 Polar Vortex – Matthew Mather
Within hours of Allied Airlines 695 disappearing, a massive international search is launched. Aircraft and ships are dispatched from Russia, China, America, Canada, and Norway.
How can a modern airliner simply vanish in one of the most heavily monitored places on Earth? Right in the middle of an area overflown by dozens of satellites from as many nations, ringed by Cold War-era radar and missile installations?
Global tensions rise. The media and grieving families whip into a frenzy. The armed forces of America and Russia tip the world toward the brink of apocalyptic war.
Weeks later. Found on the ice. A chance discovery.
The journal of Mitch Matthews reveals the incredible truth behind the disappearance of Allied 695, and what really happened in…
…the Polar Vortex.
---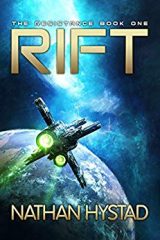 Rift (The Resistance #1) – Nathan Hystad
The Earth Fleet has known of the Watchers for years, unwilling to share the knowledge with humanity. Now it might be too late.
Hidden away from the Fleet, one man is creating a new colony ship destined for the other side of the Rift, but he's missing a few pieces.
Three other people have varied paths to get there. Ace goes from the streets of Earth to the Fleet training facility on the moon. Flint, an ex-Fleet pilot, must decide if a job is worth his life, and Wren, imprisoned for a secret project years ago, is given hope as an unlikely ally whispers words of escape in her ear.
Their journeys lead to Councilman Jarden Fairbanks, who knows of the impending invasion, and has prepared. All they can do is wait for the Rift to open once again, and see what's on the other side.
---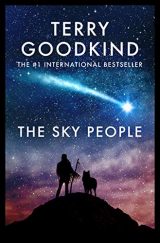 The Sky People – Terry Goodkind
Raging River, priestess of the Sun People, has just done the unthinkable.
The Sun People are bound by an ancient law, left by the long-vanished Sky People: they must never kill. To other tribes, who have no such law, the Sun People are easy prey who will not defend themselves. Their game is poached, their stores are raided, their women abducted, their men killed for sport.
But when Raging River and her sister are attacked by a Wolf People raiding party, River fights back and kills one of the warriors. Worse, she has killed the son of their chief.
Now, with the Wolf People vowing revenge and her people facing annihilation, River must do the impossible. She must prove herself as priestess. She must find the mythical Sky People.
---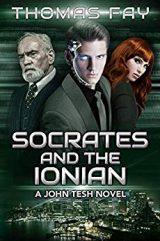 Socrates and the Ionian (John Tesh: Science Fiction Detective #3) – Thomas Fay
The year is 2052 AD.
The Iona Corporation has successfully positioned itself as a global powerhouse with its incredible renewable energy technology—the Flux Cell. The citizens of Iona, protected by the Ruling Council and the Sentinels, bask in a golden age of clean, limitless energy. Not content with the success of the Flux Cell, the Iona Corporation announces the launch of a new technology as it prepares for the future.
When objects and people begin to mysteriously disappear, Sentinel John Tesh and his android partner, Socrates, must embark on the most dangerous investigation they have ever undertaken. An investigation that will reveal the true nature of the Ionians and lead to a confrontation that will shake the city of Iona to its core.
---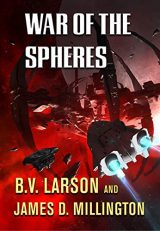 War of the Spheres – B. V. Larson and James D. Millington
When humanity reaches for the stars, our probes are destroyed. They crash into an incredibly advanced piece of technology: a massive force-field. Unknown beings have placed a barrier around our star and planets, enclosing us within. We're locked inside a Great Sphere.
Was this invisible obstacle built to imprison us—or to protect us? No one knows the truth, but it soon becomes clear the barrier has leaks. Aliens infiltrate and try to sabotage our efforts to escape our cage.
A warship crewed by military people and scientists beta-test an engine designed to pass through the barrier. Chief Gray, a security officer from Control, is assigned to help. His mission is critical: Earth must escape her bonds at all costs, even if it means war with our hostile neighbors.